close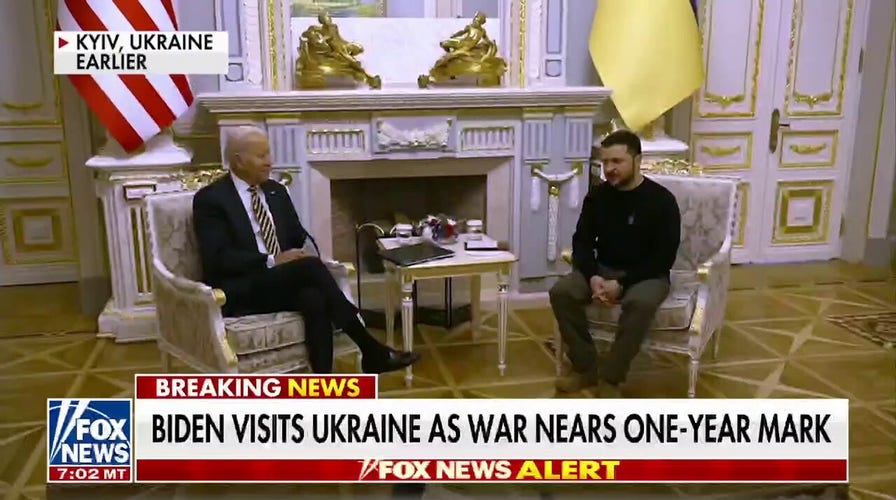 Video
Biden makes surprise visit to Ukraine as war nears one-year mark
Fox News' Steve Harrigan reports from Kyiv on President Biden's visit, where he announced another $500 million in aid, and President Zelenskyy calls it the most important visit in Ukraine's history.
President Biden's secret trip to Ukraine Monday caught the world by surprise after one of the world's most high-profile figures left the White House under the cover of darkness following repeated claims that the president had no plans to visit Kyiv.
The top secret trip was made possible after Washington received certain security guarantees from Russia and the White House informed only Biden's top advisers of the trip.
U.S. surveillance planes kept a close eye over the Ukrainian capital from Polish airspace using an E-3 Sentry airborne radar and an electronic RC-135W Rivet Joint aircraft systems.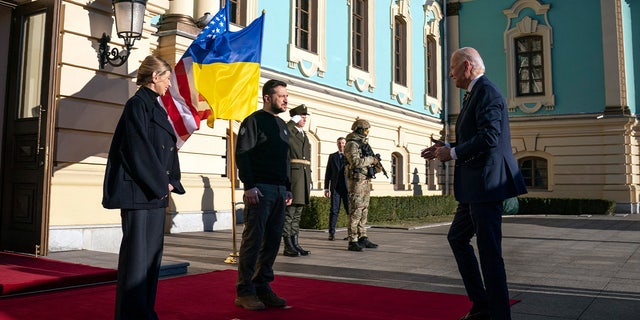 President Biden meets Volodymyr Zelenskyy in Kyiv. (AP Photo/Evan Vucci, Pool)
RUSSIA MUTED ON BIDEN'S UKRAINE VISIT, MOSTLY VIEWED AS 'THEATRICS', EXPERT
Biden is not the first president to visit a war-torn nation in secret, though he does appear to be one of the first to visit a war zone where U.S. troops are not stationed.
With the exception of a handful of Marines placed at the U.S. Embassy in Kyiv, there are no American or NATO-allied troops in Ukraine as the brutal war with Russia continues.
Secret trips to nations at war have become increasingly common with every U.S. president carrying out such a trip since President George W. Bush traveled to Iraq in 2003.
As the war in Iraq ramped up eight months after U.S. troops invaded, Air Force One landed in Baghdad over the Thanksgiving weekend under a false call sign.
The unexpected arrival prompted one British Airways pilot to question over the radio, "Did I just see Air Force One?" He apparently then realized that he had caught wind of a surprise visit, according to a 2003 Washington Post report.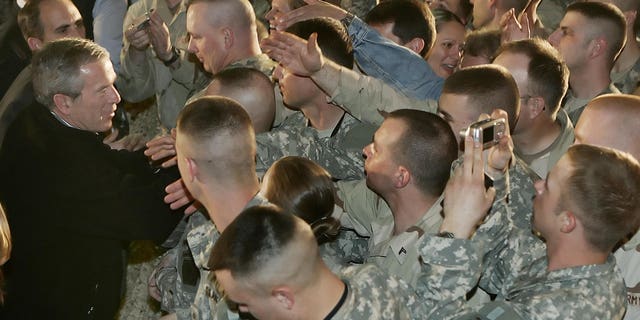 President George W. Bush greets troops during a surprise stopover at Bagram Air Base, Afghanistan, March 1, 2006. Bush made the stop on his way to visit India and Pakistan. (Reuters/Jim Young)
Bush would go on to hold several secret visits to war zones during his presidency, including three others to Iraq and two to Afghanistan in 2006 and 2008.
Barak Obama would hold at least five surprise visits to nations at war throughout his presidency, including Iraq in 2009, and Afghanistan in 2010, 2012, 2014 and 2015.
POLAND'S DUDA TO PUSH BIDEN ON INCREASING US PRESENCE IN COUNTRY AMID RUSSIA THREAT: DIPLOMAT
Donald Trump, who faced some criticism for waiting almost two years before he visited U.S. troops in a combat zone, also slipped in two unannounced visits during his presidency, including to Iraq in late 2018 and Afghanistan in 2019.
Though surprise visits to war-torn nations appeared to have been less popular before the attacks on Sept. 11, U.S. presidents still visited nations at war and nearly every president who was in office during a major conflict made international trips to combat zones.
Dwight Eisenhower visited and ate with U.S. troops in Korea during the Korean War in December 1952.
Lyndon Johnson met with troops in a South Vietnam combat zone in Cam Ranh Bay in 1966. Richard Nixon visited Vietnam in 1969, when he met with military commanders and South Vietnam's President Nguyen Van Thieu to discuss troop withdrawals.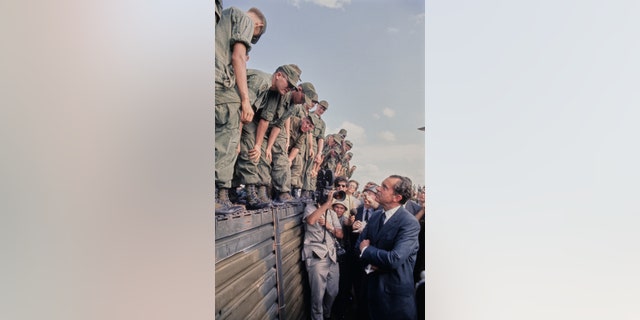 President Richard Nixon speaks with soldiers of the 1st Infantry Division at Di An Base Camp, South Vietnam, July 30, 1969. (David Turnley/Corbis/VCG via Getty Images)
Franklin D. Roosevelt traveled to several dangerous areas during World War II, including in the city of Casablanca, Morocco, where he met with British Prime Minister Winston Churchill in January 1943.
He again met with Churchill in Cairo, Egypt, where U.S. troops were sent earlier in the war to stand alongside British troops to repel German and Italian forces – though fighting in the region had largely stopped by this point.
It is unclear how loudly FDR's meetings with Churchill were broadcast, but it is also unclear if they were kept entirely secret.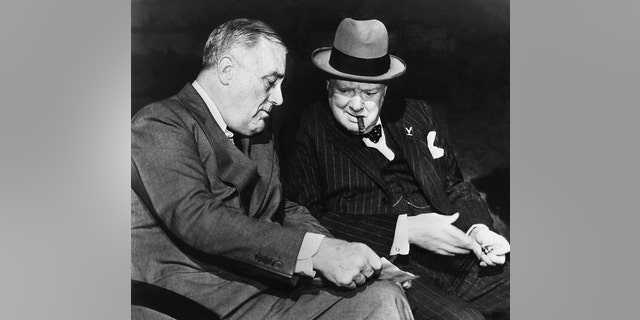 Franklin D. Roosevelt and Sir Winston Churchill discuss details of Germany's surrender in one of their last meetings at Casablanca. Both leaders agreed to seek the unconditional surrender of Germany.  (Hulton-Deutsch/Hulton-Deutsch Collection/Corbis via Getty Images)
Biden on Monday pledged to continue aiding Ukraine in what has become the biggest war in Europe since World War II with over 100,000 deaths reported on both sides – though that figure is estimated to be significantly higher.
Biden has faced some criticism from some on the right who believe the U.S. is spending too much, but a majority of lawmakers on both sides of the aisle and the White House have argued the U.S. could end up spending more if Russia is able to succeed in taking parts of Ukraine.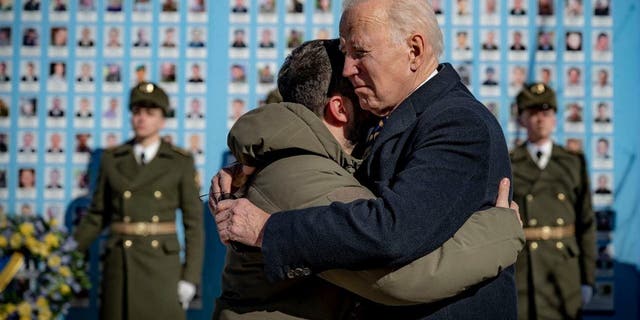 President Joe Biden and President Volodymyr Zelenskyy hug goodbye at the Memorial Wall of Fallen Defenders of Ukraine in Kyiv on Monday, Feb. 20, 2023. (Ukrainian Presidential Press Office via AP)
CLICK HERE TO GET THE FOX NEWS APP
Defense officials have warned Russia will not stop with annexing eastern Ukraine but will look take the whole of the country and potentially other former Soviet nations if successful.
"This is the largest land war in Europe in three quarters of a century. The American people know it matters," Biden said while affirming U.S. commitment to Ukraine. "Unchecked aggression is a threat to all of us."
Caitlin McFall is a Reporter at Fox News Digital covering Politics, U.S. and World news.