White House press secretary Karine Jean-Pierre on Friday blamed the previous administration for the immigration crisis facing the Biden administration, accusing Republicans of making the problem worse by opposing Democratic proposals for comprehensive immigration reform.
Ahead of President Biden's first visit to the southern border as president, Jean-Pierre told reporters that immigration reform is a "high priority" for the administration and that Biden is looking for Congress to act in the face of historic rates of illegal immigration overwhelming resources at the border.
"The president inherited a mess because of what the last administration did. We inherited a mess. And, you know, Republicans in Congress made it worse by blocking comprehensive immigration reform," Jean-Pierre said at the daily White House press briefing. "And so what you're seeing from this president is he's acting. He's acting to protect, to continue to protect the border, secure the border, and also deal with irregular migration."
Biden announced several changes to his immigration policies Thursday in a major speech from the White House. His speech came after more than 2.3 million migrant encounters were reported in FY 2022, breaking the historic 1.7 million record encountered in FY 2021. So far in FY 2023, which began in October, the first two months have outpaced the same period last year — with 233,740 encounters in November, compared to 174,845 in 2021 and 73,994 in 2020.
BIDEN ANNOUNCES BORDER VISIT, NEW MEASURES AS PRESSURE GROWS OVER OVERWHELMING MIGRANT SURGE
White House press secretary Karine Jean-Pierre speaks during the daily press briefing at the White House Jan. 6, 2023, in Washington, D.C.
(Drew Angerer/Getty Images)
To address this crisis, Biden will expand a humanitarian parole program for Venezuelan nationals to include Haitians, Cubans and Nicaraguans – allowing some 30,000 individuals per month from those countries to be paroled into the U.S. for a two-year period if they meet certain conditions. Those who attempt to cross the border illegally will be ineligible for the program.
Additionally, the president is expanding Title 42 expulsions to include those nationalities, allowing up to 30,000 of those who enter the U.S. illegally each month to be quickly returned to Mexico. Biden will also expedite the removal of people who do not claim asylum and who cannot be expelled under Title 42.
MAYORKAS SAYS MASSIVE MIGRANT NUMBERS 'STRAINING OUR SYSTEM,' CALLS FOR CONGRESS TO ACT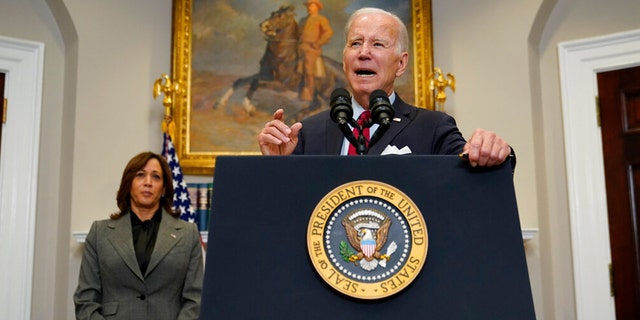 President Joe Biden speaks about border security in the Roosevelt Room of the White House, Thursday, Jan. 5, 2023, in Washington. Vice President Kamala Harris stands at left. 
(AP Photo/Patrick Semansky)
Though the administration will also triple refugee resettlement from Latin American and Caribbean countries, setting a goal of up to 20,000 refugees for FY 2023 and FY 2024, an important policy change has drawn fierce pushback from immigration activists. The Department of Homeland Security announced Thursday that it would introduce a rule that would make illegal immigrants ineligible for asylum if they "circumvent available, established pathways to lawful migration" and do not claim asylum in a country through which they traveled to get to the U.S.
Reporters asked Jean-Pierre about the controversial rule, which has been compared to former President Trump's "Remain in Mexico" policy that required asylum applicants to stay outside the U.S. while their claims were processed.
BIDEN ADMIN'S BORDER MOVES TO TACKLE VENEZUELAN MIGRANT SURGE DRAWS CRITICISM FROM LEFT AND RIGHT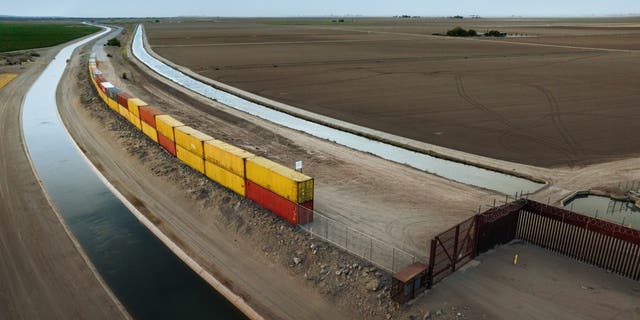 Aerial view of shipping containers being installed to fill gaps in the unfinished wall along the United States-Mexico border.
(Qian Weizhong/VCG via Getty Images)
"I do take issue with comparing us to Donald Trump," Jean-Pierre said, asserting that the Trump administration "tore babies away from their moms, from their parents, from their families."
She insisted that Biden's proposal is "not an asylum ban."
"It's a safe, orderly and human process for seeking asylum," Jean-Pierre said, noting that the administration is communicating with Congress and immigration groups about the policy.
CLICK HERE TO GET THE FOX NEWS APP
"Our priority is to do this in a safe and orderly and humane way. And that's the path that we want to take."
Fox News' Adam Shaw contributed to this report.