close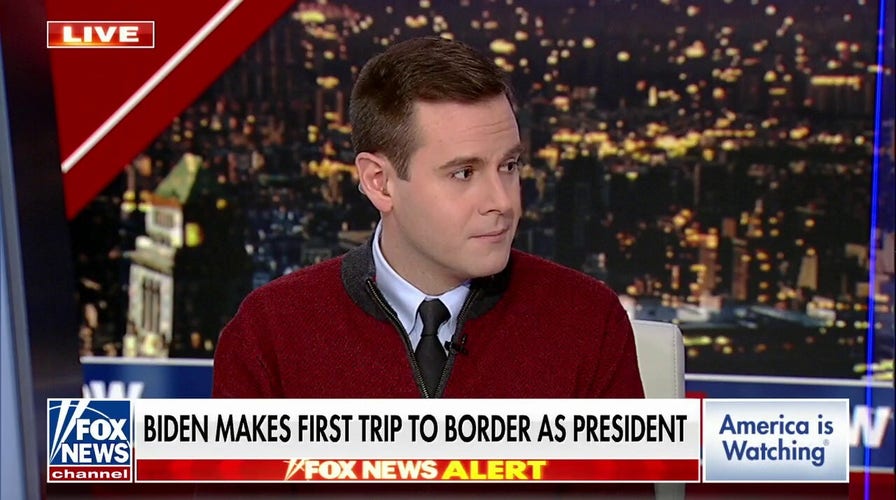 Video
Biden has gone out of his way to ignore border crisis: Guy Benson
'The Big Sunday Show' panelists discuss President Biden's first trip to the border and record numbers of migrant crossings. 
President Biden got a watered-down version of the border crisis in El Paso, Texas on Sunday, as the number of illegal immigrants coming across the U.S.-Mexico line appears to have plummeted since December, according to reports.
Not only that, but the Central Processing Center, which was previously overwhelmed with immigrants, is no longer at its capacity of about 1,000 migrants, and the camps of migrants have suddenly vanished, at least according to U.S. Customs and Border Protection sources.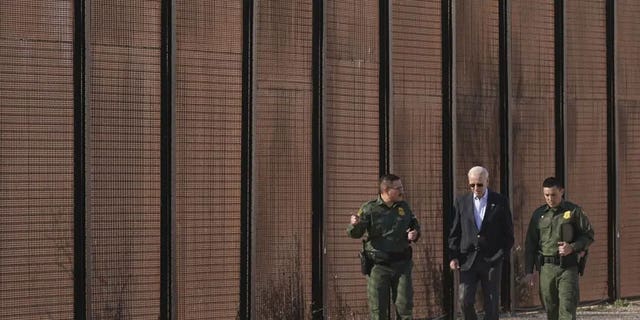 President Joe Biden walks with U.S. Border Patrol agents along a stretch of the U.S.-Mexico border in El Paso Texas, Sunday, Jan. 8, 2023. 
(AP Photo/Andrew Harnik)
Leading up to Biden's visit, the Border Patrol union slammed the president because of reports that state and local authorities were ramping up detentions and cleaning up the migrant encampments ahead of the commander in chief's arrival.
BORDER PATROL UNION RIPS BIDEN'S BORDER VISIT, SAYS EL PASO CLEANED UP 'JUST IN TIME'
"El Paso is being cleared up as if nothing unusual ever happened there," the National Border Patrol Council tweeted on Friday. "Just in time for Biden's 'visit to the border.'"
The tweet was posted after a report by El Paso Matters that said "large crowds" of migrants had been detained in El Paso by Border Patrol agents overnight on Wednesday.
Later reports suggested the Border Patrol and local police ramped up patrols and detentions in El Paso ahead of the president's visit on Sunday.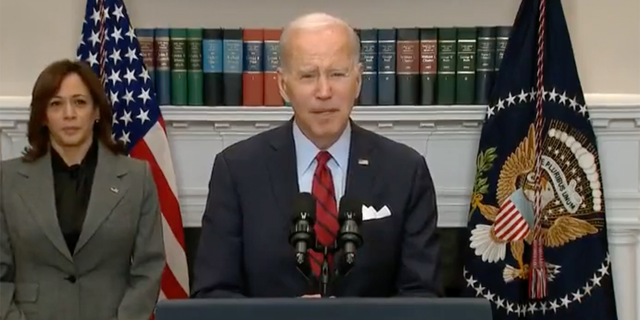 President Joe Biden took heat for a gaffe-prone address on the problems at the U.S. southern border. 
(Screenshot/Twitter)
"El Paso clears downtown of expansive migrant camps ahead of Biden visit," tweeted Mayra Flores, R-Texas. "Why not show him what our border community and law enforcement officials are dealing with on a daily basis."
BIDEN ANNOUNCES BORDER VISIT, NEW MEASURES AS PRESSURE GROWS OVER OVERWHELMING MIGRANT SURGE
CBP sources have confirmed that migrant camps in El Paso began last week, and it was in response to community complaints, including from the El Paso Police Department.
The clearing was primarily to address large groups of mostly Venezuelan migrants who crossed into the U.S. without turning themselves into the Border Patrol out of fear that Title 42 rules would get them expelled.
But because they were never processed by the Border Patrol, they did not have paperwork from the Department of Homeland Security and were in fact in the U.S. illegally.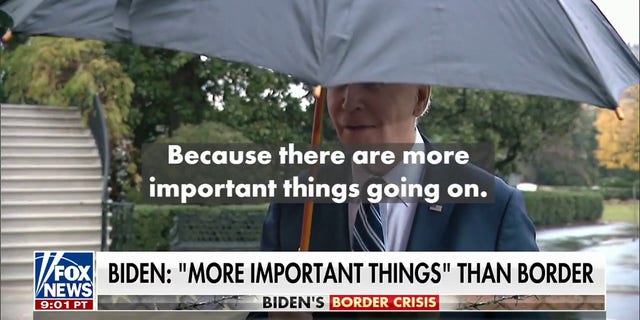 (Fox News)
Because they were in the U.S. illegally, local shelters were unable to accept them, and if they did, the shelter would be violating federal laws on harboring illegal aliens.
TEXAS ATTORNEY GENERAL SAYS BIDEN'S NEW IMMIGRATION PLAN MAY NOT BE LEGAL: 'YOU'RE NOT KING'
Since the migrants could not get into shelters, they set up camps and the crime rate increased, with many Venezuelans getting arrested for breaking into cars. Community members complained, according to CBP sources, and Border Patrol agents started making arrests.
Most of the remaining camps are now in the downtown El Paso area.
CBP sources also said the number of illegal crossings in El Paso have plummeted since last month's chaos climaxed.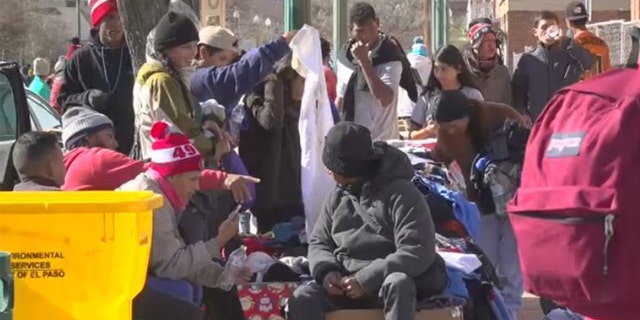 Fox News witnessed around 200 migrants on a street near a greyhound bus. 
(Fox News)
The El Paso sector saw an average of 2,150 daily migrant encounters in mid-December, which since the beginning of January, has dropped below 1,000 per day.
BIDEN SAYS 'MORE IMPORTANT THINGS' THAN BORDER VISIT, DESPITE 59 TRIPS TO DELAWARE, 8 STOPS FOR ICE CREAM
For those reasons, CBP sources told Fox that Biden would be getting a "sanitized and orderly" look at the migrant situation in El Paso.
Biden visited the border for the first time in his two years in office on Sunday afternoon, where he met with elected local officials and community leaders, while assessing operations at the border.
Brandon Judd, the president of the National Border Patrol Council told Fox News Digital last week that agents are "beyond frustrated" that the president allowed the border to deteriorate as much as it has.
CLICK HERE TO GET THE FOX NEWS APP
Prior to Sunday's visit, Biden announced an expansion of a humanitarian parole program for Venezuelan nationals to include Haitians, Cubans and Nicaraguans. That program will allow 30,000 individuals a month from all four countries to be paroled into the U.S. for a two-year period if they have a financial sponsor and pass other conditions. Those who attempt to enter illegally are made ineligible for the program.
That expanded program will be combined with an expansion of Title 42 expulsions to include those nationalities, allowing up to 30,000 of those who enter the U.S. illegally each month to be quickly returned to Mexico. Additionally, the administration announced an increased use of an alternative removal authority – expedited removal – to remove those who do not claim asylum and who cannot be expelled under Title 42.
Biden visited the border at El Paso for between three and four hours, his first visit as president and the first verified border visit of his long career in politics.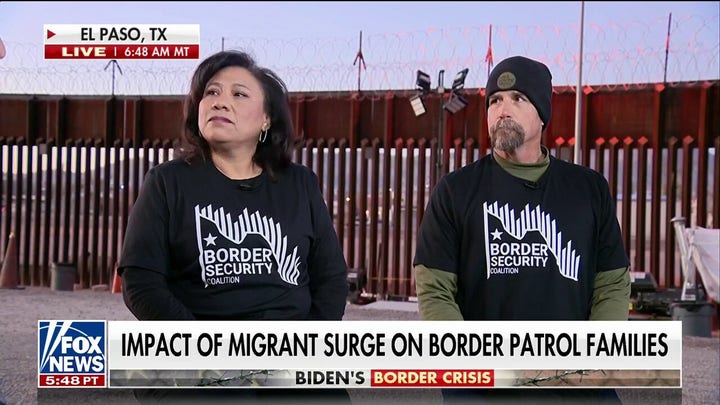 Video
Greg Wehner is a breaking news reporter for Fox News Digital.