close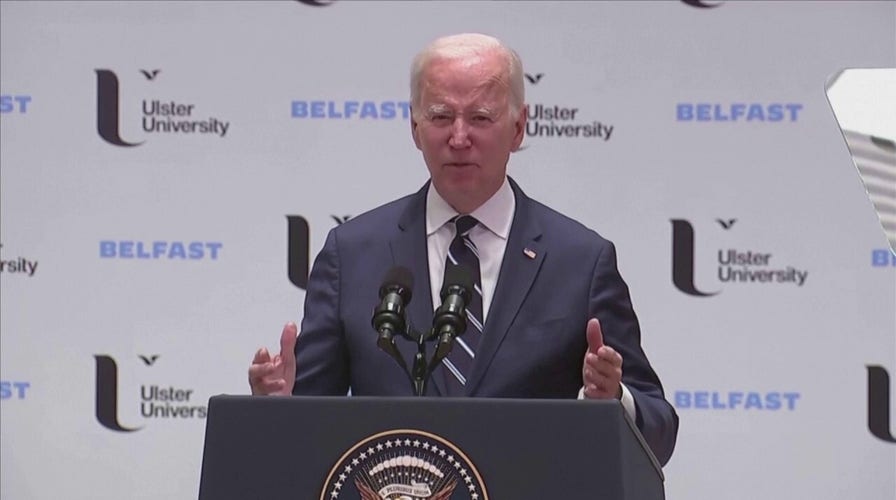 Video
Biden praises Northern Ireland during Good Friday Agreement anniversary trip: 'Your future is our future'
President Biden spoke Wednesday in Belfast, Northern Ireland. (Reuters)
President Biden spoke in Northern Ireland on Wednesday, bantering with and praising the nation's people as an inseparable ally of the U.S.
The president is in the country to commemorate the Good Friday Agreement — a peace deal largely brokered and negotiated by the U.S.
"Twenty-five years ago this week, the landmark Belfast Good Friday Agreement was signed, and it wasn't easy," Biden told a crowd at Ulster University in Belfast. "It took long, hard years of work to get to this place. It took a people willing to come together in good faith and to risk boldly for the future."
BIDEN DEFIANT OVER NORTHERN IRELAND TRIP AFTER 'SEVERE' TERRORISM ALERT: 'CAN'T KEEP ME OUT'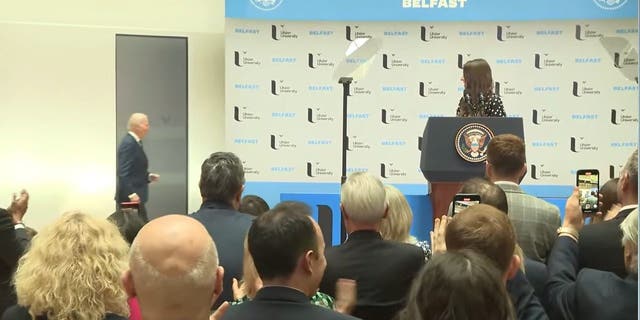 President Joe Biden comes to the stage during an event at Ulster University in Northern Ireland on April 12, 2023. (Screencap/White House)
Walking a tight-rope of Irish identity politics, Biden referenced his Irish heritage during the speech at Ulster — while also joking about frequent accusations from colleagues that "Biden" is an English last name.
"Your history is our history," Biden said. "And even more important, your future is America's future."
The president is making brief stops in both Northern Ireland and the Republic of Ireland on Wednesday to mark the 25th anniversary of the Good Friday Agreement — a document signed April 10, 1998 to end the 30-year period of unrest in Northern Ireland known as "The Troubles."
NORTHERN IRELAND DISSIDENTS THROW MOLOTOV COCKTAILS AT POLICE VEHICLES ONE DAY BEFORE BIDEN'S VISIT
From the late 1960s through the late '90s, over 300 police officers were killed during the violence that unfolded in Northern Ireland between Irish nationalist militants, who opposed British rule, and pro-U.K. unionists, the BBC reported.
More than 3,600 people were killed during the period of violence, according to Reuters reporting.
Biden earlier met with UK Prime Minster Rishi Sunak in Belfast later in the day, and then departed for Dublin to meet with Irish President Michael Higgins.
CLICK HERE TO GET THE FOX NEWS APP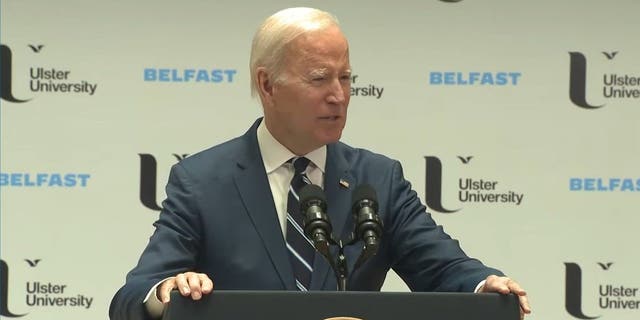 President Joe Biden speaking in front of a crowd at Ulster University in Northern Ireland on April 12, 2023.
The anniversary comes at a time of increasingly tense politics for Northern Ireland — a rise in nationalist militancy in Northern Ireland prompted the U.K. government to increase the threat of a terrorist attack to "severe" this week
Britain's MI5 intelligence agency has raised the threat level of a domestic terrorist attack in Northern Ireland back up to "severe" — meaning an attack is highly likely — after lowering it just last year.
Fox News' Caitlin McFall and Paul Best contributed to this report.