President Biden issued a presidential memorandum Sunday on what would have been the 50th anniversary of Roe v. Wade in an effort to protect access to abortion pills across the country.
Vice President Kamala Harris made the announcement during her remarks in Florida as she spoke on the administration's efforts to expand abortion rights.
"Members of our Cabinet and our administration are now directed as of the president's order to identify barriers to access to prescription medication and to recommend actions to make sure that doctors can legally prescribe, that pharmacies can dispense and that women can secure safe and effective medication," Harris said during her remarks in Tallahassee, Florida.
The Presidential Memorandum on Further Efforts to Protect Access to Reproductive Healthcare Services will direct the Secretary of Health and Human Services (HHS) with the Attorney General and the Secretary of Homeland Security (DHS) "to consider new guidance" for entities and individuals – including patients, medical providers, and pharmacies – that wish to "legally access, prescribe, or provide mifepristone" across the US, according to a statement released by the White House.
ON THIS DAY IN HISTORY, JAN. 22, 1973, SUPREME COURT ISSUES ITS LANDMARK ROE V. WADE DECISION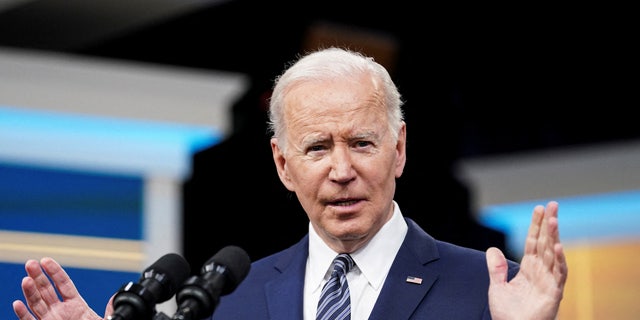 U.S. President Joe Biden, on March 31, 2022. 
(REUTERS/Kevin Lamarque/File Photo)
The memorandum also directs the Secretary of HHS along with the Attorney General and the Secretary of DHS to look into other means through which patients can access "legal reproductive care," including abortion medication from pharmacies, "free from threats or violence."
The Attorney General and the HHS and DHS Secretaries will also work with the White House Interagency Task Force on Reproductive Healthcare Access in addressing "barriers" patients, pharmacies, and medical providers currently face when attempting to acquire abortion medication.
MARCH FOR LIFE ATTENDEES CALL FOR ABORTION BANS AND SUPPORT FOR PREGNANT WOMEN
"At the same time that we work to protect this aspect of reproductive care, many states have gone even further and now have total bans in effect," Harris said during her remarks before continuing on to list several states that have already issued near-total abortion bans.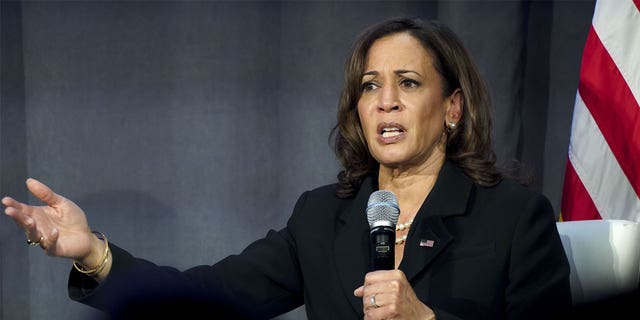 US Vice President Kamala Harris speaks during the Democratic National Committee Women's Leadership Forum in Washington, DC, US, on Friday, Sept. 30, 2022.
(Leigh Vogel/Abaca/Bloomberg via Getty Images)
Harris also called upon Congress to pass a reproductive rights bill, saying Biden will sign it if so.
HOUSE JUDICIARY COMMITTEE TO INVESTIGATE LEAK OF SUPREME COURT OPINION AFTER SCOTUS WHIFFS
"So to all the friends and leaders, I say, let us not be tired or discouraged because we're on the right side of history," Harris said.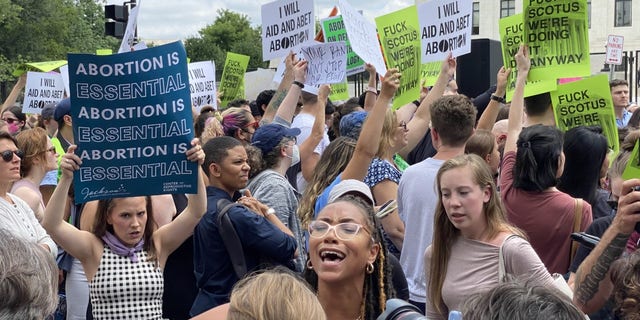 Pro-choice activists react to the historic Supreme Court ruling to overturn Roe vs. Wade.
(Fox News Digital)
CLICK HERE TO GET THE FOX NEWS APP
Harris' remarks come several months after the US Supreme Court overturned the landmark decision in June 2022, ending the constitutional right to abortion and handing states the individual power to allow, limit, or ban abortion altogether. The ruling came in the Dobbs. v Jackson Women's Health Organization opinion, wherein the state of Mississippi asked the Supreme Court to strike down a lower court ruling that stopped a 15-week abortion ban from taking place.