close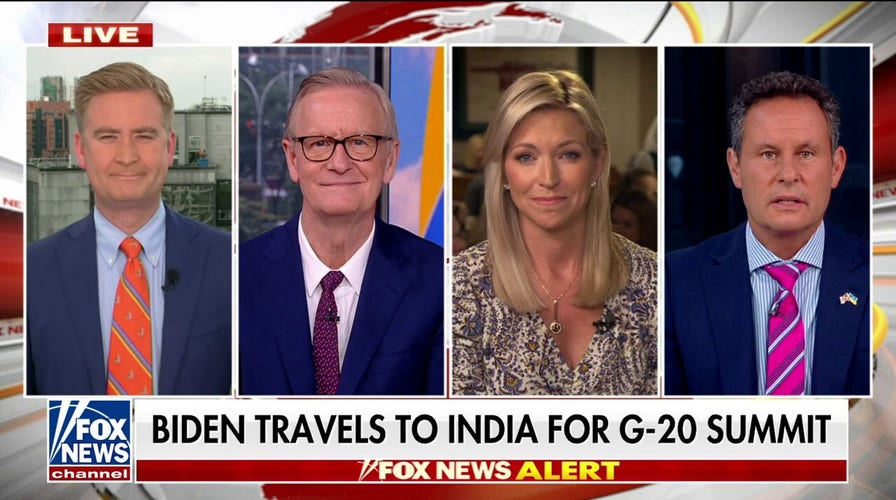 Video
Biden campaign pivots focus to foreign policy ahead of G20 summit
Fox News' Peter Doocy provides details on liberal media's coverage of President Biden's poor poll numbers as he travels to India for the G20 summit.
India is hosting its first G-20 summit starting September 9 in New Delhi, where leaders of the world's top economies will gather to discuss major international economic issues.
The G-20 members represent 85% of global gross domestic product, 75% of international trade and two-thirds of the world's population, according to the Organisation for Economic Co-operation and Development (OECD).
"As Xi and Putin shrink from the global stage, the U.S. has an excellent opportunity to reclaim the mantle of global leadership, helping other G-20 nations recognize and promote the value of transparency, development, and open trade supported by democratic rules and principles," Elaine Dezenski, Senior Director for the Foundation for the Defense of Democracies's Center on Economic and Financial Power, told Fox News Digital.
INDIA MAY BE MOVING TO CHANGE ITS NAME TO ANCIENT SANSKRIT TERM, G20 INVITATION SUGGESTS
One major sticking point for the summit will once again be Russia's invasion of Ukraine, which will likely split the group between the unabashedly pro-Ukraine countries of the West and countries, like India, that have taken a more neutral or nonaligned approach to the conflict.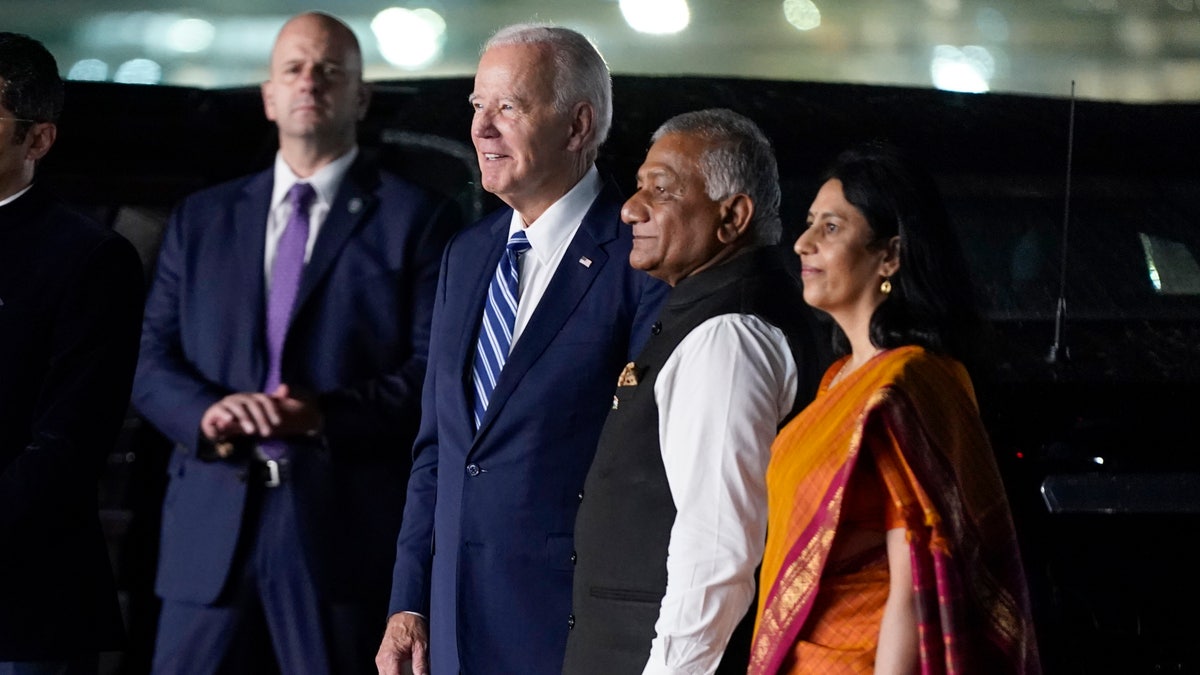 President Joe Biden watches a group of dancers with Vani Sarraju Rao, Joint Secretary in the Ministry of External Affairs, right, and Vijay Kumar Singh, Minister of State for Road Transport and Highways; Minister of State for Civil Aviation, as he arrives at Indira Gandhi International Airport to attend the G20 summit, Friday, September 8, 2023, in New Delhi.  (AP Photo/Evan Vucci)
"The reality is that Russia's illegal war has had devastating social and economic consequences, and the poorest countries on the planet are bearing the brunt of that," National Security Advisor Jake Sullivan said at a White House press briefing on Tuesday.
The November 2022 Bali summit declaration notes that most members strongly condemned the war in Ukraine, but divides remain.
Most notable, host country India has adopted a position of neutrality, focusing on the humanitarian catastrophe caused by the war but avoiding placing blame directly on Russian President Vladimir Putin. India's trade with Russia has actually increased since the war began, and India is also heavily reliant upon Russia for arms exports. India bought weapons worth over $60 billion in the last 20 years, and 65% or nearly $39 billion were from Russia, according to Stockholm International Peace Research Institute data.
ZELENSKYY TAKES JAB AT PUTIN OVER G20 SUMMIT, HOPES 'NO OCCUPIERS' WILL BE IN ATTENDANCE
"But the fact that most members of the G-20 — as most members of the U.N. General Assembly — continue to hold the position that Russia's war was illegal, in violation of the U.N. Charter, and that this war must end on terms consistent with the U.N. Charter — that is the result of months of hard diplomacy by the United States and our partners, and it continues to reflect where international sentiment is on this issue," Sullivan added.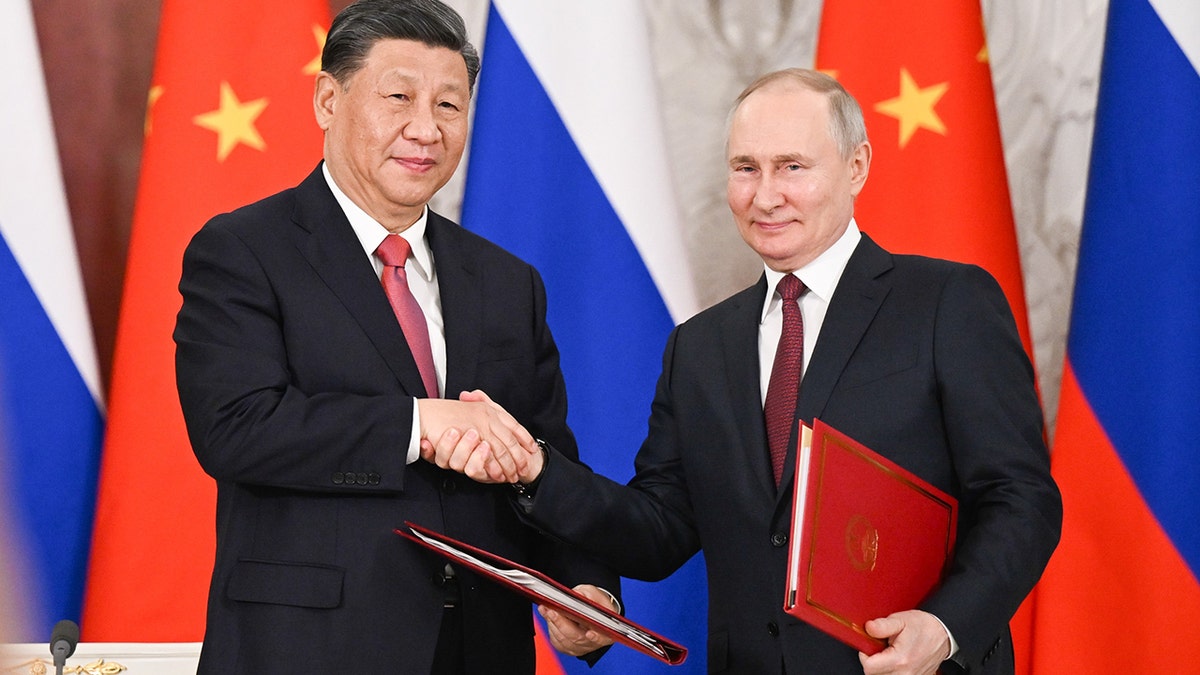 Chinese President Xi Jinping and Russian President Vladimir Putin shake hands after jointly signing a Joint Statement of the People's Republic of China and the Russian Federation on Deepening the Comprehensive Strategic Partnership of Coordination for the New Era in March 2023. Neither leader is expected to attend the G-20 meeting in India. (Xie Huanchi/Xinhua via Getty Images)
Vladimir Putin is once again skipping the G-20 summit, instead sending his foreign minister, Sergey Lavrov, likely due to the International Criminal Court's (ICC) arrest warrant issued to Putin in March for the war crime of unlawful deportation of children in occupied Ukraine. The indictment could hinder his international travel, because it would require member states to arrest Putin if he were to set foot in their country. Although the United States, Russia and India are not parties to the ICC, the indictment makes it harder for countries to ignore the allegations, and international pressure would mount wherever Putin may visit.
Chinese President Xi Jinping will also reportedly not attend. Xi and President Biden met on the sidelines of the Bali summit in November for their first in-person meeting since Biden took office.
Speaking last week, Biden told reporters, "I am disappointed, but I'm gonna get to see him."
CHINA-DOMINATED BLOC OFFERS IRAN, SAUDI ARABIA MEMBERSHIP IN MOVE THAT SEEKS TO UNDERMINE US
The absence of two of the world's leading authoritarians leaves President Biden and the United States with greater opportunities to shore up allies and partners in a global environment characterized by great power competition.
"Given both Putin and Xi's absence from the G-20, it provides an excellent opportunity to rally support from democratic partners and allies to push mechanisms to strengthen the rule of law and transparent and sustainable infrastructure," the FDD's Dezenski said.
"Biden's announcement supporting increased funding for the G-7 Partnership for Global Infrastructure Investment (PGII) is an intriguing alternative to China's problematic and dependency-building Belt and Road Initiative and offers an opportunity to reassert the U.S. as a more dependable partner for long-term economic engagement throughout the Global South," Dezenski added.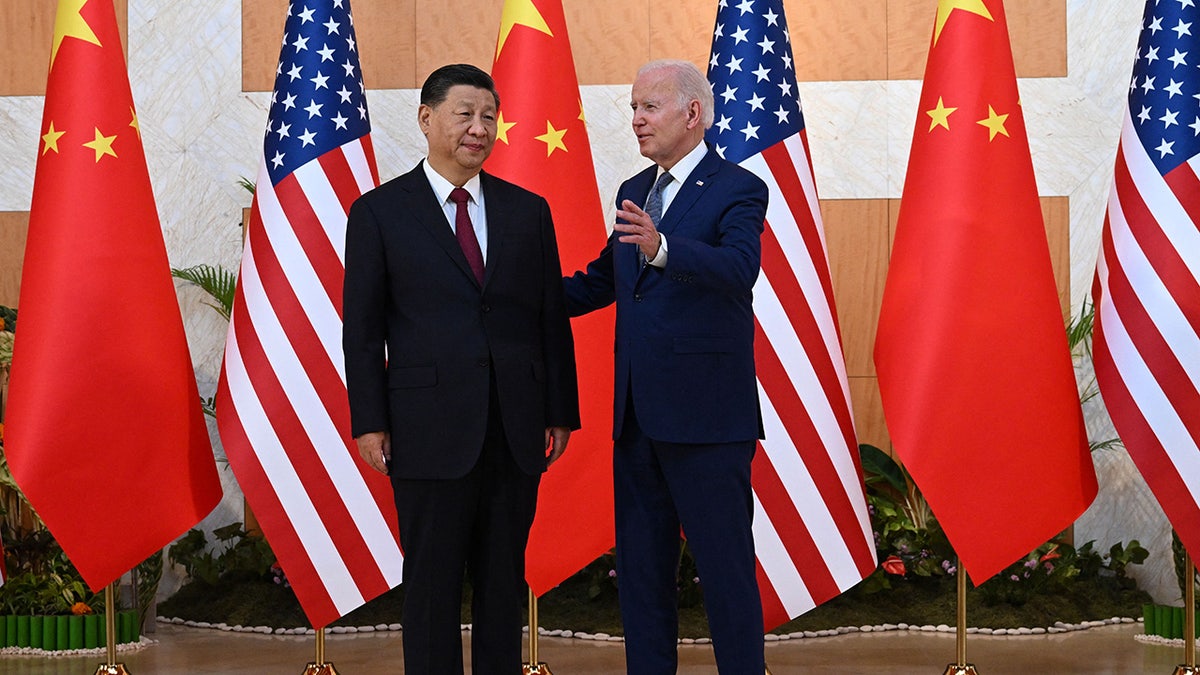 President Joe Biden (R) and Chinese President Xi Jinping hold a meeting on the sidelines of the G20 Summit in Nusa Dua on the Indonesian resort island of Bali, November 14, 2022.  (SAUL LOEB/AFP via Getty Images)
The G-20 was originally conceived following the 1999 Asian financial crisis and debuted its annual summit in 2008 amid the Great Recession. The leaders of the world's top industrialized and developing economies agreed that financial crises have major spillover effects and could no longer be contained by just a national or regional response.
CLICK HERE TO GET THE FOX NEWS APP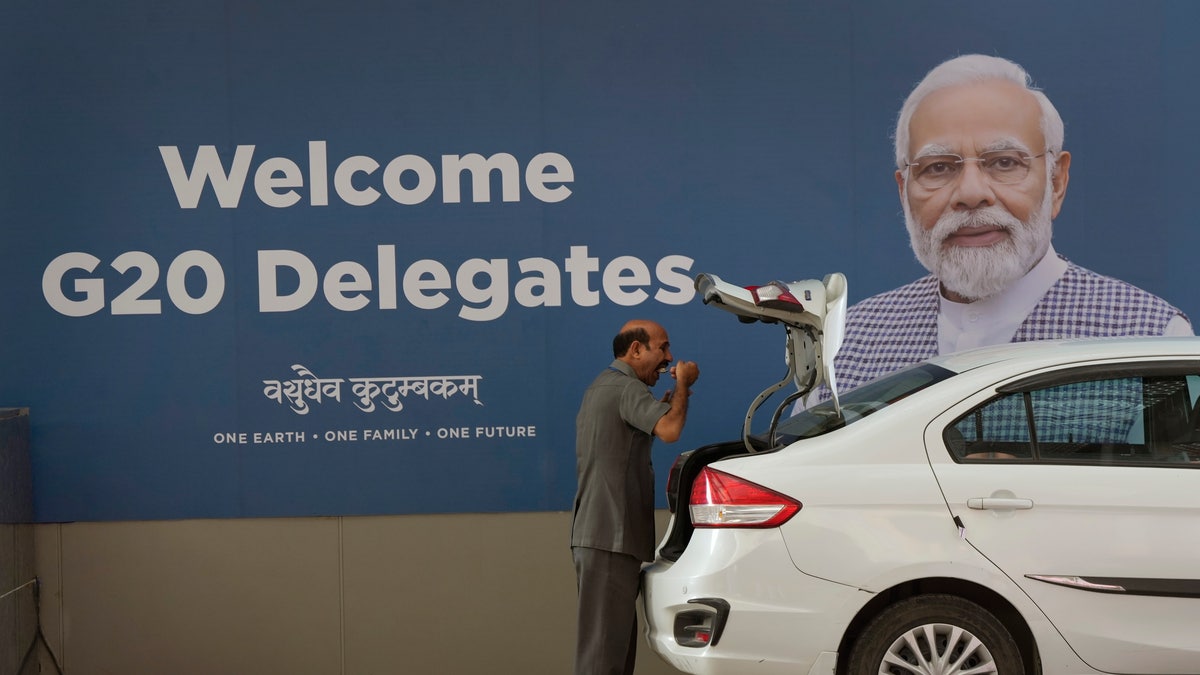 A government-employed driver eats a meal at the main venue of the G20 Summit, in New Delhi, India, Friday, September 8, 2023.  (AP Photo/Manish Swarup)
The G-20 consists of Argentina, Australia, Brazil, Canada, China, France, Germany, India, Indonesia, Italy, Japan, Mexico, Russia, Saudi Arabia, South Africa, South Korea, Turkey, the United Kingdom, the United States and the European Union.
During the 2022 Bali summit in Indonesia, President Biden supported the permanent inclusion of the African Union, a bloc of 55 nations, into the G-20. Indian Prime Minister Narendra Modi is already on record as saying he supports the proposal and that it will be on the agenda for the New Delhi summit.
The theme of India's G-20 presidency is derived from the Sanskrit "Vasudhaiva Kutumbakam" or "One Earth. One Family. One Future." India's theme looks to bring a human-centric approach to global issues such as climate change and promoting equitable and sustainable growth for the entire world. More specifically, India under its presidency has focused on issuing more loans for developing economies in the Global South, the effects of inflation, food insecurity and increasingly volatile weather events due to climate change.