A federal appeals court has upheld a ban on forcing workers in Kentucky, Ohio and Tennessee who contract with the federal government to get a COVID-19 vaccine.
An appeals court has affirmed a ban in three states on enforcing a federal vaccine mandate for workers who contract with the federal government.
A healthcare worker administers a dose of the Moderna Covid-19 vaccine to a person in a vehicle at a drive-thru vaccination site at the Meigs County fairgrounds in Pomeroy, Ohio, U.S., on Thursday, March 18, 2021.
(Getty Images)
A panel of the Sixth Circuit U.S. Court of Appeals in Cincinnati on Thursday affirmed a lower court's ruling that said the mandate was unconstitutional.
"We decline the government's invitation to construe as authorizing the President to ignore the limits inherent in the Property Act's operative provisions in favor of an 'anything goes' pursuit of a broad statutory purpose," the panel wrote in its ruling.
CHILDHOOD VACCINATION RATES DIP FOR 2021-22 SCHOOL YEAR
The Biden administration is not enforcing the rule while legal battles play out around the country.
A federal judge in Louisville, Kentucky, blocked the Biden rule in November 2021 for that state and two others: Tennessee and Ohio. The mandate requires workers contracting with the federal government to wear face masks and be vaccinated for COVID-19.
The Fifth Circuit U.S. Court of Appeals issued a similar ruling in December for Indiana, Louisiana and Mississippi.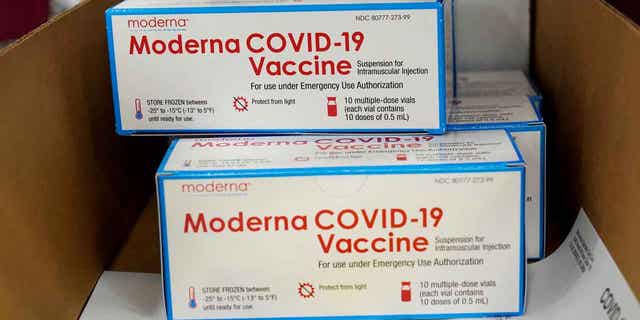 Boxes containing the Moderna COVID-19 vaccine are prepared to be shipped at a distribution center in Olive Branch, Mississippi, U.S. December 20, 2020.
(Paul Sancya/Pool via REUTERS)
Kentucky Attorney General Daniel Cameron, a Republican running for governor, brought the Kentucky lawsuit in 2021.
Cameron called the Sixth Circuit's decision a "resounding victory against unlawful federal overreach into the personal medical decisions of Kentuckians."
"We argued that the federal contractor vaccine mandate is unlawful and that the Biden administration does not have the authority to impose such a sweeping mandate on Kentuckians," Cameron wrote in a statement.
"For over a year, the Biden administration has fought against us, but the court has agreed with our legal arguments and has halted the federal contractor vaccine mandate for Kentucky, Ohio, and Tennessee."
CLICK HERE TO GET THE FOX NEWS APP
Fox News Digital has reached out to the Department of Justice for comment.
The Associated Press contributed to this report.