close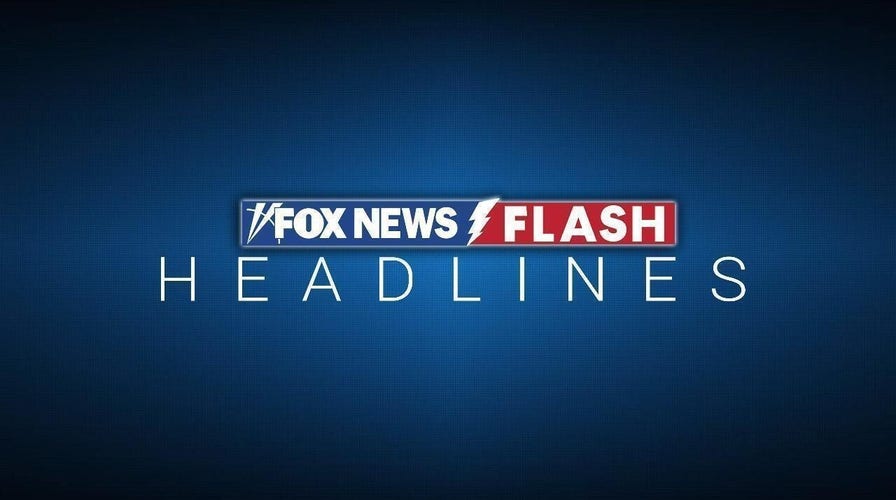 Video
Fox News Flash top headlines for September 4
Fox News Flash top headlines are here. Check out what's clicking on Foxnews.com.
With war ravaging Europe's heartland again, the countless headstones, cemeteries and memorials from World War I are a timeless testimony to its cruelty. Belgium and France want them recognized as UNESCO World Heritage sites to make sure people stop and think.
They bring pause and introspection to just about everyone visiting the sites dotted along the former battle lines of the 1914-1918 Great War that killed some 10 million soldiers.
At 12, Robin Borremans is dreaming of becoming a helicopter pilot in Belgium's elite Special Forces. At the Tyne Cot cemetery, where 12,000 Commonwealth soldiers are buried row upon row, his perspective on life and death, war and peace, is being honed.
CRUCIFIX FOUND IN DEBRIS AFTER WWI BATTLE IN FRANCE IS BEING RETURNED TO CHURCH OVER 100 YEARS LATER
"It makes you so very quiet when you know what happened in this war," he said as he took a break from walking between the rows of the fallen. "It's really terribly impressive." He and his party planned to visit a cemetery for Germans, the erstwhile enemy, later that day.
It is because of that impact that both nations want UNESCO to include the area on its famed list of sites along with the Great Wall of China, Peru's Machu Picchu and Greece's Acropolis. A decision on the issue is expected to be made around Sept. 21 during UNESCO's World Heritage Committee meeting in Riyadh, Saudi Arabia.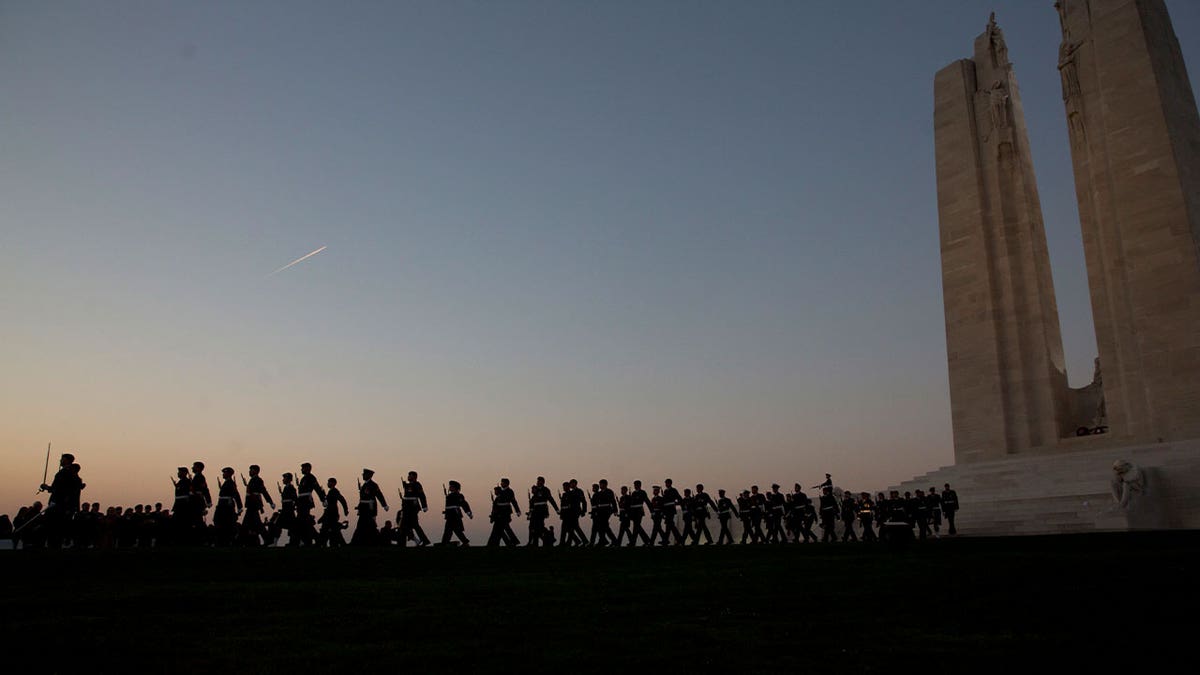 Canadian soldiers march at the WWI Canadian National Vimy Memorial in Givenchy-en-Gohelle, France, on April 8, 2017. Belgium and France want numerous memorials to be recognized as UNESCO World Heritage sites. (AP Photo/Virginia Mayo, File)
The area has 139 sites spanning western Belgium and northern France and has been a living history almost since the guns finally fell silent in 1918. In neighboring Ypres, "every evening — every evening — of every single day since the 1920s there has been a couple of people blowing a horn out of the Menin Gate," where the names of 54,000 soldiers who were never found in the chaos spawned by the war are engraved on its walls, said Matthias Diependaele, heritage minister of northern Belgium's region of Flanders.
"That is the idea of commemorating every individual lost life in that war," he said.
But that is not necessarily enough to achieve such lofty recognition, UNESCO has already ruled. To the dismay of the two nations, it snubbed their request in 2018 with the advice of the International Council on Monuments and Sites marking its conclusions with comments like "several questions," "lack of clarity," "too narrow and limited" and "shortcomings."
LONG-LOST IRONTON SHIP IS FOUND IN LAKE HURON AFTER ELUDING HUNTERS FOR MORE THAN A CENTURY
As well, it was long perceived that a site like the Auschwitz Birkenau German Nazi concentration camp in Poland should stand alone as witness to the horror and suffering and not be a precedent for a long list linked to wars.
That was five years ago and now, Diependaele said, "I believe and I'm counting on the fact that the ideas inside UNESCO changed and that now there is more a context of openness." And with the 1 1/2-year-old Russian invasion of Ukraine, "the world has changed since then as well. And maybe there is a lot more understanding for the necessity of the defending of peace."
Since the war in Ukraine started, several of the institutions linked to the memorials and cemeteries have begun initiatives to support the embattled nation.
CLICK HERE TO GET THE FOX NEWS APP
As in World War I, casualties are also being counted in the tens of thousands, though, fortunately, the overall rate is still much smaller. The sense of loss though, remains the same.
"We get so many people coming through here and making that link with Ukraine just because it is so relevant at the moment," said Erin Harris, a guide at Tyne Cot. "And you're seeing the same situation happening — with these two sides fighting endlessly."
"And you come here to a place like this and you really see, well, this is still happening," Harris said. "And, you know, not much has changed."