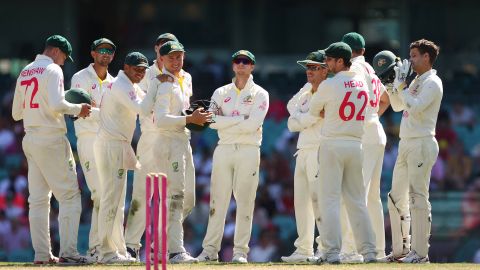 Australia's men's cricket team gather during a Test match against South Africa at the Sydney Cricket Ground on January 8, 2023.
Mark Kolbe/Getty Images
Sydney
CNN
—
Australia's men's cricket team has withdrawn from a series of upcoming matches against Afghanistan in protest over the ruling Taliban's restrictions on women and girls' education and employment, Cricket Australia (CA) said in a statement Thursday.
The teams were scheduled to play three One Day International (ODI) games in the United Arab Emirates in March, but CA decided to cancel the series after "extensive consultation" with "several stakeholders including the Australian government," the statement said.
"CA is committed to supporting growing the game for women and men around the world, including in Afghanistan, and will continue to engage with the Afghanistan Cricket Board in anticipation of improved conditions for women and girls in the country," it added.
In December, the Taliban announced the suspension of university education for all female students. The move followed a decision in March to bar girls from returning to secondary schools, following months-long closures that had been in place since the hardline Islamist group took over Afghanistan in August 2021.
Later that month, the Taliban ordered all local and international non-governmental organizations (NGOs) to stop their female employees from coming to work, warning that non-compliance would result in the revocation of their licenses.
Cricket Australia had previously backed out of a proposed Test match against Afghanistan due to be hosted in Tasmania in November of 2021 over the Taliban's ban on women participating in sports.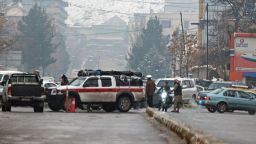 Taliban security forces block a road after a suicide blast near Afghanistan's foreign ministry at Zanbaq Square in Kabul on January 11, 2023.
Wakil Kohsar/AFP/Getty Images
Explosion kills at least 5 people near Afghan Foreign Ministry, Kabul police say
"Driving the growth of women's cricket globally is incredibly important to Cricket Australia. Our vision for cricket is that it is a sport for all, and we support the game unequivocally for women at every level," CA said at the time.
Australia's sports minister Anika Wells on Thursday said Canberra supports Cricket Australia's move.
"The Australian government welcomes Cricket Australia's decision to withdraw from the upcoming men's One Day International series against Afghanistan, following the Taliban's increased suppression of women and girls' rights," she tweeted.
Although the Taliban repeatedly claimed it would protect the rights of girls and women, the group has done the opposite, stripping away the hard-won freedoms for which women have fought tirelessly over the past two decades.
The United Nations and at least half a dozen major foreign aid groups have said they are temporarily suspending their operations in Afghanistan following the ban on female NGO employees.