Ariana Grande shut down critics who have asked the question, "Why aren't you a singer anymore?" Grande responded to the question with a very simple video proving that she can still belt a tune.
Grande, who is currently busy filming the film adaptation of the Broadway play "Wicked," shared a clip on her TikTok and Instagram of her singing a cover of "Somewhere Over the Rainbow" from "The Wizard of Oz," while she was "mid getting ready" on set.
"Wanted to sing you a little something but don't want to sing anything that is not 'Ozian' at the moment," Grande captioned the video "Keeping to my little bubble for now. Done with lots of love."
Ariana Grande posted a video of her singing "Somewhere Over the Rainbow" while she is filming the two-part film adaptation of the Broadway play "Wicked."
(David Crotty/Patrick McMullan via Getty Images)
JENNIFER COOLIDGE SAYS CAREER WAS 'FLATLINING' AND OWES HER SUCCESS TO ARIANA GRANDE
The two-time Grammy winning artist was wrapped up on a pink hooded sweater in the video, keeping her blonde hair that she wears in the film concealed.
"Literally on set filming two musical movies all day every day," Grande wrote on the video. The movie is set to be released in two parts, the first coming out in 2024 and the second in 2025.
Grande shared the news that she would be a part of the "Wicked" cast in November 2021 with an Instagram post. She has since posted snippets of "Wicked" related content, like when she posted a stack of "Wizard of Oz" books in January 2022, a series of photos of her attending the "Wicked" musical in February of that year, and a photo of a song sheet in April, where the singer also shared the announcement that the first film would be hitting theaters in December 2024.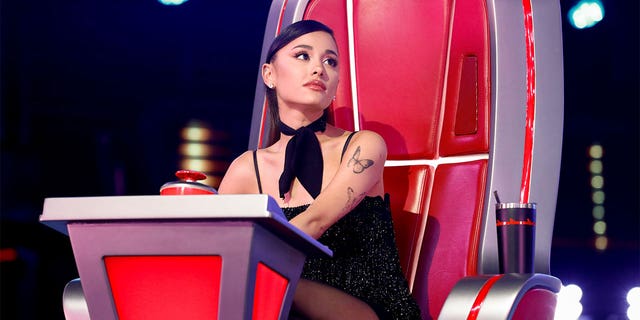 Before filming "Wicked," Ariana Grande joined the cast of the competition singing show, "The Voice" as a coach.
(Trae Patton/NBC/NBCU Photo Bank via Getty Images)
DOWNLOAD THE FOX NEWS MOBILE APP TODAY
Others that make up the "Wicked" cast are Cynthia Erivo as Elphaba, Jonathan Bailey as Fiyero, Michelle Yeoh as Madame Morrible and Jeff Goldblum as The Wizard of Oz.
Prior to the filming of "Wicked" going into full swing, Grande joined Kelly Clarkson, Blake Shelton and John Legend as a coach on season 21 of "The Voice."