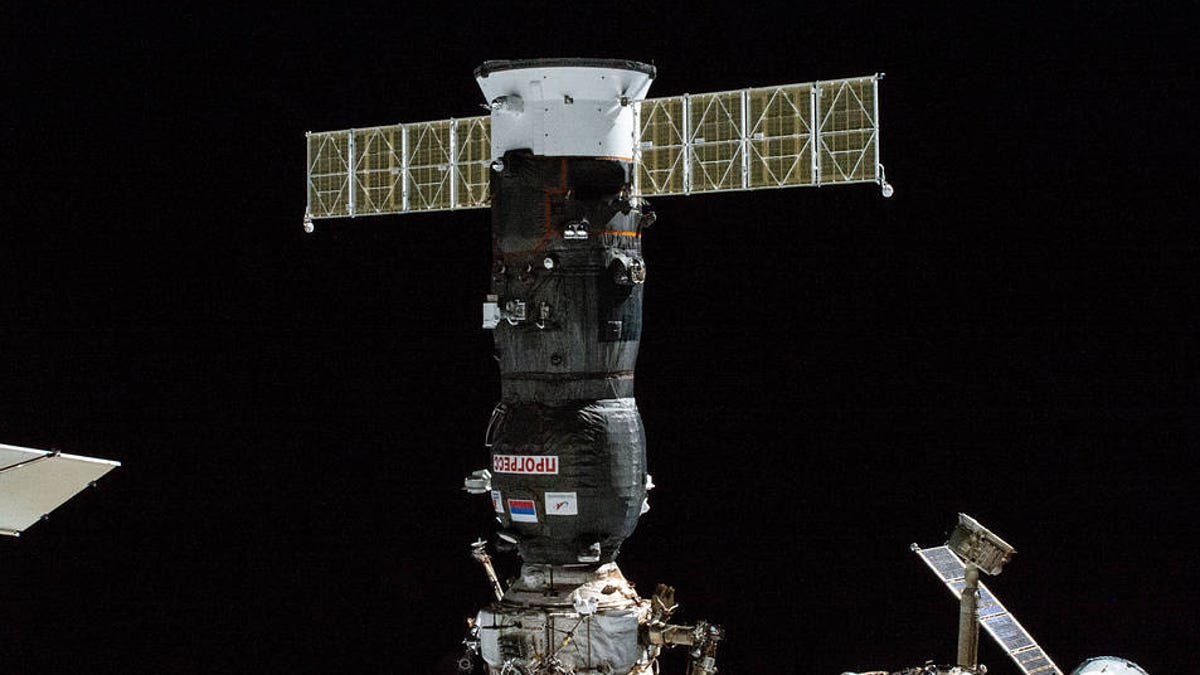 Progress 82 arrived at the ISS in late October to deliver food, fuel and supplies.
NASA
It's happened again. A Russian Progress cargo spacecraft docked to the International Space Station has sprung a coolant leak, NASA said in a statement on Saturday. This is the second incident of this type in recent months after a Russian Soyuz spacecraft attached to the ISS spewed out coolant from a leak in December.
NASA said "engineers at the Russian Mission Control Center outside Moscow recorded a depressurization in the unpiloted Roscosmos Progress 82 cargo ship's coolant loop, which is docked to the space-facing Poisk module at the station." The cause of the leak is under investigation. 
The uncrewed Progress 82 (also known as Progress MS-21) arrived in late October of last year carrying several tons of food, fuel and supplies. It's currently packed with trash for disposal and is scheduled to undock on Friday, Feb. 17, to burn up in Earth's atmosphere.
See also

NASA, Roscosmos Hatch New Plan to Bring Stranded ISS Crew Back to Earth
Micrometeorite May Have Smacked International Space Station's Soyuz Spacecraft
Most importantly, the crew — which consists of three NASA astronauts, one Japanese astronaut and three Russian cosmonauts — is safe. "The hatches between the Progress 82 and the station are open, and temperatures and pressures aboard the station are all normal," NASA said. "The crew, which was informed of the cooling loop leak, is in no danger and continuing with normal space station operations."
At least the Progress spacecraft isn't used to carry humans. NASA and Roscomos declared the leaky Soyuz MS-22 unfit to bring crew back to Earth, necessitating a new plan for getting NASA astronaut Frank Rubio and Russian cosmonauts Sergey Prokopyev and Dmitry Petelin back home. The agencies hatched a plan to send up a fresh Soyuz in February and detach MS-22 with no crew on board.  
Roscosmos and NASA suspect a micrometeorite (a tiny space rock) may have caused the Soyuz leak. It's unknown yet if the Progress problem might be traced to a similar source or if the leak is coming from a similar location. A leak on a cargo craft isn't as worrisome as the Soyuz leak, but the combination of the two so close together will likely trigger extra scrutiny of Russian spacecraft, especially as the launch of a "replacement" Soyuz nears.