Anne Hathaway recently revealed an inappropriate question she was asked by a reporter early into her acting career at the age of 16.
The actress discussed the interaction while being interviewed by Variety at the Sundance Film Festival for the opening of her new film, "Eileen."
"I just remembered one of the very first questions I ever got asked when I started acting and had to do press was: Are you a good girl or a bad girl?" Hathaway told the outlet. "I was 16. And my 16-year-old self wanted to respond with this film."
Hathaway noted that working with the film's director William Oldroyd was a positive experience as the pair set out to make a movie centered on a young female protagonist. The actress was especially impressed with Oldroyd's past work on the 2016 drama series "Lady Macbeth."
ANNE HATHAWAY ADMITS HOSTING OSCARS WITH JAMES FRANCO IN 2011 DIDN'T GO WELL: 'WE SUCKED'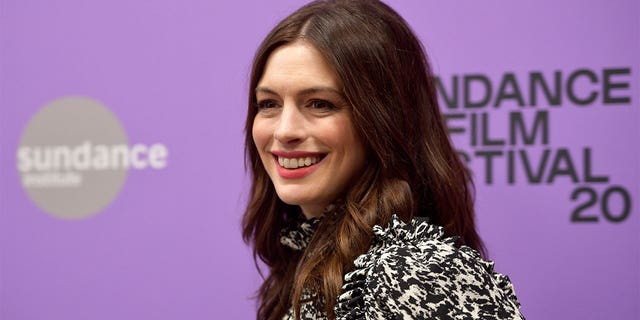 Anne Hathaway revealed that a reporter asked her if she was a "good girl or a bad girl" when she was 16.
(Matt Winkelmeyer/Getty Images)
"I thought it was an extraordinary work," she said, according to Variety. "I saw a study of female complication that hit me really, really deep, and I felt like Will was a filmmaker that could be trusted to tell complicated stories, especially about females."
"Eileen" is based on a novel written by Ottessa Moshfegh about a young woman trying to survive an impoverished life in Boston during the 1960s. Hathaway plays the role of Rebecca, who befriends Eileen while working in prison.
CLICK HERE TO SIGN UP FOR OUR ENTERTAINMENT NEWSLETTER
Hathaway started her acting career at a young age and has gone on to star in multiple Hollywood blockbusters and earn multiple accolades, including an Oscar and a Primetime Emmy Award.
CLICK TO GET THE FOX NEWS APP