close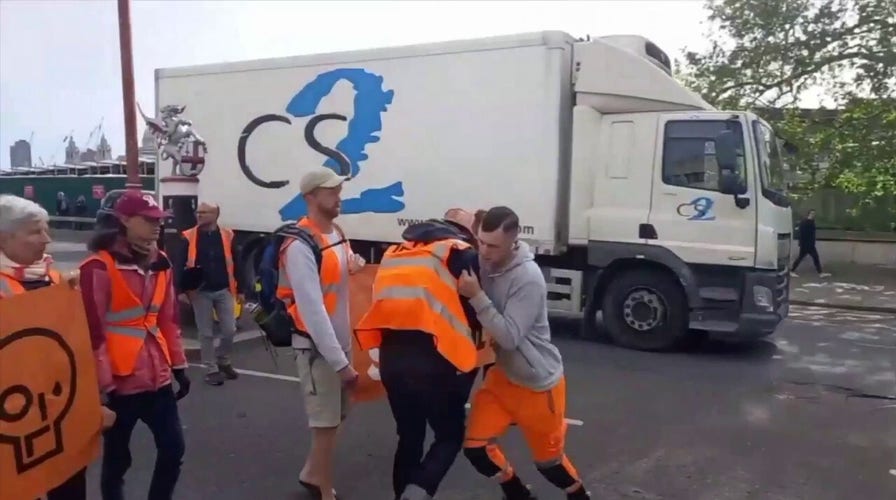 Video
UK anti-oil protesters clash with frustrated commuters
Activist group Just Stop Oil organized several marches on Tuesday to disrupt traffic over multiple bridges in London as they demanded a stop to all new oil and gas production. (Just Stop Oil / LOCAL NEWS X /TMX)
Climate protesters in the U.K. blocked traffic in London on Tuesday, grinding the city to a halt and prompting so much anger that commuters attacked them.
Just Stop Oil protesters organized several marches across the city, aiming to disrupt traffic. The protests occurred at a number of bridges, including the Tower and London bridges, according to TMX News.
The protest reiterated the group's demands for Britain to immediately stop all new oil and gas production, usually employing a number of provocative protests that involve the destruction of famous art or private property to gain attention and outrage the public.
The traffic demonstrations – the latest in a series of similar demonstrations since April – proved one too many for some commuters as they fought back, even getting physical with protesters at times. Police only intervened to arrest the man who got physical with the demonstrators, prompting criticism from nearby pedestrians.
BARE-CHESTED CLIMATE ACTIVISTS IN ROME SMEAR THEMSELVES WITH MUD TO PROTEST FOSSIL FUEL USE, EVOKE FLOODING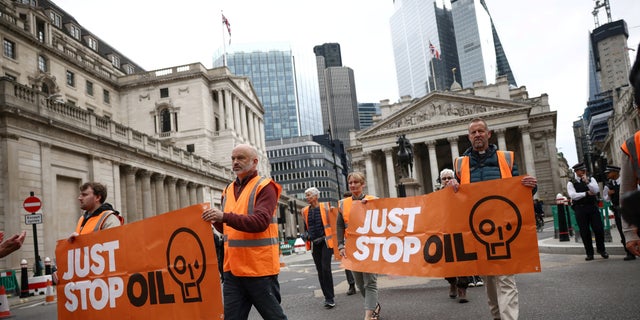 Activists from Just Stop Oil take part in a slow march along a road in London's financial district May 22, 2023. (Reuters/Henry Nicholls)
"Tensions have been high, with one man arrested after throwing a supporter onto the ground, one motorcyclist attempting to drive through the same procession and another member of the public snatching banners and physically confronting the Just Stop Oil supporters," Just Stop Oil wrote alongside a video of the demonstrations, informing the public that it can expect more marches in the future.
LEFT-WING GERMAN CHANCELLOR SLAMS 'NUTTY' CLIMATE PROTESTORS BLOCKING STREETS, DEFACING ART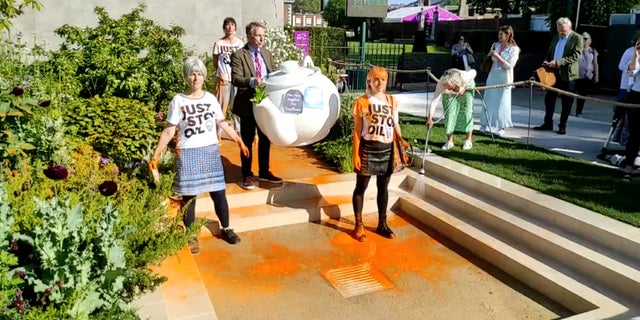 Just Stop Oil activists protest at the Chelsea Flower Show in London May 25, 2023, in this still image obtained from a social media video. (Just Stop Oil/via Reuters)
Last week, another Just Stop Oil protest resulted in one bystander pushing a protester and smacking a phone out of their hand as the demonstration also stopped traffic on a busy London street.
ANIMAL RIGHTS ACTIVISTS IN MADRID PROTEST AGAINST PLANS FOR A LARGE-SCALE OCTOPUS FARM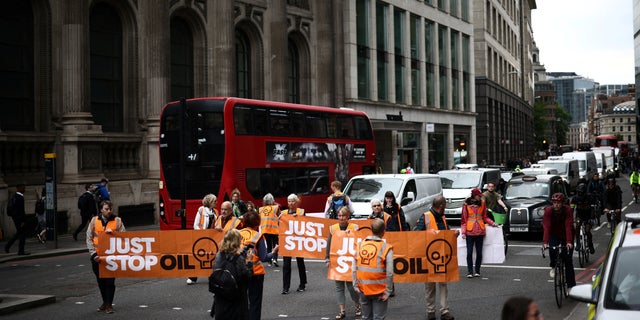 Activists from Just Stop Oil take part in a slow march along a road in London's financial district May 22, 2023. (Reuters/Henry Nicholls)
"The Met and City of London Police are aware of an incident in which a member of the public appears to have remonstrated with Just Stop Oil protesters this morning, 19 May, in the City of London, before the arrival of police," a spokesperson for London's Metropolitan Police told the BBC following last week's incident.
"At this stage, we are not aware that any allegations have been made in regard to this matter," the spokesperson added. "We completely understand the frustration and anger of London's communities when protesters walk slowly in the roads."
CLICK HERE TO GET THE FOX NEWS APP
Just Stop Oil grabbed headlines for destroying the Van Gogh "Sunflowers" painting and glued themselves to other famous artworks. They also smashed cake into the wax model of King Charles III at the Madam Tussauds museum in London.
Peter Aitken is a Fox News Digital reporter with a focus on national and global news.