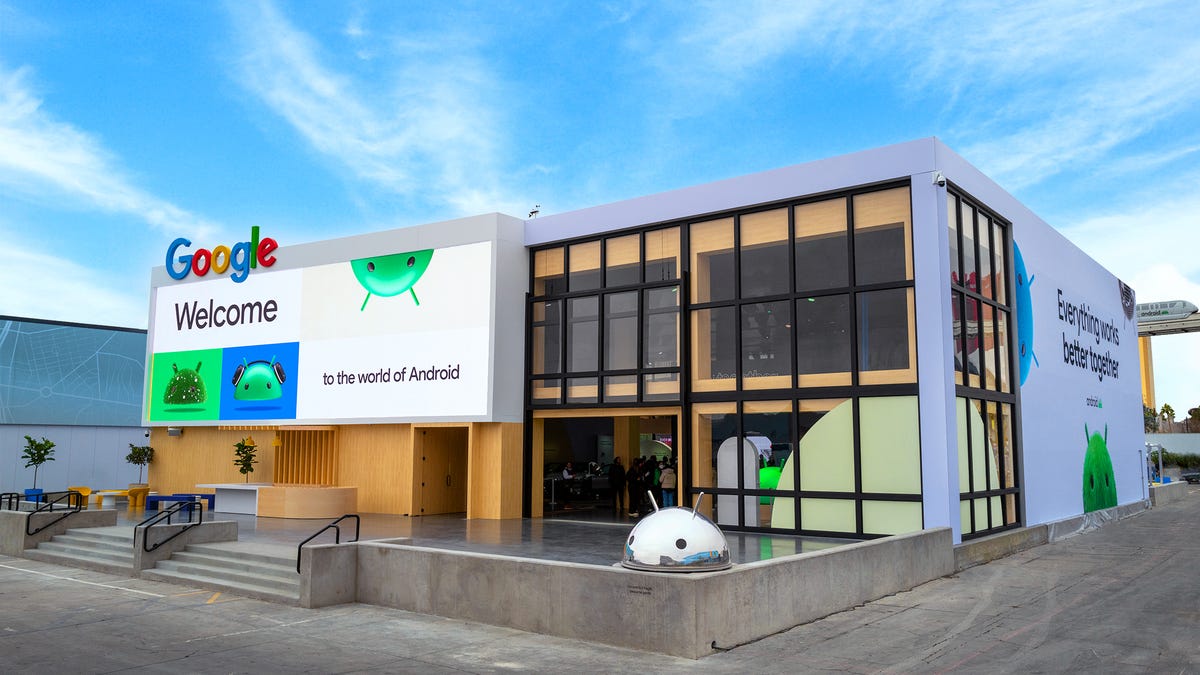 Google's booth at CES 2023, where it will be demonstrating the newly announced Media Notifications feature for Android devices. 
Google
Google is launching another new feature to make switching between all the Android devices in your life a little easier. Media Notifications, announced at CES, will let you transition audio content from the car to your phone, headphones, phone and smart home devices based on proximity. It's Google's newest effort to bring its Android ecosystem up to par with Apple's when it comes to connectivity and cohesiveness between devices. 
The way Apple's products seamlessly connect to one another has helped it become the world's second-largest smartphone maker and the top seller of smartwatches and wireless earbuds. The launch of Media Notifications is Google's latest attempt to show that products don't have to be made by the same company to work together. Google has been moving towards this goal for years by introducing features like Phone Hub, Nearby Share and Fast Pair. Additions like these have become all the more important now that Android and iOS have staked a larger presence in our cars, our ears and on our wrists. 
"This is an ongoing investment," Erik Kay, Google's vice president of engineering for Android, said to CNET exclusively ahead of CES. "We get to the point where pretty much any feature that shows up on the phone or shows up on a watch is going to inherently be a multi-device feature over time." 
Spotify and YouTube Music will be among the first apps to be compatible with Media Notifications. Google is also working with Spotify to make it possible to manage playback between Spotify Connect devices in Android 13's new media player — another move to improve consistency across Android devices. 
Google has not yet said when either of these updates will launch, nor has it said which products Media Notifications will be compatible with. But since the goal is to make moving between devices easier, Google says users likely won't have to do any legwork in the settings menu to enable Media Notifications. Prompts should just appear automatically as you move closer to a compatible device.  
"That all happens naturally through little nudges and prompts in the user interface," Kay said when describing how Media Notifications will work.
Media Notifications won't require ultra wideband, a connectivity protocol that's made its way into new premium smartphones over the past three to four years, because it relies on signals from various sources like Bluetooth and Wi-Fi. But it will likely work more accurately if you're using a UWB-enabled device, according to Kay. Since UWB can provide precise proximity calculations, its presence in phones improves tasks like sharing files and content between devices and digital car key functionality. It's also the same technology Apple uses to point you in the right direction of a lost AirTag.
"UWB is something we're pretty excited about," said Kay. "But it is one of these things that's going to take a long time for it to really get ubiquitous in the market."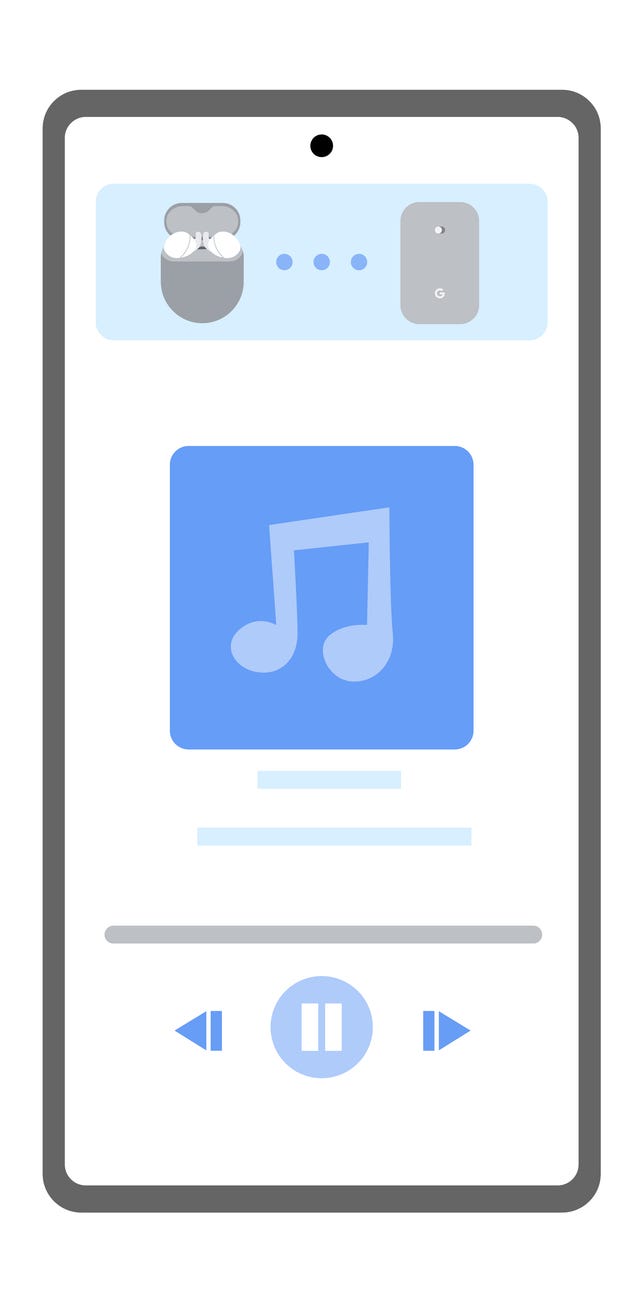 An illustration showing what Google's new Media Notifications feature could look like. 

Google

Google's announcements come after Apple has been gradually adding new connectivity features to its ecosystem of iPhones, iPads, AirPods, Apple Watches and Macs. Apple brought the ability to swap FaceTime calls between your iPhone, iPad and Mac in its most recent operating system updates, for example. The ability to transfer audio from your iPhone to the HomePod Mini based on proximity was also a standout feature when Apple introduced its miniature speaker in 2021. 
But unlike Apple, Google isn't using features like Media Notifications to push its first party hardware. Instead, Google wants to make swapping between Android devices feel consistent and easy whether you're using products from Google, Samsung, JBL or any of its other partners. 
It's a goal that Google must balance alongside promoting its own Pixel devices, which only account for a sliver of the global smartphone market. You may be wondering why Google doesn't just keep features like Media Notifications exclusive to its Pixel phones, Pixel earbuds and Nest smart home devices to make its devices stand out within the Android landscape. If Google wants to emulate Apple's ecosystem approach, that would certainly be one way to do so. 
The answer is simple: Improvements like these are only useful if they're available everywhere. 
"Every feature you build is a network effect feature, so it depends on there being a wide variety of devices to support the feature," Kay said. "So if you build something [and] try to make it exclusive to one device, or one partner, or even our first party things, it's not going to be as successful because there's not as many devices for it to work with." 
As smartwatches and wireless earbuds have grown more popular, phone makers like Apple and Samsung have increasingly focused on these ancillary products as complementary selling points for their smartphones. Global shipments of smartwatches grew 13% year-over-year in 2022, according to Counterpoint Research, while Canalys reports that true wireless earbuds were the only personal audio category to show growth in the third quarter of 2022. Google is the latest smartphone maker to jump on that bandwagon and launched its first smartwatch, the Pixel Watch, in October, Google plans to introduce a new Pixel tablet next year. 
Making watches, earbuds and smart home devices work together more seamlessly isn't just about convenience. Some experts believe that accessories like these will play a big role in the smartphone's future as annual phone upgrades feel incremental. 
"The next quest for the smartphone is to figure out what it will connect to next," Runar Bjørhovde, an analyst with market research firm Canalys, said in a previous interview for a separate story. "Because the smartphone has not necessarily reached its potential yet, but as a standalone device I think the smartphone is getting closer and closer to the edge."