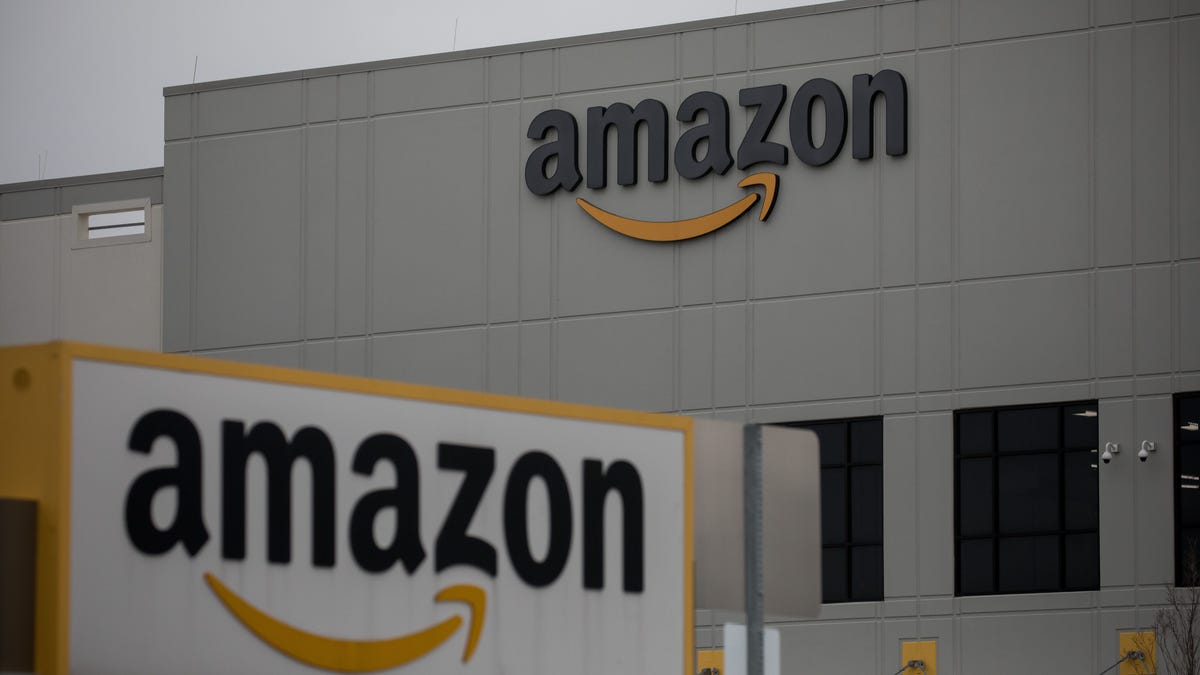 Amazon CEO Andy Jassy has said in multiple press interviews that the company is 1% of global retail. 
Getty Images
By almost any measure, Amazon is big. It's valued at around $900 billion, even after a recent global slip in retail. It's the country's second-largest corporate employer. It handles and ships more than a fifth of all packages in the US. Of the 100,000 biggest websites on the internet, more than a third live on Amazon's cloud servers, and when founder Jeff Bezos left the company in 2021, he was the world's richest person.
But CEO Andy Jassy favors a different way of framing Amazon's magnitude. This e-commerce juggernaut, as Jassy has put it in numerous press interviews, is just a meager slice of the global retail market.
"In our retail business, we are about 1% of the world's retail business segment," he said before he became CEO of Amazon, in a 2019 interview with PBS' Frontline. 
He said it again in a Vanity Fair interview after taking charge of Amazon in 2021. And again in June 2022, in an interview at the Bloomberg Technology Summit. Bezos and former Amazon executive Jeff Wilkes have thrown out the 1% figure, too. 
With this 1% refrain coming up so often, it raises the question of why a company so big wants you to think it's so small. 
As it happens, the Federal Trade Commission is conducting an antitrust probe of Amazon. The agency has subpoenaed Jassy and Bezos to testify as part of its investigation into the company's practices around signing up for and canceling Prime memberships. Multiple suits from state attorneys general are aiming to loosen Amazon's grip on how third-party sellers set prices. And bills floated by Congress target Amazon's power to promote its products over similar items listed by third-party sellers. 
The final outcome of the FTC's probe, and of all suits against and scrutiny of Amazon, has yet to be determined. But the aim will be to give the prices you pay for certain types of products, like books or electronics, a breather from Amazon's influence. Another goal will be to give other retailers a better shot at offering you alternatives for shopping online and off.
And if antitrust efforts heat up this year, you're going to hear that 1% claim a lot more. 
When asked, an Amazon spokesperson said the company wasn't framing its size through the lens of global retail to look small. 
"We have simply offered the global retail number to illustrate how competitive and vast retail is," the spokesperson said in a statement, adding that the company also represents 4% of US retail while physical stores make up 85% of the market. "This is where Amazon competes for customers."
One percent may sound small, but grade-school math tells you that dividing a very large number — $27.3 trillion for global retail in 2022 — by 100 still gives you a big number. The resulting $273 billion also includes money made by third-party sellers on Amazon's platform, the company said. Amazon declined to give a dollar figure for how much money goes to third-party sellers, but said it was nearly 60% of total sales. Nonetheless, antitrust watchdogs say the 1% figure is a distraction. What's important is whether Amazon has monopoly power in the US over sales of things like books, clothing and electronics, letting it set prices and squeeze out rivals.
"It doesn't matter to Americans what Amazon's global number is. It matters what their control is in the US," said Barry Lynn, executive director of the Open Markets Institute — 1% is "a nonsense number."
One percent of everything
Jassy's pet phrase means Amazon is 1% of all shopping on Earth, including a refrigerator in India, gardening tools in Australia or school supplies for your child's first day of kindergarten. That's a lot. Still, Amazon keeps suggesting 1% is small. 
Businesses typically try to describe themselves as having as many competitors as possible when they're under scrutiny by antitrust regulators, said Christopher Leslie, who writes textbooks on antitrust law and teaches at the University of California at Irvine law school. To look small, powerful companies try to make the market they compete in as big as possible.
"The broader they can define the market, then the lower their market share," he said. 
Amazon's spokesperson said this wasn't the company's motivation for giving the 1% figure.
"That is not what we are doing," the spokesperson said. "We are looking at competition, and we compete with all retailers. We sell the same products they sell and customers readily purchase from both online and offline sources."
In antitrust lawsuits, regulators try to define markets much more narrowly to argue that a company has undue sway on, say, pricing. Both sides typically bring in expert analysis to support their own rationale of how big the market is, Leslie said. Additionally, a large market share isn't the only evidence regulators use to prove illegal monopoly power. They also try to show that companies have the ability to raise prices or exclude competitors.
Global retail seems like the largest possible category Amazon could place its e-commerce business in, unless you're counting "business" as a category (and the global tech industry is significantly smaller than the global retail market). 
And global retail is so big and so fragmented that it's "extremely unlikely" to make up one cohesive market for Amazon's e-commerce services, Leslie said, though he said he couldn't rule it out. Such an assessment must be based on data about how people really shop.
Amazon says it's a fair way to look at the market it competes in. "The premise that global retailers don't compete in the US is simply false, and looking at only US retailers would be incorrect," the company spokesperson said.
Still, plenty of businesses that sell goods in other countries don't sell in the US, so they can't be said to compete with Amazon for your shopping dollars. That's why Stacy Mitchell, co-executive director of the antitrust advocacy group Institute for Local Self-Reliance, calls it "ridiculous" to frame Amazon's market power within all of global retail.
If you're a shopper in the US and "want to buy something like a new frying pan, the fact that there's a kitchen supply store in Bangladesh has no relevance to you whatsoever," she said.
Half of US e-commerce
Another way to look at Amazon's market share is its dominance of e-commerce in the US. The company doesn't disclose its overall share of US e-commerce, but estimates from multiple sources have shown the company hovering under 50% for years. Controlling more than half of a given market doesn't automatically mean a company has a monopoly, but it can attract attention.
Jassy has pushed back on the idea of e-commerce being its own segment of the retail market, arguing that people buy what they need from the best source without distinguishing between online and in-person shopping. Amazon's spokesperson made a similar point, saying customers "can just as easily shop at Target or CVS down the street from their house as they can online." 
Experts say it makes the most sense for regulators to focus on the company's impact on specific product categories of the US retail market. 
Amazon accounted for 67% of all book sales in the US, according to a 2022 Statista survey, both online and off. Broadening the category slightly, Amazon represented nearly half of all US sales of books, music and videos last year and almost 79% of online sales, according to retail analysis firm eMarketer. The firm also found Amazon made more than a quarter of all computer and electronics sales in 2022 for the US, and more than half of online sales in the segment. Amazon became the country's top seller of all apparel online and off in 2020, according to Wells Fargo, and it made more than a third of online US apparel sales last year. 
To be sure, Amazon doesn't have a major stake of every US retail segment. For example, its auto parts sales were 0.5% of the total US market last year overall and just over 12% online. 
That's why regulators are likely to focus on the specific areas of retail where Amazon leads. 
In some of those segments, regulators could argue that Amazon doesn't have any legitimate competitors. The main force that could change Amazon's hold in those segments is the government, antitrust advocate Mitchell said. Adding that Amazon must know this, she added that this lack of competition is why the company is so focused on arguing that it's actually small in the grandest scheme of things.
"The only real threat on the horizon is that the government could step in and open up competition," Mitchell said. "This is their No. 1 concern."
So this year, be prepared to hear more from Amazon about being just 1% — and don't be surprised if antitrust regulators say the company's market share is still too big.