Alec Baldwin aimed an antique six-shooter at cinematographer Halyna Hutchins as they walked through a movie scene on the set of the unfinished Western "Rust" in late October 2021.
The gun, though a movie prop, was real. But it should have only been loaded with dummy rounds.
Despite Hollywood protocols, there was a real .45-caliber bullet inside. It passed through the 42-year-old's stomach and then struck director Joel Souza in the shoulder.
Hutchins died of her injuries after paramedics rushed her in a helicopter to a hospital in Albuquerque, 65 miles away. Souza, 48, survived.
ALEC BALDWIN HIT WITH INVOLUNTARY MANSLAUGHTER IN DEATH OF HALYNA HUTCHINS, FACING UP TO 18 MONTHS IN PRISON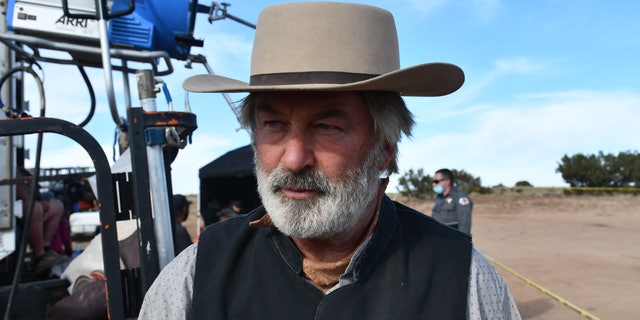 Alec Baldwin shown on the "Rust" movie set in this crime scene photo.
(Santa Fe County Sheriff's Office)
Here is a timeline of events in a case that brought intense scrutiny to movie set safety concerns.
Oct. 21, 2021 
A loaded gun is discharged on the "Rust" movie set at the Bonanza Creek Ranch in Santa Fe, New Mexico.
Moments earlier, Baldwin had been handed the Old West-style revolver and told it was safe to use, according to investigators.
ALEC BALDWIN 'RUST' SHOOTING WARRANTS SUGGEST VIOLATIONS OF INDUSTRY GUN SAFETY STANDARDS
He was practicing a cross-draw technique inside an old church on the ranch, with Hutchins and Souza across from him, just a few feet away.
WATCH: Alec Baldwin's first words to detectives revealed as cops release trove of 'Rust' files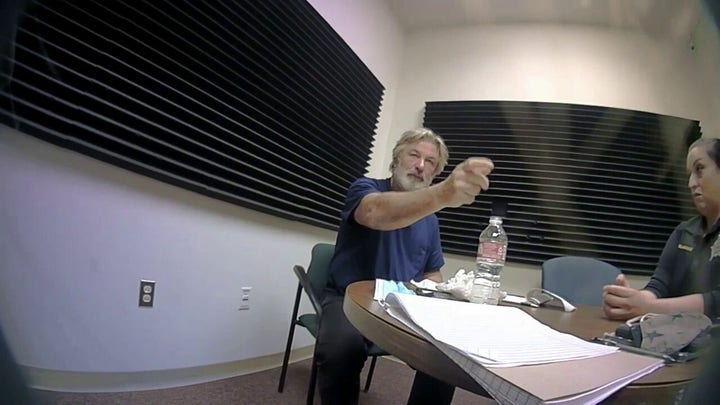 Video
Authorities received the 911 call just before 2 p.m., and arrived to find Hutchins and Souza bleeding.
The sheriff's office did not ask Baldwin to remain in Santa Fe as the investigation began.
Oct. 27, 2022
Baldwin, his wife and their children are spotted in Manchester Center, Vermont, where they holed up in a bed and breakfast for several days and looked at real estate in the area.
ALEC BALDWIN 'RUST' SHOOTING: REAL BULLET ON MOVIE SET 'COMPLETELY MENTAL AND UNPRECEDENTED,' FILMMAKER SAYS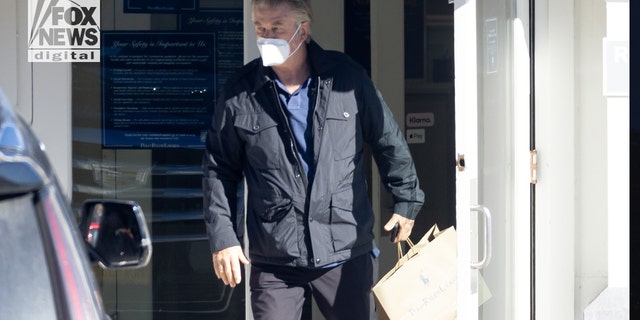 Alec Baldwin was spotted shopping in a New England town where he surfaced following the shooting that took place on the set of the movie "Rust."
(Fox News Digital)
ALEC BALDWIN AND WIFE HILARIA DINE IN VERMONT BAR CLOSED TO PUBLIC AS 'RUST' PROBE PICKS UP STEAM
The couple is seen around town shopping, grabbing coffee and, on one evening, Fox News Digital spotted him drinking non-alcoholic beers as the couple dined at a trendy bar that they had closed to the public.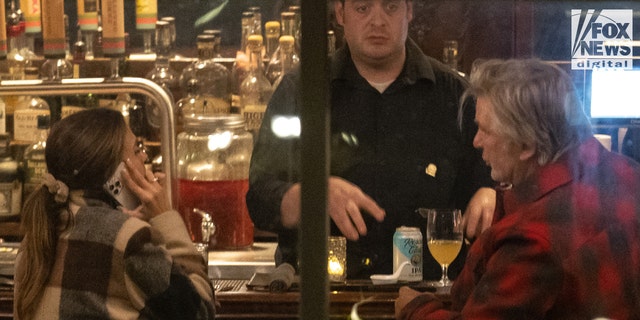 Alec and Hilaria Baldwin stepped out for drinks at a Vermont bar as the investigation into the deadly on-set shooting involving the A-list star was underway in New Mexico.
(Fox News Digital)
Baldwin's wife, Hilaria Baldwin, has long-standing ties to the area, and the couple eventually bought a 50-acre farm nearby.
ALEC BALDWIN ATTORNEY CALLS CLAIMS ACTOR WAS 'RECKLESS' ON 'RUST' SET 'ENTIRELY FALSE'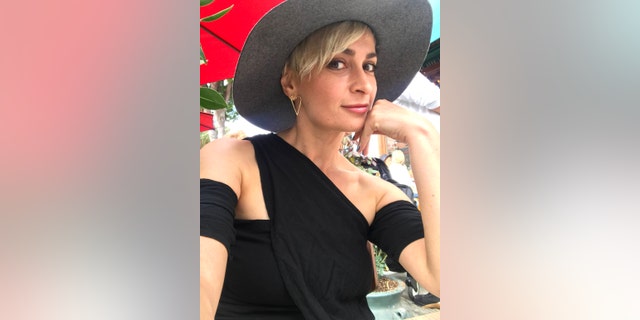 Halyna Hutchins died on the set of "Rust" after a gun held by Alec Baldwin discharged in October 2021.
(Panish Shea Boyle Ravipudi LLP)
ALEC BALDWIN ON 'RUST' SHOOTING: 'EVERY SINGLE PERSON' ON SET KNOWS WHO TO BLAME FOR HALYNA HUTCHINS' DEATH
Oct. 30, 2021
Baldwin also gave a roadside interview to journalists in the area, breaking his silence on the case as his wife filmed reporters on her phone.
WATCH: Alec Baldwin breaks his silence on Halyna Hutchins' death on 'Rust' movie set
Video
Nov. 5, 2021
On-set whistleblowers tell Fox News Digital about safety concerns they had on set.
Gun handling appeared alarmingly "green," "immature" and "lackadaisical," according to the sources, who said they were horrified at times by some of what they saw.
One image taken behind the scenes on the halted film's set, shown to Fox News Digital, shows 24-year-old armorer Hannah Gutierrez-Reed and two other women standing in a circle with a pair of rifles and a revolver.
One long gun's barrel is resting against the belly of one of the woman across from Gutierrez-Reed as she uses her cellphone. The butt of the other is propped against her hip, barrel in the dirt. A third woman is holding the revolver by the end of the grip, with a tangle of wires in the same hand, barrel pointed down.
'IMMATURE' GUN HANDLING ALARMED CAST AND CREW, SOURCES ALLEGE
Dec. 1, 2021
Baldwin denies responsibility for the incident in a televised interview with ABC News' George Stephanopoulos.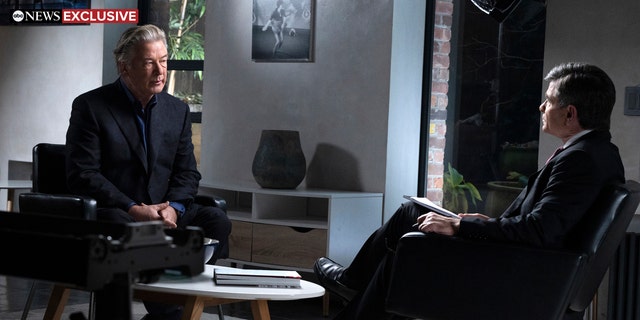 Baldwin denies responsibility for the incident in a televised interview with ABC News' George Stephanopoulos.
(Jeff Neira/ABC via Getty Images)
"Honest to God, if I felt that I was responsible, I might have killed myself," he tells Stephanopoulos. "If I thought I was responsible, and I don't say that lightly."
He also praised Hutchins' work as a cinematographer and distanced himself from the idea of using guns on a movie set in the future.
"I can't imagine doing a movie that has a gun in it ever again," he says. "I can't."
Jan. 14, 2022
After a lengthy back-and-forth with law enforcement in Santa Fe and Suffolk County, New York, Baldwin surrenders his cellphone to police.
Feb. 15, 2022
A wrongful death lawsuit is filed on behalf of Halyna's husband, Matthew Hutchins, and their son, Andros, against Baldwin and others who "are responsible for the safety on the set" and "reckless behavior and cost-cutting" that led to the death of Hutchins, according to the family attorney.
In support of the lawsuit, lawyers for the family of Halyna released a video simulation of the on-set gunshot that fatally injured the cinematographer in Santa Fe in October 2021.
WATCH: Family of 'Rust' shooting victim releases fatal shooting reenactment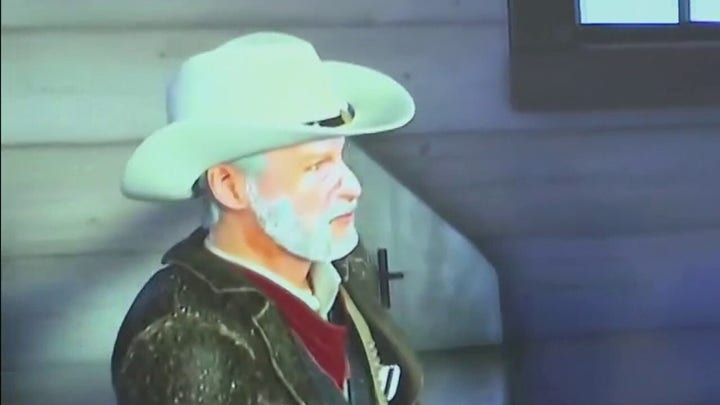 Video
CLICK HERE TO SIGN UP FOR THE ENTERTAINMENT NEWSLETTER
April 25, 2022
Santa Fe investigators release a trove of evidence in the case, including video interviews of Baldwin and other members of the production, including armorer Hannah Gutierrez-Reed and assistant director David Halls.
"When I shot the gun, away from the cameraman, I never aim the gun at the camera, I turned, and I went like this," Baldwin tells investigators in one video, making a gun with his fingers and panning his arm across a cluttered table in an interview room at the Santa Fe County Sheriff's Office. "And she was there. And the gun went off. And she just went right on the ground."
Alec Baldwin makes a gun with his fingers while speaking with investigators following the "Rust" movie shooting that left cinematographer Halyna Hutchins dead in October 2021.
(Santa Fe County Sheriff's Office)
ALEC BALDWIN 'RUST' SET SHOOTING RECREATED IN VIDEO SIMULATION
The document release came five days after New Mexico's Occupational Health and Safety Bureau released a scathing report, criticizing the production for a series of safety failures that violated the movie industry's own protocols.
According to the International Alliance of Theatrical Stage Employees and the Contract Services Administration Trust Fund, "live ammunition" is never supposed to be brought onto a studio lot or stage.
All firearms are supposed to be treated as if they are loaded, according to written guidelines, and guns should never be pointed at anyone "unless absolutely necessary to do so on camera."
There are also a series of redundant safety checks in which the film's armorer and prop managers are supposed to check each dummy round to make sure it's inert.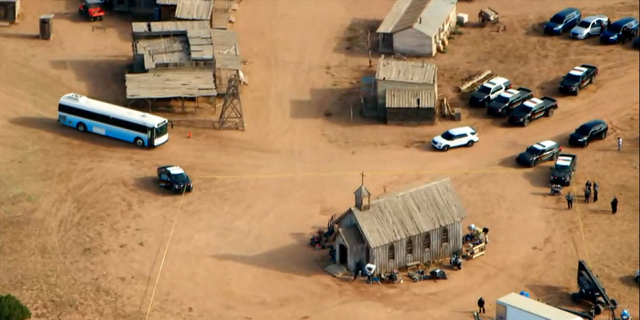 Cinematographer Halyna Hutchins was fatally shot and director Joel Souza injured on the set of "Rust."
(Reuters)
Aug. 15, 2022
New Mexico's Office of the Medical Investigator rules Hutchins' death an accident.
However, an FBI report reveals that the revolver could not have been fired without someone pulling the trigger, contradicting a claim from Baldwin's ABC News interview.
"The trigger wasn't pulled," Baldwin had told Stephanopoulos. "I didn't pull the trigger."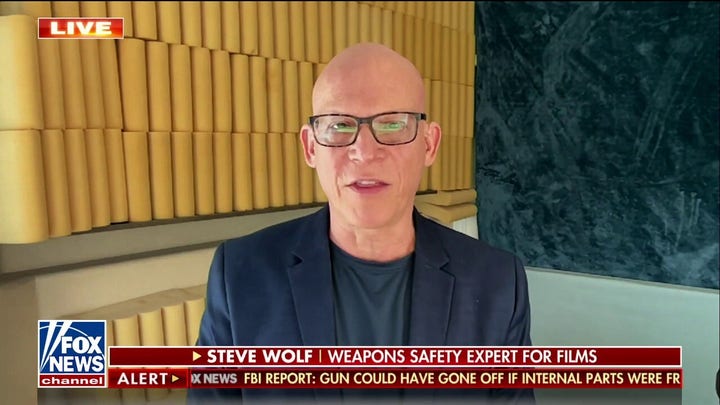 Video
Within days, the production company behind "Rust" was also fined $139,793 by New Mexico's Occupational Health and Safety Bureau. The sum was the maximum fine allowable under state law.
Oct. 5, 2022
Hutchins' widowed husband announces that the parties settled the wrongful death lawsuit pending court approval.
Filmmakers announce they plan to resume production in early 2023.
Thursday, Jan. 19, 2023
Santa Fe prosecutors announce charges against Baldwin and Gutierrez-Reed consisting of two counts of involuntary manslaughter apiece, more than 14 months after Hutchins' death.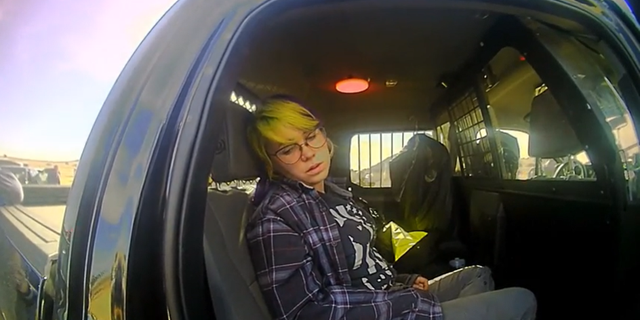 Hannah Gutierrez-Reed, the young armorer on the low-budget "Rust" movie, is seen in bodycam video answering a deputy's questions after the fatal shooting on Oct. 21, 2021.
(Santa Fe County Sheriff's Office)
Gutierrez-Reed, the armorer, was supposed to be tasked with ensuring firearms safety for the film, which used real guns but was only supposed to have dummy rounds and blanks on set.
Baldwin's lawyer calls the charges a "terrible miscarriage of justice."
WATCH: Hilaria Baldwin exits her apartment before husband Alec Baldwin charged with involuntary manslaughter in 'Rust' shooting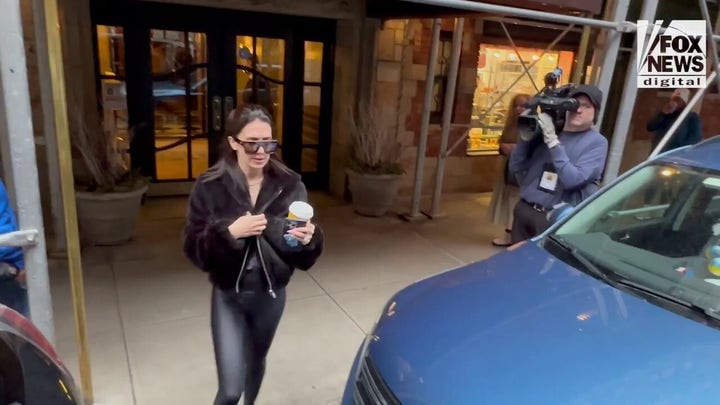 Video
"Mr. Baldwin had no reason to believe there was a live bullet in the gun – or anywhere on the movie set," attorney Luke Nikas of Quinn Emanuel tells Fox News Digital. "He relied on the professionals with whom he worked, who assured him the gun did not have live rounds. We will fight these charges, and we will win."
Hutchins' family attorney Brian Panish, a founding partner of Panish Shea Boyle Ravipudi LLP, welcomes the charges.
"It is a comfort to the family that, in New Mexico, no one is above the law," he says.
Prosecutors also reveal that "Rust" assistant director Dave Halls, who also handled the gun before the incident, took a plea deal and admitted to negligent use of a deadly weapon.
Meanwhile, Gutierrez-Reed's attorney Jason Bowles said in a statement that they would "bring the full truth to light and that she "will be exonerated of wrongdoing by a jury."
"If any one of these three people – Alec Baldwin, Hannah Gutierrez-Reed or David Halls – had done their job, Halyna Hutchins would be alive today. It's that simple," says Andrea Reeb, the special prosecutor handling the case.
Friday, Jan. 20, 2023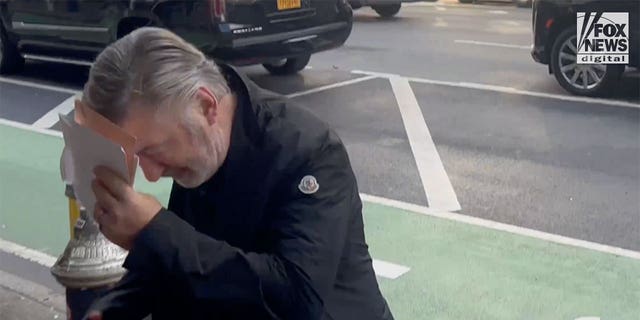 Alec Baldwin holds up an envelope to his face as he enters a building in New York City on Jan. 20, 2023. It was the first time the actor was seen after being charged with involuntary manslaughter.
(Dario Alequin for Fox News Digital)
CLICK HERE TO GET THE FOX NEWS APP
Baldwin is spotted outside an office building in New York City for the first time since prosecutors announced the charges.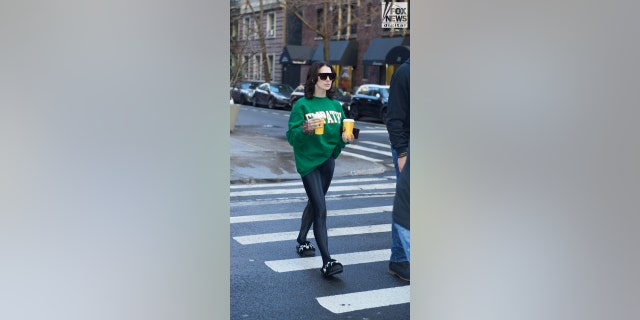 Hilaria Baldwin picks up coffee in New York City on Jan. 20, 2023.
(Dario Alequin for Fox News Digital)
Separately, his wife, Hilaria Baldwin, was photographed by reporters on the sidewalk while walking home with coffee.