close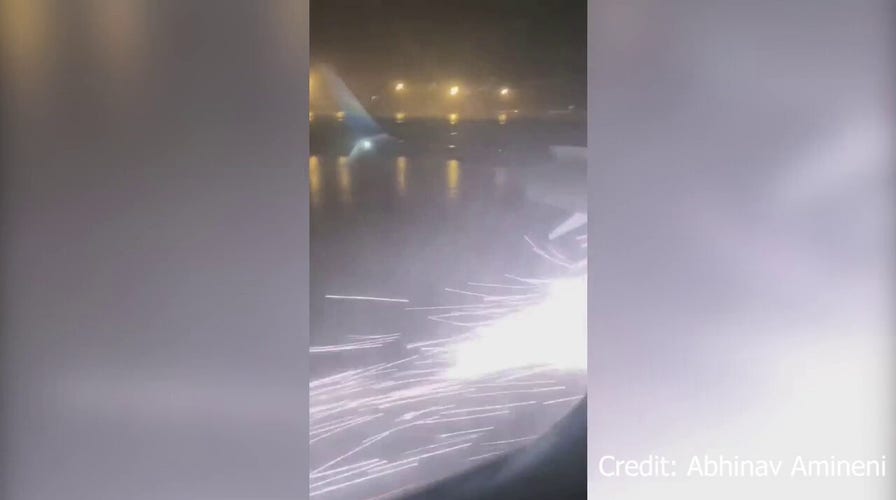 Video
Alaska Airlines flight makes hard landing at John Wayne Airport in CA
An Alaska Airlines flight made a hard landing at John Wayne Airport in Orange County, California, late Sunday during a torrential downpour caused by Tropical Storm Hilary. (Credit: Abhinav Amineni)
An Alaska Airlines flight made a hard landing amid Tropical Storm Hilary late Sunday, shooting sparks on the runway at John Wayne Airport in Southern California.
Terrified passengers screamed as Flight 1288 from Seattle to Santa Ana in Orange County slammed into the ground at high speed, a video posted on YouTube shows. The plane appears to drag its left wing along the tarmac, causing sparks to fly into the torrential downpour.
"Why are we going so fast?" one person can be heard asking as the plane rapidly descends in the video.
"Brace," someone else says as it becomes clear the pilot is not slowing the craft down. A loud crunch can be heard as the plane makes contact with the runway, provoking screams and cries of terror from passengers.
HILARY CAUSES CHAOS IN CALIFORNIA AND NEVADA AS FLASH FLOODING DESTROYS ROADS, STRANDS RESIDENTS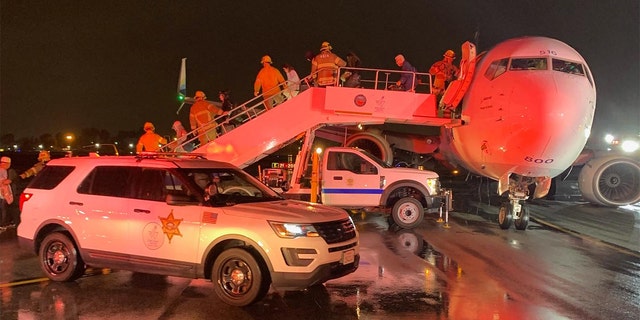 Firefighters with the Orange County Fire Authority help passengers deplane Alaska Airlines Flight 1288 on Sunday, Aug. 20, 2023. (Orange County Fire Authority)
"There's sparks outside! Why are there sparks outside?" a passenger can be heard asking in horror and amazement.
Alaska Airlines officials said the plane "experienced an issue soon after landing" in the storm at 11:15 p.m. local time.
"The aircraft was unable to taxi to the gate due to an issue with its landing gear," officials told NPR in a statement. The Boeing 737 craft was "parked on a taxiway, where it remains."
There were 106 passengers and six crew members aboard Flight 1288, who were safely deplaned and transported by bus to the terminal, NPR reported. No one was injured.
CALIFORNIA FOOTBALL FIELD FLOODED AS TROPICAL STORM HILARY HAMMERS REGION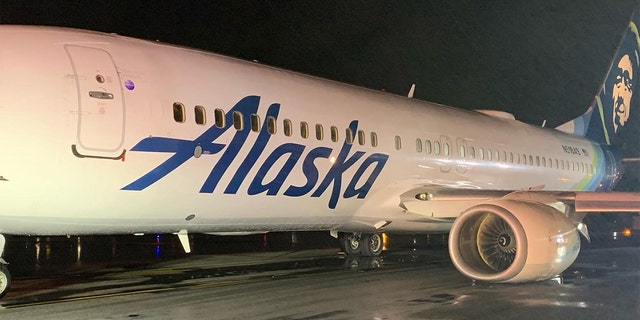 Alaska Airlines Flight 1288 was forced to make a hard landing at John Wayne Airport in Orange County, California, amid Tropical Storm Hilary. (Orange County Fire Authority)
Alaska Airlines did not immediately respond to a request for comment.
The Orange County Fire Authority (OCFA) assisted with getting people off the plane.
"Last night amid the rain and wind our crews were called to John Wayne Airport when a 737 experienced an issue while taxiing to the gate after landing," OCFA said in a statement.
"Fortunately, no one was injured. They were however stranded. Firefighters worked with airport staff and the pilots to safely get everyone off the plane," the statement continues. "Airport emergencies are just one of the many things OCFA firefighters train on. That joint training with airport staff makes these incidents run smoothly."
MORE TORRENTIAL RAIN COMING FOR CALIFORNIA, NEVADA AS HILARY TRIGGERS FLOOD WARNINGS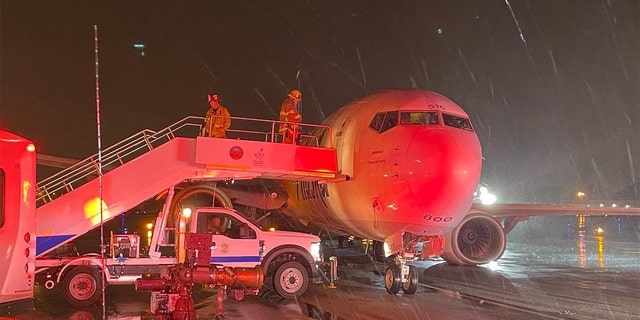 Passengers aboard Flight 1288 were heard screaming as the plane made a hard landing, according to a video posted on social media. (Orange County Fire Authority)
Tropical Storm Hilary wreaked havoc across Southern California amid Nevada on Sunday and Monday, sending heavy rain and strong winds at an intensity not seen in the area in 84 years.
The once-Category 4 hurricane made landfall along the Baja California peninsula in Mexico on Sunday morning as a tropical storm, and the deadly storm continued to weaken as it made its way into the southwestern U.S. by late afternoon.
CLICK HERE TO GET THE FOX NEWS APP
Hilary has already claimed at least one life in Mexico after a family of five was swept into the sea while crossing a stream in the Baja California Sur state, according to local officials.
States of emergency were declared in both California and Nevada due to the storm's effects, and FEMA administrator Deanne Criswell spoke with both California Gov. Gavin Newsom and Nevada Gov. Joseph Lombardo ahead of the storm to offer the federal agency's assistance.
FOX Weather's Steven Yablonski and Emilee Speck contributed to this report.
Chris Pandolfo is a writer for Fox News Digital. Send tips to c[email protected] and follow him on Twitter @ChrisCPandolfo.