Rep. Adam Schiff, D-Calif., this week launched a campaign for Senate that he hopes will draw funds from the sale of campaign merchandise, including a 1.5 inch enamel pin that depicts a cartoon Schiff rolling up his sleeves.
The "Adam Enamel Pin" goes for $12 on Schiff's campaign website.
The California Democrat's campaign is also selling an "Adam Schiff Retro T-Shirt," which shows a younger Schiff in a yearbook-style pose. The shirt sells for $30 and comes in sizes from XS to 3XL.
SCHIFF HIT WITH ETHICS COMPLAINT ONE DAY INTO SENATE CAMPAIGN FOR USING TRUMP IMPEACHMENT VIDEO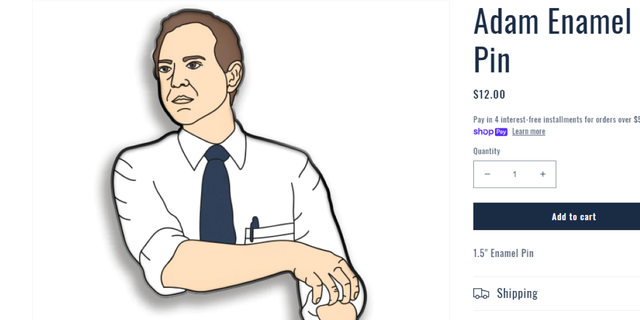 Rep. Adam Schiff, D-Calif., is selling merchandise to help fund his Senate campaign.
(Fox News Digital/Screenshot)
Other hats and shirts on Schiff's website feature the slogan "Right, Truth, Decency Matters." This week, House Speaker Kevin McCarthy, R-Calif., kicked Schiff off the House Intelligence Committee for promoting the theory that former President Donald Trump colluded with Russia to get elected in 2016.
PROGRESSIVE GROUP ATTACKS REP. ADAM SCHIFF FOR FAILED RECORD ON TRUMP FOLLOWING SENATE CAMPAIGN ANNOUNCEMENT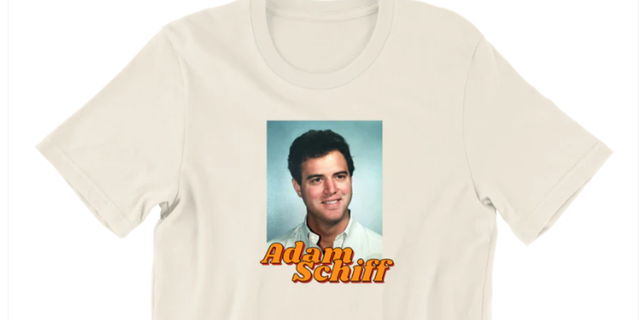 Schiff was kicked off the House Intelligence Committee this week by House Speaker Kevin McCarthy.
(Fox News Digital/Screenshot)
"In order to maintain a standard worthy of this committee's responsibilities, I am hereby rejecting the appointments of Representative Adam Schiff and Representative Eric Swalwell to serve on the Intelligence Committee," McCarthy wrote in a letter to House Minority Leader Hakeem Jeffries, D-N.Y.
Schiff is also selling an "abolish the filibuster" T-shirt and a "Filibuster This" bumper sticker that features a hand giving the middle finger — signs that Schiff is likely to support doing away with the Senate filibuster if he wins his Senate race.
SCHIFF GETS ROASTED AFTER POSTING TIKTOK VIDEO ABOUT LOSING COMMITTEE SPOT: 'CHINA IS LAUGHING AT US'
Schiff announced this week he is running for the Senate.
(REUTERS/Jonathan Ernst)
On Friday, an ethics watchdog group asked the Office of Congressional Ethics to examine Schiff's decision to use footage of himself during the Senate impeachment trial of Trump in an ad announcing his run for the Senate, which the group said violates House ethics rules.
CLICK HERE TO GET THE FOX NEWS APP
Schiff has also been criticized for using the Chinese-owned TikTok platform to complain about McCarthy's decision to remove him from the House Intelligence Committee.