close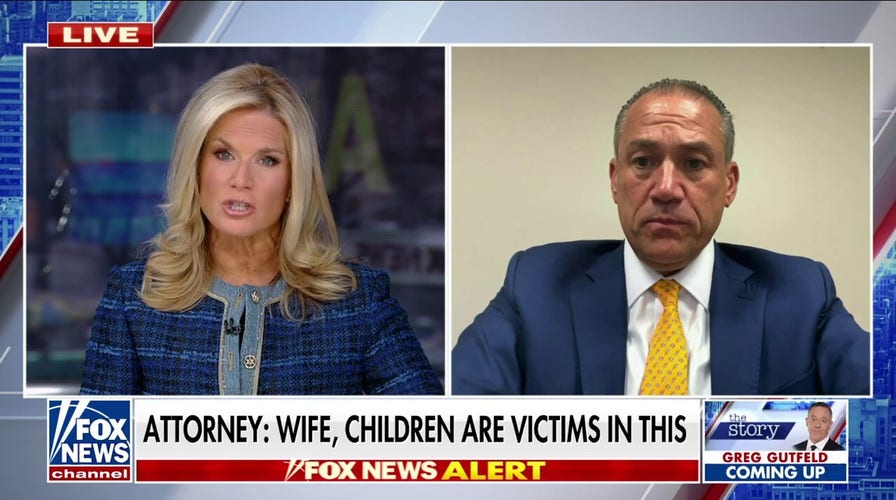 Video
Attorney for estranged wife of Rex Heuermann: She is putting her life back together
 Bob Macedonio, attorney for the estranged wife of the Gilgo Beach murders suspect, explains the impact of the case on 'The Story.'
The shattered wife of accused Long Island serial killer Rex Heuermann has found an unlikely friend in the daughter of notorious "Happy Face Killer" Keith Jesperson.
Melissa Moore, of Oregon, launched a GoFundMe campaign Saturday for Heuermann's estranged wife Asa Ellerup, 59, which has raised more than $13,000 from 390 donations.
"People may know me as the daughter of the serial killer known as the 'Happy Face' killer captured in 1995," Moore wrote of Jesperson, who confessed to murdering eight women. "My mother and my family were and are victims. We did not know about his double life."
GILGO BEACH SUSPECT REX HEUERMANN SCOWLS IN COURT AS PROSECUTORS DETAIL 'VOLUMINOUS' EVIDENCE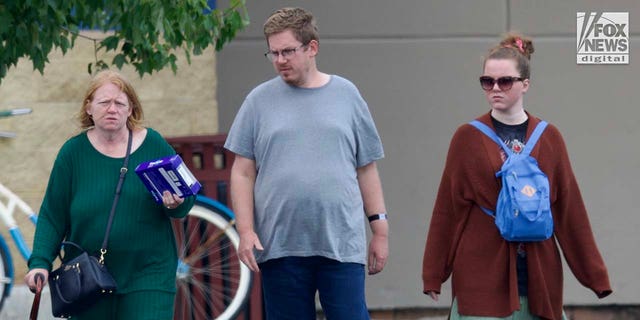 Asa Ellerup, her daughter Victoria Heuermann, and son Christopher Sheridan walk through a parking lot in Atlantic City, New Jersey, July 18, 2023. (Dario Alequin for Fox News Digital )
Heuermann, 59, was arrested July 13 and charged with the murders of sex workers Amber Lynn Costello, 27, Melissa Barthelemy, 24, and Megan Waterman, 22, whose bodies were found days apart on a stretch of New York's Gilgo Beach in 2010.
HOW 'UNTRACEABLE' BURNER PHONES HELPED POLICE BUST ALLEGED GILGO BEACH SERIAL KILLER
The architect, who ran his own firm in Midtown Manhattan, is also the prime suspect in the slaying of 25-year-old Maureen Brainard-Barnes.
Ellerup, who lives with her special-needs son Christopher Sheridan, 33, and her daughter, Victoria Heuermann, 26, told the New York Post that their family was blindsided and devastated by the allegations. She has since filed for divorce.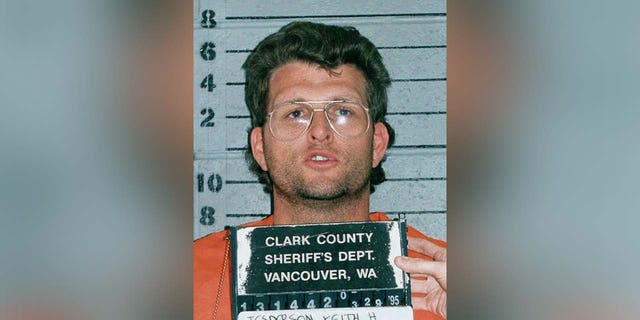 Serial killer Keith Jesperson in a Clark County Sheriff's Office booking photo. He's serving four consecutive life sentences for the killing of four women. (AP Photo)
"Help Asa Ellerup Start a New Life," Moore titled the fundraiser. "Today, I have an opportunity to use my voice to help Asa, who isn't in a place to speak about the terror and horror she and her family are experiencing at this moment," Moore wrote.
Jesperson, who is serving four consecutive life sentences, became known as the "Happy Face Killer" for the anonymous confession letters signed with smiley faces that he sent to the press and police before he was caught.
REX HEUERMANN'S WIFE PICTURED FOR FIRST TIME AS SHE FILES FOR DIVORCE FROM GILGO BEACH SERIAL SLAYING SUSPECT
Moore has spoken and written extensively about living in the shadow of her father's heinous crimes and the impact it continues to have on her family.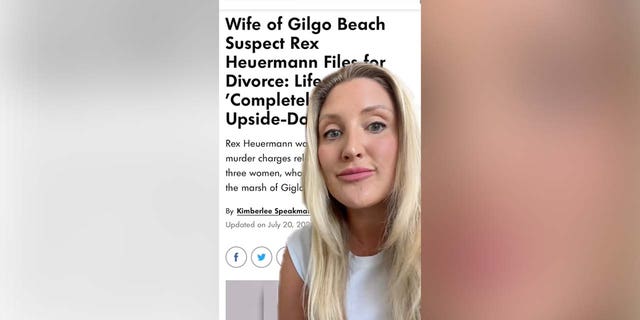 Melissa Moore, daughter of Keith Jesperson, speaks about the Gilgo Beach murders in a TikTok posted to her account. (Melissa Moore/@lifeaftercrime )
Ellerup's life was turned upside down after her husband's arrest. Investigators forced the family to leave their Massapequa home for two weeks as they searched for evidence.
They tore apart every room and dug up the backyard, destroying furniture and keepsakes, Ellerup told the Post. Photos show boxes strewn everywhere, a bathtub with the side cut out and a chunk of tile missing from the floor.
REX HEUERMANN'S PECULIAR CONNECTION TO 'MANORVILLE BUTCHER' AND VICTIMS' SCATTERED BODY PARTS
"My children cry themselves to sleep. I mean, they're not children. They're grown adults, but they're my children, and my son has developmental disabilities, and he cried himself to sleep," she said.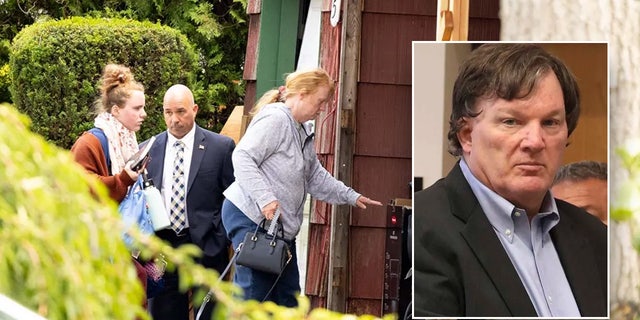 Accused Gilgo Bech serial killer Rex Heuermann in court Aug. 1, 2023, inset. His wife, Asa Ellerup, and daughter, Victoria Heuermann, return to their Massapequa home after investigators conducted a two-week search. (Mega for Fox News Digital/James Carbone/Newsday via AP, Pool)
Ellerup added she had tried to explain the situation to her special-needs son. "He's so distraught and doesn't understand, and as a mother, I have no answers for him," Ellerup said.
CLICK HERE TO GET THE FOX NEWS APP
The GoFundMe donations will go directly to the firm representing Ellerup in her divorce. Any money left over will go to help her and her family start a fresh life, the page says.
Rebecca Rosenberg is a veteran journalist and book author with a focus on crime and criminal justice. Email tips to [email protected] and @ReRosenberg.