A House Democrat is pushing the Senate to rename an office building that memorializes a "bigot and a racist."
Rep. Al Green, D-Texas, introduced a resolution on Friday calling on Congress' upper chamber to wipe the name of the late Sen. Richard Russell off the Russell Senate Office Building. The Georgia Democrat was a staunch opponent of de-segregation and the Civil Rights Movement during his nearly four decades in the Senate.
"I marvel at how we have arrived in the year 2023, and we have a building on this campus, named after a person who was a White supremacist, a person who fought against anti-lynching laws, a person who fought integration, a person who was a segregationist," Green fumed on the House floor in late July. "And we, people of color, tolerate it."
ARKANSAS THE LATEST STATE TO REMOVE CONTROVERSIAL AP AFRICAN AMERICAN STUDIES COURSE FROM SCHOOLS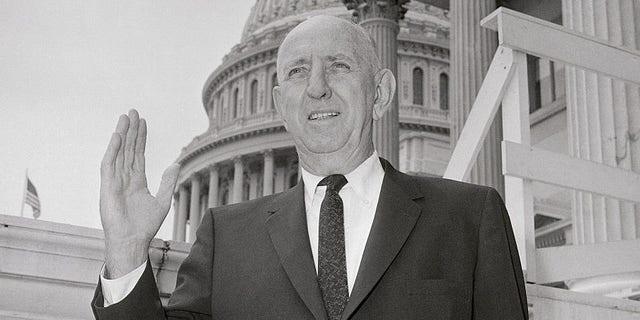 Sen. Richard B. Russell served in the chamber for nearly 40 years and is known for his opposition to de-segregation
Senate buildings and rooms are normally named and re-named via a chamber resolution. Green spoke out just before lawmakers departed Washington, D.C., for their six-week August recess.
"Taxpayer dollars ought not be on the name of a building that would honor a bigot and a racist, Richard Russell," Green said.
He pointed to the Defense Department actively working to remove Confederate symbols from the military and said the Senate "ought to be ashamed" of its inaction.
CHICAGO PROFESSOR DISMISSES MERITOCRACY AS MYTH, ADVOCATES FOR CRT: 'FALSE REALITY'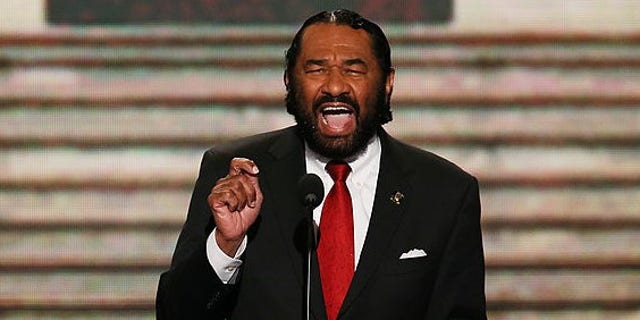 Rep. Al Green introduced a resolution urging the Senate to strip Russell's name from one of its three office buildings. (Getty Images)
"This is why the Senate will not remove the name that is offensive to me and many of my friends and relatives – they can't agree on a name. Well, I have the solution. Let it revert to the name that it had before it became Richard Russell. Let it revert to the old Senate office building. And then choose any name you want. Take as much time as you need," Green said.
It's not the first time Green or other lawmakers have introduced a resolution to wipe Russell's name from the halls of the U.S. Capitol complex, but all efforts have thus far failed.
MAINE HOSPITAL EXECUTIVE RANKLES FOR DECRYING 'WHITENESS' IN ANTIRACIST TRAINING: 'DEMEANING HIMSELF'
Then-Senate Minority Leader Chuck Schumer, D-N.Y., proposed renaming the building after late Sen. John McCain, R-Ariz., in 2018 shortly after his death from brain cancer at age 81. Some GOP senators from the South pushed back on the idea at the time.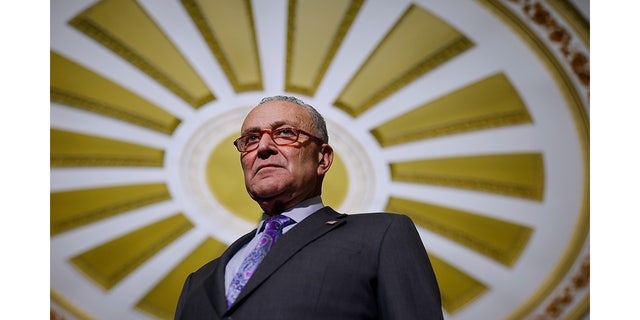 Senate Majority Leader Chuck Schumer's office was unresponsive when asked if he would mount a push to rename the Russell building. (Chip Somodevilla/Getty Images)
But Schumer revived the effort a year later, when former President Donald Trump's attacks on the late McCain were dominating media headlines.
CLICK HERE TO GET THE FOX NEWS APP
Schumer's office did not respond to Fox News Digital's request for comment on whether he would introduce a renaming resolution now, while he controls Senate floor movement as majority leader.
His office also did not return a request for comment on Green's latest resolution.