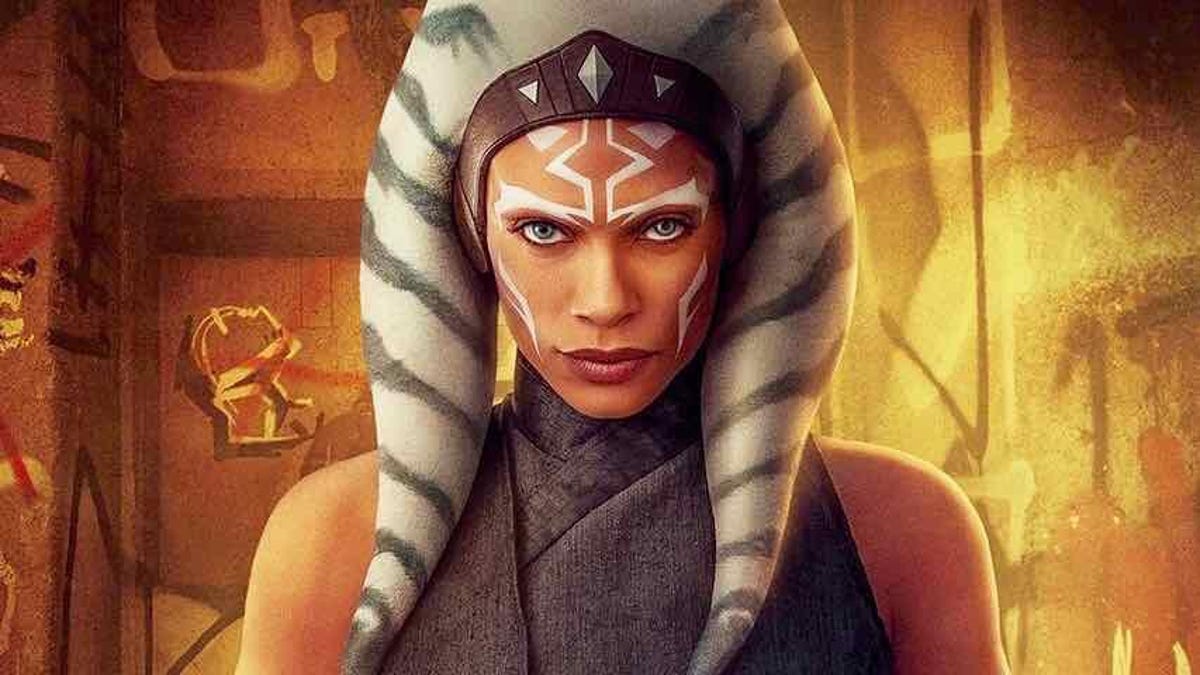 A ton of familiar faces light up the small screen in 2023.
Lucasfilm
There's never been so much TV, and 2023 has plenty of shows to look forward to. We'll be on the edge of our seats as a bunch of favorite television and streaming shows return and tons of intriguing new stories hit our screens.
Among the familiar faces, the Succession family are at each other's throats again, while the Yellowjackets crash-land back onto screens and the Next Generation crew beam up in Star Trek: Picard. Ted Lasso, Jack Ryan and Mrs. Maisel are back too, while Frasier, Justified and Futurama pick up where they left off years ago.
Just like 2023's movies, it's a big year for prequels and spin-offs. Bridgerton, John Wick and The Boys are among the hits inspiring new shows, including more Walking Dead spin-offs than you can shake a desiccated zombie at. Popular movies True Lies, Gremlins, Time Bandits and Grease are rebooted, and as usual there's a ton of Marvel and Star Wars series coming to Disney Plus (including The Mandalorian).
Happily, 2023 also sees a ton of intriguing original ideas. Rian Johnson's Poker Face, Apple's Hello Tomorrow! and nun-versus-AI drama Mrs. Davies look great. HBO's The Idol and Netflix's sci-fi thriller The 3 Body Problem also have our attention. And among the megastars on the small screen this year are Jodie Foster in True Detective, Woody Harrelson in Watergate drama The White House Plumbers and Harrison Ford in Apple's Shrinking. 
Some big hitters may or may not arrive this year, but we've included them in the list because we can't wait to see them. That includes Steven Spielberg's WW2 drama Masters of the Air, Batman spin-off The Penguin, the Fallout adaptation and of course Squid Game season 2.
Here's our list of 2023 new TV. We'll continue to update with release dates as they're announced.
Kaleidoscope (Jan. 1)
Netflix Crime series with a twist: You can watch the eight episodes in any order to see the story unfold in different ways.
Will Trent (Jan. 3)
ABC Based on Karin Slaughter's detective novel series, the show stars Ramón Rodríguez as Special Agent Will Trent, who endured a harsh upbringing to become Georgia's top cop.
Star Wars: The Bad Batch: Season 2 (Jan. 4)
Disney Plus Animated action with the toughest troopers in the Star Wars galaxy.
The Rig (Jan. 6)
Prime Video An oil rig is attacked by mysterious forces in this Amazon series.
Alert (Jan. 8)
Fox Procedural drama about the Philadelphia Police Department's Missing Person's Unit.
Mayfair Witches (Jan. 8)
AMC Supernatural horror series based on Anne Rice's Mayfair Witches novel trilogy.
Koala Man (Jan. 9)
Hulu Animated comedy starring series creator Michael Cusack, with Hugh Jackman, Sarah Snook and Jermaine Clement. 
Hunters season 2 (Jan. 13)
Prime Video Amazon's Nazi-hunting series starring Al Pacino and Udo Kier comes to an end.
The Last of Us (Jan. 15)
HBO Postapocalyptic video game adaptation.
That '90s Show (Jan. 19)
Netflix New decade, same sitcom format as That '70s Show is updated with a new cast of teens.
Watch more on Netflix
See at Netflix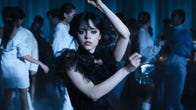 Accused (Jan. 22)
Fox US version of a British anthology series about various different characters awaiting their verdict in court.
The Winchesters (Jan. 24)
The CW Supernatural spin-off returns.
Poker Face (Jan. 26)
Peacock Natasha Lyonne and Rian Johnson team up for a quirky detective series.
Wolf Pack (Jan. 26)
Paramount Plus Sarah Michelle Gellar stars as the mentor to a pack of teen werewolves.
Shrinking (Jan. 27)
Apple TV Plus Jason Segel and Harrison Ford star in the story of a psychiatrist who begins telling patients what he really thinks of them.
Watch more on Apple TV Plus
See at Apple TV Plus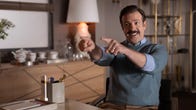 Rubble and Crew (Feb. 3)
Nickelodeon Paw Patrol spin-off focusing on Rubble at the double.
Not Dead Yet (Feb. 8)
ABC Gina Rodriguez takes the lead in a comedy based on the book Confessions of a Forty-Something F**k Up.
My Dad the Bounty Hunter (Feb. 9)
Netflix Two children discover that their father is the toughest bounty hunter in all the galaxy in this animated show.
You season 4 (Feb. 9)
Netflix The thriller returns.
Marvel's Moon Girl and Devil Dinosaur (Feb. 10)
Disney Channel Just a girl and her dinosaur.
Animal Control (Feb. 16)
Fox Joel McHale headlines this animal-themed sitcom.
Hello Tomorrow! (Feb. 17)
Apple TV Plus Billy Crudup, Hank Azaria and Alison Pill star in this show about traveling salesmen selling timeshares — on the moon.
Found (Feb. 19)
NBC Missing persons drama.
The Company You Keep (Feb. 19)
ABC A con man and CIA agent become entangled.
Magnum P.I. season 5 (Feb. 19)
NBC The Hawaii detective takes on more cases.
True Lies (Feb. 23)
CBS Reboot of the '90s James Cameron movie, which starred Arnold Schwarzenegger as a spy with a humdrum home life.
The Mandalorian season 3 (March 1)
Disney Plus Gunslinging Star Wars hit returns.
Daisy Jones and The Six (March 3)
Prime Video Amazon miniseries based on the novel of the same name set in the wild world of 1970s rock music.
Watch more on Prime Video
See at Amazon Prime Video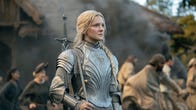 Carnival Row season 2 (March 17)
Prime Video It's the final season for Amazon's steampunk fantasy starring Cara Delevingne and Orlando Bloom.
Servant (March 17)
Apple TV Plus M. Night Shyamalan's Apple TV Plus chiller comes to an end.
Yellowjackets season 2 (March 24)
Showtime Horror hit returns with more mystery surrounding the survivors of a plane crash.
Mrs. Davis (April 20)
Peacock Glow star Betty Gilpin plays a nun battling artificial intelligence in a series created by Damon Lindelof.
Star Trek: Picard (April 20)
Paramount Plus The complete cast of The Next Generation reunites for the final season of this Paramount Plus Star Trek series.
The Walking Dead: Dead City (April)
AMC Maggie and Megan take Manhattan in this Zombie spin-off.
Watch more on HBO Max
See at HBO Max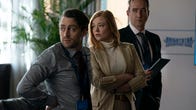 Succession season 4

HBO Deliciously dark family drama again pits the scheming Roy family against each other.
Squid Game season 2
Netflix Will the Korean breakout hit return in 2023? The fiendishly clever series has been renewed for more fun and games.
Queen Charlotte: A Bridgerton Story
Netflix Prequel to the period romance hit Bridgerton.
True Detective: Night Country
HBO Jodie Foster investigates an Alaskan research station in this heavyweight crime drama.
The Continental
Peacock Action-packed John Wick spin-off is riddled with bullets.
Straight Man
AMC Bob Odenkirk follows Better Call Saul with an AMC comedy-drama adapted from Richard Russo's 1997 novel about an anarchic academic.
Masters of the Air
HBO Ncuti Gatwa, Barry Keoghan and Austin Butler take to the skies in this real-life WWII bomber drama following Band of Brothers and The Pacific.
The Penguin
HBO Colin Farrell is a Gotham City crime boss in this spin-off from 2022 movie The Batman.
The Walking Dead: Rick and Michonne spin-off
AMC Originally planned as a series of movies, this AMC series follows Andrew Lincoln and Danai Gurira in another zombie spin-off.  
The Walking Dead: Daryl Dixon
AMC Another zombie spin-off, following the further adventures of Norman Reedus' crossbow-wielding badass.
Watch more on AMC Plus
See at AMC Plus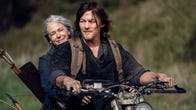 The White House Plumbers
HBO Woody Harrelson and Justin Theroux star as the men behind the Watergate scandal in this HBO drama.
Ted Lasso season 3
Apple TV Plus Another season kicks off for this warm-hearted hit about a cheerful soccer coach.
The Changeling
Apple TV Plus LaKeith Stanfield stars in an adaptation of Victor LaValle's creepy novel The Changeling.
The Idol
HBO Abel "The Weeknd" Tesfaye and Sam Levinson co-create a drama about a cult leader and a pop star, starring Lily-Rose Depp.
Futurama
Hulu The sci-fi cartoon classic returns with the original cast (including Bender!).
The Curse
Showtime/A24 Emma Stone stars in this comedy from Nathan Fielder and Benny Safdie about a couple struggling to conceive a kid in the public eye.
Fallout
Prime Video Postapocalyptic video game adaptation from Amazon.
The 3 Body Problem

Netflix Game of Thrones showrunners David Benioff and D.B. Weiss develop this sci-fi series based on the novel by Liu Cixin.
A Spy Among Friends
MGM Plus True-life Cold War spy drama.
Frasier
Paramount Plus They're calling again, as Kelsey Grammer's neurotic shrink returns.
Watch more on Paramount Plus
See at Paramount Plus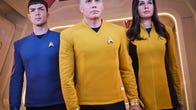 Agatha: Coven of Chaos
Disney Plus Marvel spins off WandaVision villain Agatha Harkness, played by Kathryn Hahn, for her own show.
Echo
Disney Plus Marvel's deaf Native American antihero spins off from Disney Plus series Hawkeye.
Loki season 2
Disney Plus Tom Hiddleston is up to his old mischief in the second season of Marvels' time-twisty treat.
X-Men '97
Disney Plus The much-loved 1990s X-Men cartoon blasts back.
Marvel Zombies
Disney Plus Marvel's heroes come back from the undead in this animation.
Secret Invasion
Disney Plus Samuel L. Jackson is Nick Fury battling infiltration by shape-shifting alien Skrulls.
Star Wars: Ahsoka
Disney Plus Rosario Dawson returns as Jedi badass Ahsoka Tano in this live-action Star Wars series.
Star Wars: Skeleton Crew
Disney Plus Jude Law mentors some rebel teens in this Star Wars series.
Star Wars: Young Jedi Adventures
Disney I'm guessing it involves young Jedi having, y'know, adventures.
Watch more Marvel and Star Wars on Disney Plus
See at Disney Plus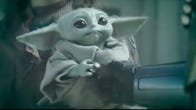 Land Man
Paramount Plus Yellowstone creator Taylor Sheridan drills into a new series about the cutthroat world of West Texas oil.
Hotel Cocaine
MGM Plus Rack up a line of real-life drama with this series focusing on the Mutiny Hotel, notorious epicenter of the Miami drug scene in the late '70s and early '80s.
Invitation to a Bonfire
AMC Orphan Black and She-Hulk star Tatiana Maslany stars in AMC's beguiling drama about a love triangle at a 1930s girl's school. 
Iwájú
Disney Plus Animated series set in a futuristic Lagos, Nigeria.
Justified: City Primeval
FX Western-style lawman Raylan Givens is quick on the draw again in this continuation of Justified.
American Born Chinese
Disney Plus Michelle Yeoh stars in this adaptation of a comic about a modern teen caught in a conflict between Chinese deities.
Grease: Rise of the Pink Ladies
Paramount Plus You're the one that I want as Paramount Plus raids the vault for a prequel to the classic rock 'n' roll musical.
Gremlins: Secrets of the Mogwai
HBO A 1920s-set prequel to the anarchic 1980s Gremlins movies.
Jack Ryan season 4
Prime Video John Krasinski accepts his final mission in this spy series based on the Tom Clancy novels.
Manifest season 4 part 2
Netflix The plane-based hit comes in to land with its final season.
Riverdale season 7
The CW The indescribable teen series comes to an end.
Snowpiercer season 4
TNT The series approaches its final stop.
The Crown season 6
Netflix The sixth and final season of the royal drama is expected to explore the period of Princess Diana's death.
The Flash season 9
The CW DC's speedy hero comes to the end of the road.
The Handmaid's Tale season 6
Hulu The dystopian series comes to a no doubt bleak final season.
Watch more on Hulu
See at Hulu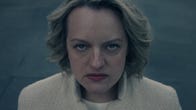 Never Have I Ever season 4
Netflix Mindy Kaling's coming-of-age comedy comes to an end.
The Marvelous Mrs. Maisel season 5
Prime Video The tale of a '60s housewife finding freedom in stand-up comedy takes its final bow on Amazon.
The Umbrella Academy season 4
Netflix Alternative superhero adventure enters its final season.
Army of the Dead: Lost Vegas
Netflix Anime prequel to Zack Snyder's zombie movie.
Big Man on Campus
Apple TV Plus Documentary about basketball phenomenon Makur Maker. 
BS High
HBO Sports documentary investigating the scandal of the football team at Bishop Sycamore High School — which may not even be a real school.
Class of '09
Hulu Brian Tyree Henry and Kate Mara are FBI academy classmates reunited in the near future when AI has reshaped the world.
Dear Mama
FX Rap documentary about Tupac Shakur and his mother Afeni.
Demascus
AMC An ordinary Black man uses a new technology to experience different versions of his life.
Entitled
Showtime The people behind Fleabag feel entitled to a show about a scheming American widower who has to get to know his late wife's eccentric aristocratic family.
The Nevers season 1 part 2
HBO Victorian superhero fantasy unfurls its second season.
Genius: Martin Luther King, Jr.
Disney Plus/National Geographic Kelvin Harrison Jr. stars as Martin Luther King Jr. in this dramatization of the civil rights activist's life and death.
Gotham Knights
The CW Batman is dead, and a bunch of his teen super-friends have to save the city in this DC live-action series.
Grimsburg
Fox Jon Hamm voices a detective in this animated comedy.
Hits From the Bong
Showtime Cypress Hill documentary.
Kiff
Disney Kiff is an optimistic squirrel who gets into shenanigans with bunny buddy Barry in this cute animation.
Krapopolis
Fox Richard Ayoade, Matt Berry and Hannah Waddingham lend their voices to Dan Harmon's animated comedy set in ancient Greece.
Lessons in Chemistry
Apple TV Plus Brie Larson is a 1960s scientist starting a cooking show. 
Magic: The Gathering
Netflix Animated fantasy brings the popular card game to the screen. 
Orphan Black: Echoes
AMC Keeley Hawes and Krysten Ritter have intertwining lives in this Orphan Black spin-off.
Parish
AMC US version of nail-biting British crime drama The Driver.
School Spirits
Paramount Plus A teen stuck in the afterlife, which at least allows her to investigate her own mysterious disappearance.
The Ark
Syfy Space travelers heading for a new planet must fight for survival when their colony ship runs into trouble. 
The Boys: Gen V
Prime Video Young superheroes are tested in violent challenges in Amazon's spin-off from The Boys.
Tiana
Disney Plus Spin-off from 2009 animated movie The Princess and the Frog.
Time Bandits
Apple TV Plus Terry Gilliam's anarchic time travel movie is reimagined by Jemaine Clement, Iain Morris and Taika Waititi.
Tomb Raider
Netflix Lara Croft returns in an anime series.
Velma
HBO Mindy Kaling puts the Scooby-Doo character in the spotlight in this animated HBO Max series.
Asterix
Netflix A pair of indomitable Gauls battle Romans in this animated series based on the much-loved comics.
Knuckles (Sonic the Hedgehog spin-off)
Paramount Plus Knuckles the Echidna takes center stage in this spin-off from the popular Sonic video games and movies.
Love and Death
HBO Max Elizabeth Olsen stars in this true crime drama based on a brutal 1980 axe murder by housewife Candy Montgomery (which was also the subject of a Hulu drama last year).
American Rust season 2
Freevee Amazon revives this show starring Jeff Daniels as a rust belt cop.
New Movies Coming in 2023 From Marvel, Netflix, DC and More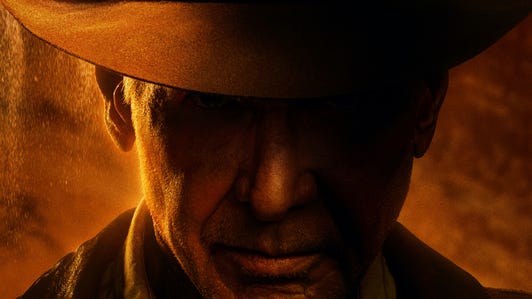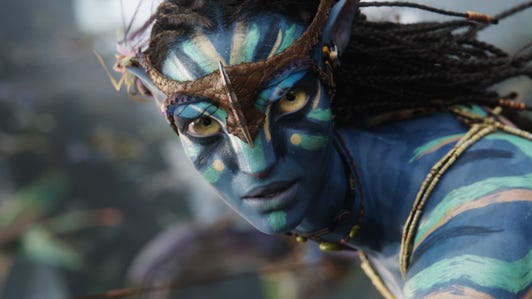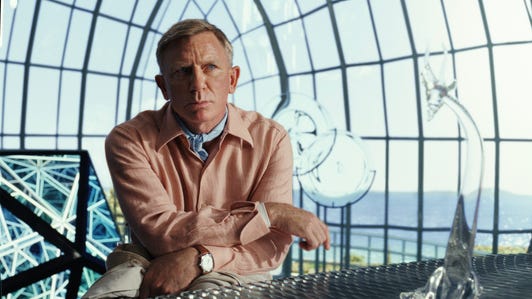 +45 more
See all photos
2023's Best TV and Streaming Shows You Can't Miss on Netflix, HBO, Disney Plus and More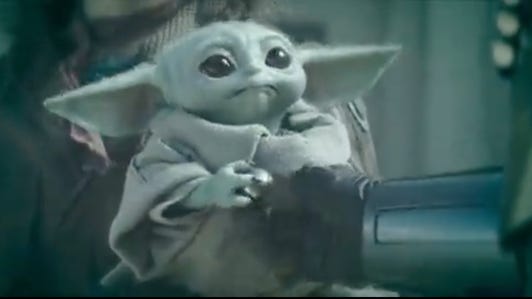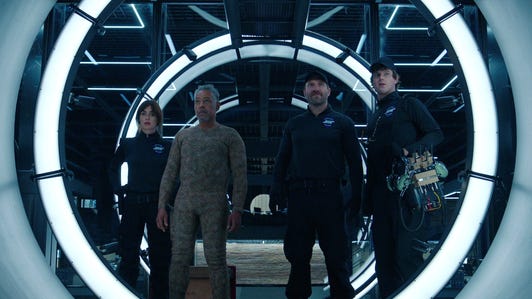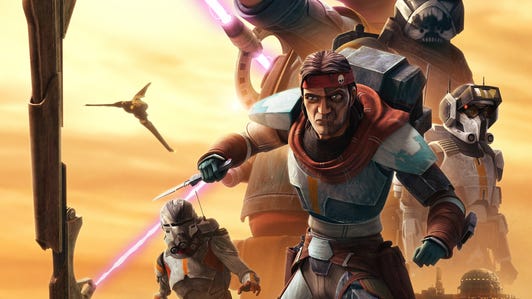 +59 more
See all photos