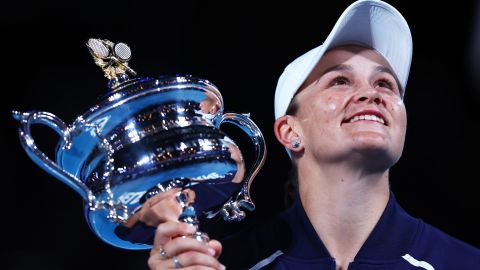 Ashleigh Barty of Australia poses with the Daphne Akhurst Memorial Cup after winning her Women's Singles Final match.
Clive Brunskill/Getty Images

CNN
—
Australia's Ashleigh Barty, who retired from professional tennis last year after winning the Australian Open, has announced on Instagram she is pregnant.
"2023 set to be the best year yet. We are so excited for our new adventure," she wrote on Friday, posting a picture of her dog Origi and a pair of baby shoes. "Origi already the protective big sister."
In March, Barty stunned the tennis world by announcing she was retiring from the sport at age 25 while ranked No. 1 in the world. She had won three major singles titles – the 2019 French Open, 2021 Wimbledon and the 2022 Australian Open.
Barty was the only the second reigning world No.1 in the women's game to retire at the top, following Justine Henin, who retired in 2008.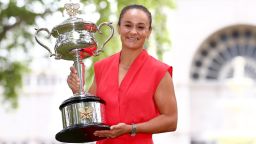 MELBOURNE, AUSTRALIA – JANUARY 30: Ashleigh Barty of Australia poses with the Daphne Akhurst Memorial Cup after winning last nights 2022 Australian Open Women's Singles Final, at Royal Exhibition Building on January 30, 2022 in Melbourne, Australia. (Photo by Kelly Defina/Getty Images)
Kelly Defina/Getty Images
Ash Barty to mentor wildcard Gadecki at Australian Open
The Australian started her professional tennis career in 2010 but took a break from the sport from 2014 to 2016, saying "it was too much too quickly."
Only 18 at the time, she wanted to "experience life as a normal teenage girl," she said.
She had returned to tennis full-time in 2017 and went on to dominate the sport, winning 25 of her last 26 matches.
Earlier this week, Barty announced she would be returning to Melbourne Park for this year's Australian Open to mentor local hope Olivia Gadecki.
World No. 202 Gadecki, who received a wildcard for the year's first grand slam, said at the United Cup in Sydney that Barty would be in her camp for the tournament that runs between January 16-29.