close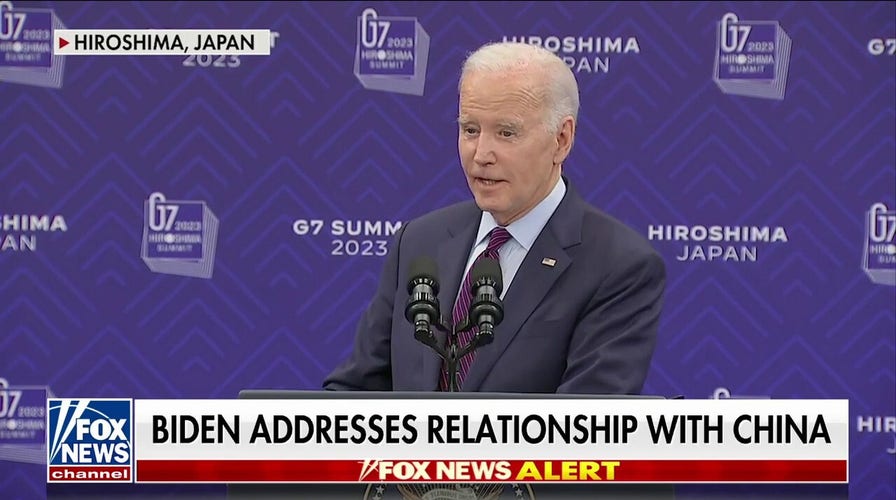 Video
Biden addresses US-China relations during G-7 Summit press briefing
During a press conference from Hiroshima, Japan, the president spoke to the press about foreign relations and the debt ceiling.
The status of the Ukrainian city of Bakhmut was in question after Russia claimed it had gained control of it with the assistance of Wagner forces, and Ukrainian President Volodymyr Zelenskyy spoke solemnly of the city.
Speaking in Hiroshima, Japan Sunday during the G-7 Summit, Zelenskyy remarked that Bakhmut was "only in our hearts," hours after Russia's defense ministry claimed they had taken it.
"Mr. President, is Bakhmut still in Ukraine's hands? The Russians say that they have taken Bakhmut," a reporter asked Zelenskyy and President Biden at the summit.
"I think, no. But you have to transcend that there is nothing. They destroyed everything. There are no buildings," Zelenskyy responded.
RUSSIA SAYS WAGNER PRIVATE ARMY, WITH HELP FROM RUSSIAN TROOPS, SEIZED BAKHMUT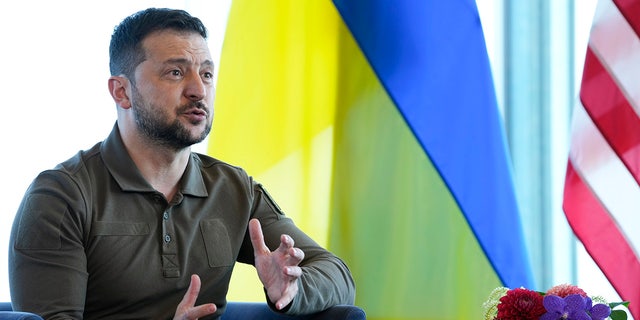 Ukrainian President Volodymyr Zelenskyy speaks during a meeting with President Joe Biden on the sidelines of the G-7 Summit in Hiroshima, Japan, May 21, 2023.  (AP Photo/Susan Walsh)
"It's a pity, it's tragedy but today Bakhmut is only in our hearts," the Ukrainian president added. "There is nothing in this place. Just drones and a lot of dead Russians. But they came to us. So our defenders in Bakhmut, they did strong work. And of course, we appreciate them for their great job."
Biden, later addressing reporters in Hiroshima, added: "Bakhmut is a discussion about whether or not it has been lost or whatever. And, well, the truth of the matter is the Russians have suffered over 100,000 casualties in Bakhmut. That's hard to make up. That's hard to make up. So, whether or not there are troops in Bakhmut occupying, there's not many buildings left standing in Bakhmut. It's a pretty devastated city. But they have been able to move in a direction that they've been able to lock down an awful lot of the Russian forces including the Wagner group."
The Russian ministry statement on the Telegram channel came about eight hours after a similar announcement by Wagner head Yevgeny Prigozhin. Ukrainian authorities, however, said at that time that fighting for Bakhmut was continuing.
The eight-month battle for Bakhmut has been the longest and possibly most bloody of the conflict in Ukraine.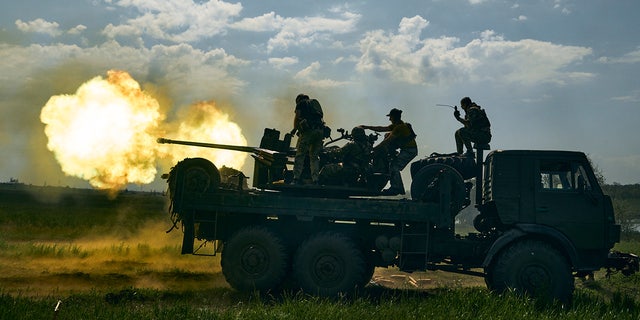 Ukrainian soldiers fire a cannon near Bakhmut, an eastern city where fierce battles against Russian forces have been taking place, in the Donetsk region, Ukraine, May 15, 2023.  ( AP Photo/Libkos, File)
Zelenskyy's comments Sunday morning came as Biden announced $375 million more in aid for Ukraine, which included more ammunition, artillery, and vehicles.
US TRAINING UKRAINE PILOTS IS A 'BOMBSHELL ANNOUNCEMENT': GEN. JACK KEANE
Analysts said that a Russian victory in Bakhmut was unlikely to turn the tide in the war, according to the Associated Press.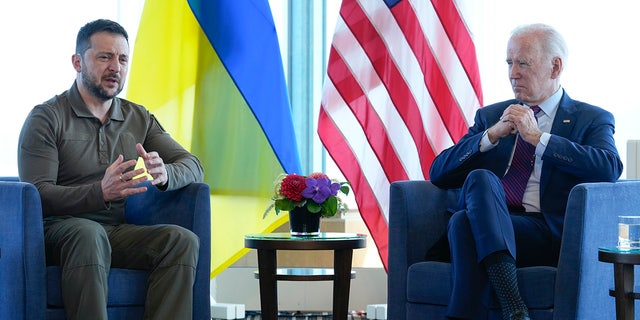 Ukrainian President Volodymyr Zelenskyy and President Joe Biden take questions on the sidelines of the G-7 Summit in Hiroshima, Japan, May 21, 2023. ( AP Photo/Susan Walsh)
The Russian capture of the last remaining ground in Bakhmut is "not tactically or operationally significant," a Washington-based think tank said late Saturday. The Institute for the Study of War said that taking control of these areas "does not grant Russian forces operationally significant terrain to continue conducting offensive operations," nor to "to defend against possible Ukrainian counterattacks."
Using the city's Soviet-era name, the Russian ministry said, "In the Artyomovsk tactical direction, the assault teams of the Wagner private military company with the support of artillery and aviation of the southern battlegroup has completed the liberation of the city of Artyomovsk."
CLICK HERE TO GET THE FOX NEWS APP
Russian state news agencies cited the Kremlin's press service as saying President Vladimir Putin "congratulates the Wagner assault detachments, as well as all servicemen of the Russian Armed Forces units, who provided them with the necessary support and flank protection, on the completion of the operation to liberate Artyomovsk."
The Associated Press contributed to this report.
Danielle Wallace is a reporter for Fox News Digital covering politics, crime, police and more. Story tips can be sent to [email protected] and on Twitter: @danimwallace.