close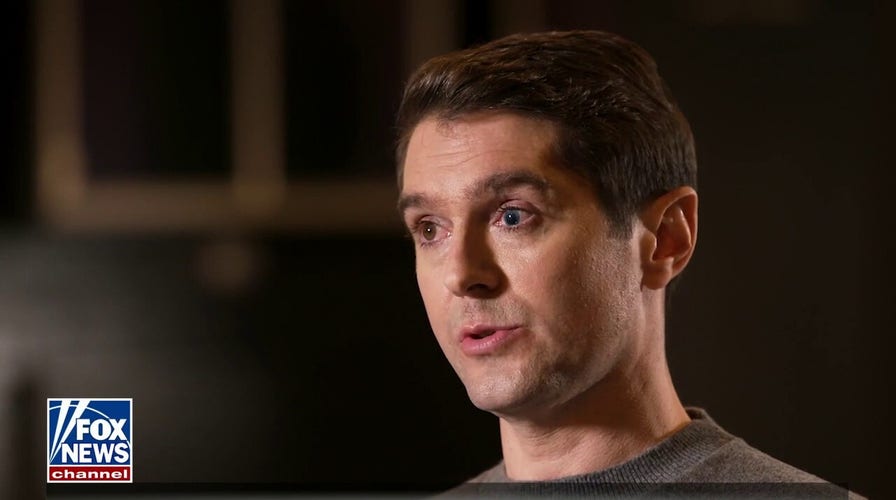 Video
Benjamin Hall recalls the moment deadly Russian shells struck his car in Ukraine
Fox News foreign correspondent Benjamin Hall describes the moment Russian shells hit the car he, Fox News cameraman Pierre Zakrzewski and consultant Oleksandra 'Sasha' Kuvshynova were in while covering Russia's invasion of Ukraine one year ago.
Ukrainian President Volodymyr Zelenskyy praised the International Criminal Court Sunday for issuing an arrest warrant against Russian President Vladimir Putin. The comments came the day before the Russian leader hosts Chinese President Xi Jinping.
The ICC charged Putin with war crimes, although Russia does not recognize the jurisdiction of the court and is not likely to turn Putin over on the charges.
Nevertheless, Zelenskyy claimed the charges were a "turning point" in the war and show the international community is recognizing atrocities committed in the Russia-Ukraine war, which reached its one-year milestone last month.
"The evil state will be held accountable for every act of terror against Ukrainians," Zelenskyy said during a nightly address. "This week has finally brought a truly significant international legal result for Ukraine, for justice. There is a warrant of the International Criminal Court for the arrest of the Russian leader, and this is a turning point."
VLADIMIR PUTIN VISITS CAPTURED UKRAINIAN CITY FOR FIRST TIME SINCE INVADING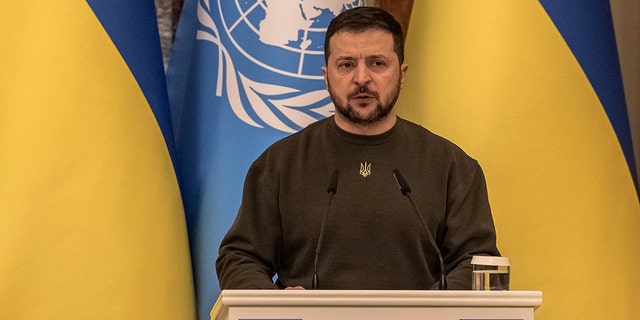 Ukrainian President Volodymyr Zelensky delivers a speech during the joint press conference with Secretary-General of the United Nations Antonio Guterres following their meeting on March 8, 2023 in Kyiv, Ukraine.  (Roman Pilipey/Getty Images)
The Ukrainian leader also said the warrant marks an "undeniable" moment that Russia will be held accountable for alleged war crimes over this past year.
"The world understands what is happening. The world sees how bravely and nobly our people are fighting," he continued.
Putin and Russia will be held "responsible for every strike on Ukraine, for every destroyed life, for every deported Ukrainian child… And, of course, for every manifestation of destabilization of the world caused by Russian aggression," Zelenskyy said.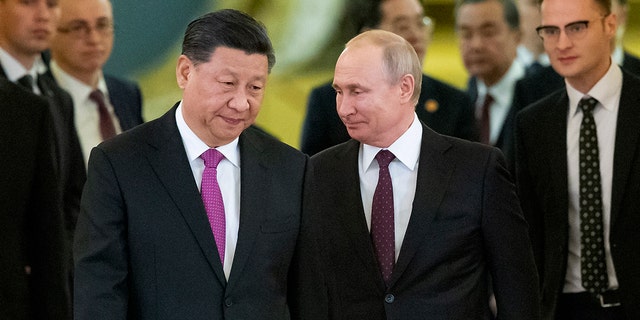 FILE – Chinese President Xi Jinping, left, and Russian President Vladimir Putin enter a hall for talks in the Kremlin in Moscow, Russia, June 5, 2019.  (AP Photo/Alexander Zemlianichenko)
"Dozens and dozens of other Ukrainian towns and villages have been hit by Russian terrorists this week alone. My condolences to all those who have lost their relatives, their loved ones," the Ukrainian added. "Another week of our defense against the evil state is coming to an end. Another week when every day, every night, the Russian army shelled Ukrainian cities, and villages, and killed our people."
RUSSIA-UKRAINE CONFLICT IS DRIVING A STRATEGIC TRANSFORMATION OF OUR WORLD ORDER
President Putin visited Crimea, a peninsula that Russia annexed from Ukraine in 2014, over the weekend, ahead of his meeting in Moscow with President Xi on Monday.
The Chinese government said Xi would leave for Moscow on Monday and would remain in Russia until Wednesday. The government did not indicate when he would depart or what time the meeting was expected to take place.
The Kremlin said Xi was due to arrive at midday and meet at some point later in the day with Putin.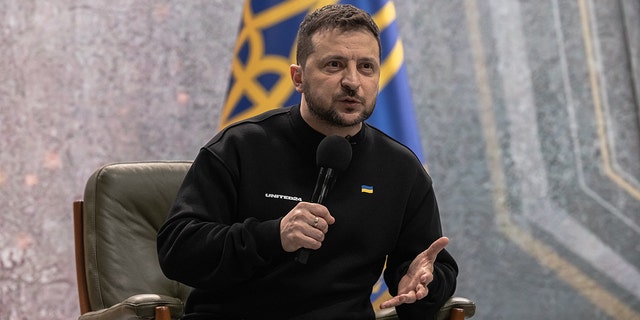 Ukrainian President Volodymyr Zelensky speaks to the media during a press conference as Ukraine marks one year since Russia's large-scale invasion, on February 24, 2023 in Kyiv, Ukraine.  (Roman Pilipey/Getty Images)
Xi's meeting has been perceived as a show of support for Putin and giving legitimacy to his invasion of Ukraine.
Joseph Torigian, an expert in Chinese-Russian relations at American University in Washington, said the meeting gives Putin and Xi a chance to show they are "powerful partners."
The meeting also takes place as Chinese and American relations have become strained in recent months amid disputes over technology, security, and human rights in the Indo-Pacific with China, Taiwan, Japan, and North Korea.
"China can signal that it could even do more to help Russia and that if relations with the United States continue to deteriorate, they could do a lot more to enable Russia and help Russia in its war against Ukraine," Torigian said.
WHAT'S THE ICC THAT ISSUED PUTIN'S ARREST WARRANT AND WHAT CONSEQUENCES DOES HE FACE?
Parallels have also been made between Russia's invasion of Ukraine and China's potential invasion of the island of Taiwan. While Taiwan is internationally recognized as a sovereign territory belonging to China, it has its own government and is Democratically ruled, unlike mainland China.
The international community has discouraged violence in Ukraine and Taiwan, urging both aggressors to keep the peace.
China has publicly called for peace in Ukraine and told the official Xinhua News Agency his upcoming visit to Russia" will be a journey of friendship, cooperation and peace."
"A reasonable way to resolve the crisis" can be found if "all parties embrace the vision of common, comprehensive, cooperative and sustainable security," Xi wrote.
CLICK TO GET THE FOX NEWS APP
Xi's meeting with Putin will take place Monday.
The Associated Press contributed to this report.