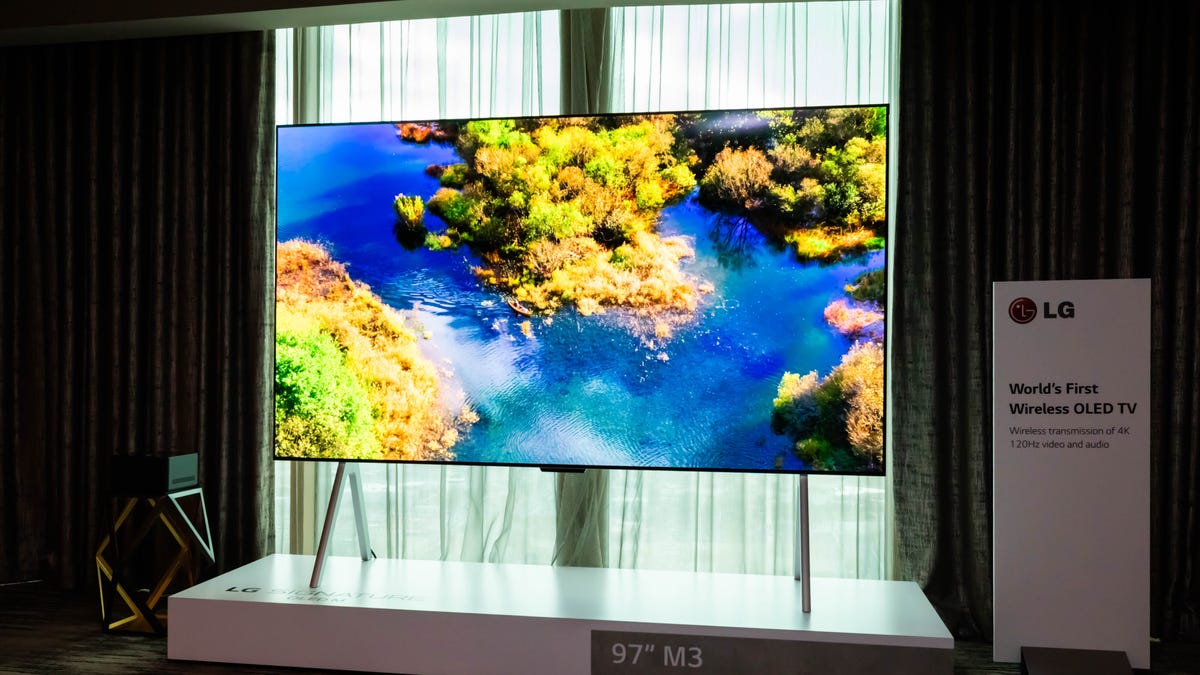 LG's Wireless 97-inch OLED TV is now on sale for $30,000.
James Martin/CNET
Following its unveiling in Europe, LG's huge wireless OLED TV is now available in the US, and it's just about as expensive as you might expect. LG said Tuesday that the 97-inch LG 97M3 OLED will cost $30,000 — so it's time to save your pennies.
Additionally, the company announced smaller models with the same wireless tech. The 83-inch OLED Evo M will cost $8,000 while the 77-inch version will come in at $5,000. All three models are set to go on sale later this month on the company's website and at LG-authorized retailers.
LG's 97-inch Signature OLED M is still the largest OLED TV in the world, as well as the first to use wireless technology to transmit 4K video and audio to the screen at 120Hz. The TV comes with what LG calls the Zero Connect Box, which houses the standard HDMI plugs and other connections. The box then wirelessly transmits connected content to the TV from up to 30 feet away.
The LG 97M3 OLED debuted at CES in January and CNET's David Katzmaier got an early look at the technology in action. Sharing his initial impressions of the TV, he remarked that "the image on the screen was from a Blu-ray disc, sent wirelessly — and flawlessly, to my eye — from the box to the TV." He also selected it as one of the best products of CES 2023.
Though the LG is intended to give users a wire-free viewing experience, the TV does have a power cord, but even that's cleverly hidden inside one of the legs of the TV stand. The M3 TVs let users simply hide all their gear, including the transmitter box, out of sight in a cabinet.
Wireless TVs and projectors aren't exactly new, but LG's TVs are the first to transmit content at such a high bandwidth. Other wireless models, like the Displace OLED TV also featured at CES, were created more for portability than premium viewing. That competitor's TV comes with a 55-inch battery-powered display and doesn't need a plug to function. So far, only LG's TVs can wirelessly stream audio and video at 4K and 120Hz, though electricity is still very much required.