close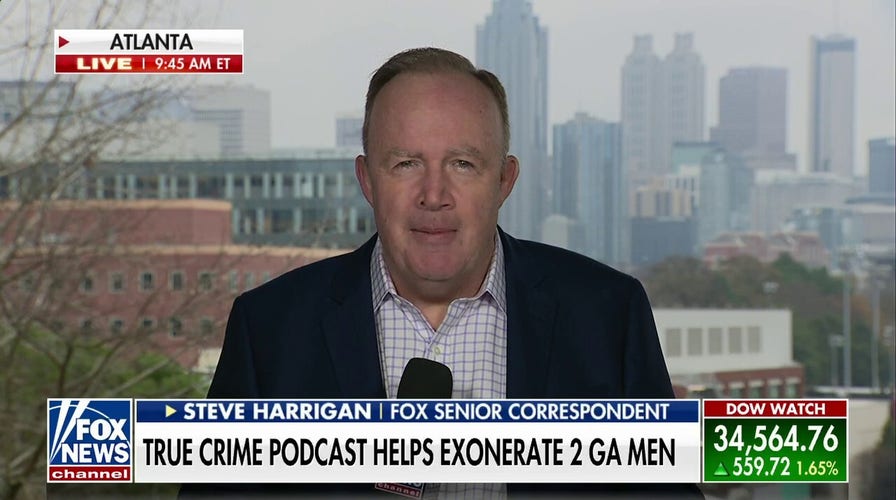 Video
Georgia men exonerated after true crime podcast finds new evidence in decades-old case
Fox senior correspondent Steve Harrigan reports on how two Georgia men were exonerated from murder charges after a true crime podcast finds evidence to prove they were wrongfully convicted over two decades earlier. 
"Never would I have thought I would spend more than half my life in prison, especially for something I didn't do."
That is what Darrell Lee Clark said after he was exonerated along with Cain Joshua Storey for the 1996 murder of their friend, 15-year-old Brian Bowling. The pair's innocence came to light after the true crime "Proof Podcast" uncovered evidence that police had coerced a main witness into giving false statements, and prosecutors misrepresented another witness who has hearing and speech impairments.
Clark and Storey are just two of 261 individuals who were exonerated in 2022 for crimes they did not commit, according to a database maintained by law schools at Michigan State University and the University of Michigan, along with the University of California-Irvine's Newkirk Center for Science & Society.
Here is a look at Clark and Storey's case, and other notable exonerations that cleared the names of the wrongfully convicted in 2022.
Darrell Clark and Cain Storey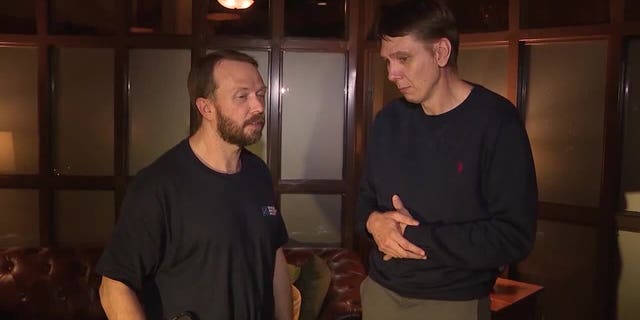 Darrell Lee Clark, left, and Cain Joshua Storey were released from prison in December 2022 after serving 25 years for a murder they did not commit.
(Fox 5 Atlanta)
Bowling died from a gunshot wound to the head inside his own bedroom in 1996. Shortly before his death, he told his girlfriend over the phone that he was playing Russian roulette with a gun that Storey brought over to his house, according to the Georgia Innocence Project.
Clark and Storey initially faced manslaughter charges, but detectives turned it into a murder investigation months later. Police interviewed a neighbor who said Clark and Storey attended a party at her house months after Bowling's death and admitted that they murdered him because he knew too much about a theft they had supposedly committed.
BIGFOOT, BEES, AND BODIES: THE WEIRDEST AND MOST BIZARRE CRIME STORIES OF 2022
Podcast hosts Susan Simpson and Jacinda Davis took a closer look at the case in 2021 and discovered that the neighbor, a key witness, was coerced into giving false statements. Police allegedly threatened to take the neighbor's children away from her, according to the Georgia Innocence Project.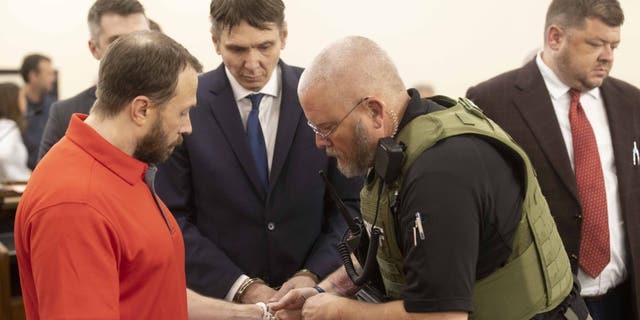 Sheriff's deputy removes handcuffs from Darrell Lee Clark after he was exonerated of a first-degree murder conviction.
(Georgia Innocence Project via Fox 5 Atlanta)
At a hearing for a new trial on Dec. 8, the Rome Judicial Circuit District Attorney's Office agreed that the convictions should be overturned, setting Clark and Storey free for the first time in a quarter-century.
"You never think something like that is going to happen to you," Clark said in a statement after the hearing, thanking the Georgia Innocence Project and Proof Podcast hosts for their work on his case. "I'm just glad the truth finally came to light after 25 years."
Adnan Syed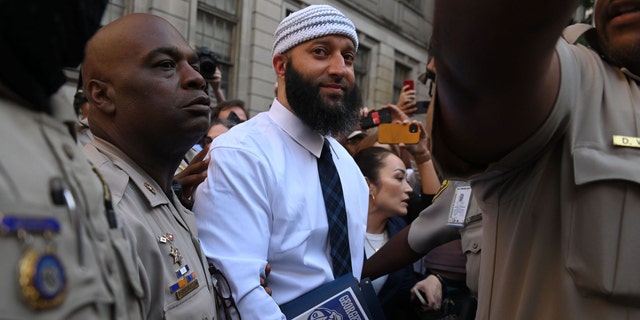 Adnan Syed was released from a Maryland prison on Sept. 19, 2022, after spending 23 years behind bars.
(Lloyd Fox/The Baltimore Sun/Tribune News Service)
Adnan Syed, who was convicted of the 1999 murder of his ex-girlfriend, Hae Min Lee, was freed from prison in September 2022 after Baltimore prosecutors uncovered new evidence in the case.
Like Clark and Storey's case, his murder conviction received renewed interest after it was featured on a podcast.
A LOOK BACK AT 2022: FIVE OF THE TOP COLD CASES SOLVED
The "Serial" podcast raised doubts about Syed's guilt in 2014, eventually becoming the most downloaded podcast of all time.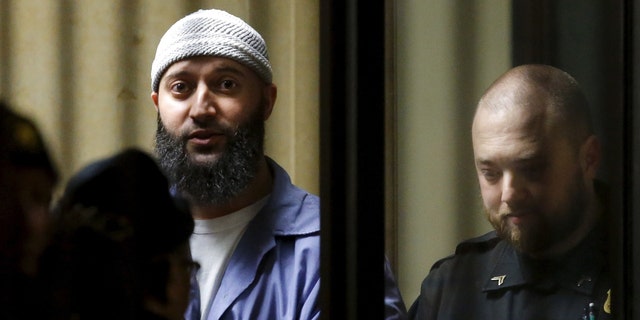 Adnan Syed in court, shortly before he was exonerated of murder.
(Carlos Barria)
In September 2022, prosecutors filed a motion highlighting new evidence, including the possibility of other suspects; one who had allegedly threatened to kill Lee and another who is linked to an address where Lee's car was ultimately discovered.
Baltimore State's Attorney Marilyn Mosby also said after the conviction was overturned that her office used "advanced DNA to determine it was not Adnan Syed," noting that DNA technology has advanced greatly in the past two decades.
"The state no longer has confidence in the integrity of the conviction," prosecutors told the court.
Joaquin Ciria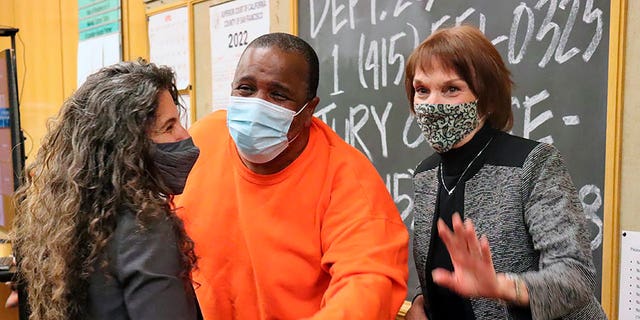 Attorney Paige Kaneb, of Northern California Innocence Project, left, Joaquin Ciria, center, and attorney Ellen Eggers react as Ciria is exonerated in San Francisco Superior Court on April 18, 2022.
(Northern California Innocence Project via AP)
Joaquin Ciria, 61, was freed from prison in April 2022 after more than three decades behind bars for a murder that prosecutors no longer believe he committed.
"Thirty-two years ago, you were taken away from your wife and your baby, and that is because the system failed you catastrophically," Lara Bazelon, the chair of the San Francisco District Attorney's Innocence Commission, said at a news conference after his release. "Now at long last, you have a chance to take back your life."
CAMPUS CRAZINESS: TOP 5 COLLEGE STORIES OF 2022
Ciria was sentenced to life in prison in 1990 for the fatal shooting of Felix Bastarrica. Prosecutors re-examined the case starting in 2020 and found "a cascade of errors," including evidence that police coerced a teenage witness.
Bazelon also said two witnesses who could have vouched that Ciria was home at the time of the shooting were never called to testify.
Ciria's case was the first exoneration secured by San Francisco's Innocence Commission.
Elizabeth Johnson Jr.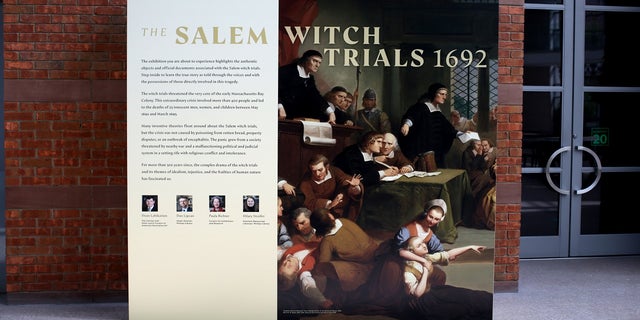 The entrance to the Salem Witch Trials exhibit at The Peabody Essex Museum in Salem, Massachusetts, on Sept. 24, 2020.
(Jonathan Wiggs/The Boston Globe via Getty Images)
Judges, prosecutors and defense attorneys are mainly concerned with exonerating the innocent while those individuals are still alive, but occasionally they reach back further to right historic wrongs.
In the case of Elizabeth Johnson, Jr., the wheels of justice went back more than three centuries.
Johnson was just 22 years old when she was wrongfully convicted of witchcraft and sentenced to death in 1693, one of dozens of people impacted by the Salem witch trials. By the time the hysteria ended, 20 people were executed, but Johnson's life was spared.
CLICK HERE TO GET THE FOX NEWS APP
A middle school civics class in Andover researched Johnson, the last-known Salem witch, inspiring state Sen. Diana DiZoglio to draft a bill that would clear Johnson's name.
The bill was passed by the state legislature and signed by Massachusetts Gov. Charlie Baker in July, officially clearing Johnson's name 329 years later.
Fox News' Michael Ruiz, Ronn Blitzer, Chris Pandolfo, and Stephanie Pagones contributed to this report.
Paul Best is a breaking news reporter for Fox News Digital and Fox Business. Story tips and ideas can be sent to [email protected] and on Twitter: @KincaidBest.