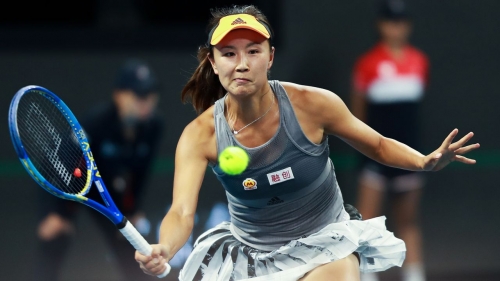 Peng Shuai returns a shot against Daria Kasatkina of Russia during the women's singles first round match of 2019 China Open.
Lintao Zhang/Getty Images

CNN
—
The Women's Tennis Association (WTA) announced Thursday that it will return to hosting tournaments in China in the fall after suspending all events in the country in 2021 due to the uncertainty over tennis player Peng Shuai's safety.
"After 16 months of suspended tennis competition in China and sustained efforts at achieving our original requests, the situation has shown no sign of changing," the WTA said in a statement.
"We have concluded we will never fully secure those goals, and it will be our players and tournaments who ultimately will be paying an extraordinary price for their sacrifices. For these reasons, the WTA is lifting its suspension of the operation of tournaments in the People's Republic of China."
Peng was feared to be held incommunicado by the Chinese government after she accused retired Vice Premier Zhang Gaoli of forcing her into sex during a years-long on-and-off relationship.
"While we do not regret our decision on the suspension, the WTA and its members feel that now is the time to return to our mission in China. We are hopeful that by returning more progress can be made," the WTA said. "Peng cannot be forgotten through this process.
"It is important that our renewed engagement in China provides continued safety for Peng and all the women athletes who will benefit from our return to competition and the opportunities tennis provides. It is essential that women's voices must be heard when speaking out. The WTA will continue to advocate for Peng and the advancement of women around the world."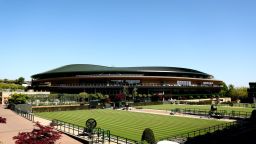 WIMBLEDON, ENGLAND – APRIL 26: A general view outside Court No.1 at The All England Lawn Tennis and Croquet Club on April 26, 2022 in London, England. (Photo by Clive Brunskill/Getty Images)
Clive Brunskill/Getty Images Europe/Getty Images
Wimbledon to allow Russian and Belarusian players to compete this year
Peng last appeared in February 2022 when she met Olympic officials at the Beijing Winter Games and then was interviewed by independent French sport news site L'Equipe.
The WTA did not disclose the tour's schedule in China. Last year, the tour said the 2023's season-ending WTA Finals will be held in in Shenzhen, China.