close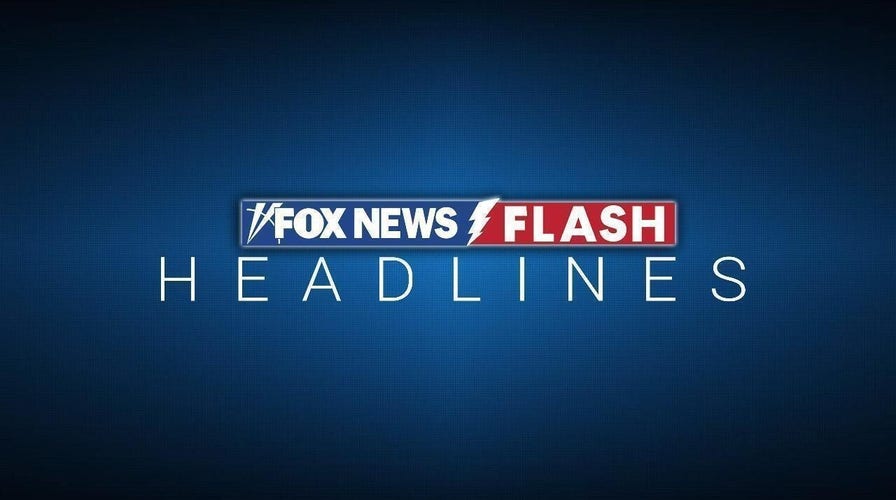 Video
Fox News Flash top headlines for August 15
Fox News Flash top headlines are here. Check out what's clicking on Foxnews.com.
A marble statue that depicts a felled Native American pulling an arrow from his torso is being returned to the Boston-area organization cofounded by Paul Revere that thought it had been destroyed decades ago.
"Wounded Indian," sculpted in 1850 by Peter Stephenson and modeled on the ancient Roman statue "Dying Gaul," was a gift to the Massachusetts Charitable Mechanic Association in 1893 and was displayed in its exhibition hall, according to Cultural Heritage Partners, the law firm that represented the Boston organization during negotiations.
That hall was sold in 1958, and the association was told that during the chaos of moving and distributing its assets to other area cultural institutions, the sculpture was accidentally destroyed and tossed away.
But the life-size piece showed up 30 years later at the Chrysler Museum of Art in Norfolk, Virginia.
NEW MEXICO MUSEUM HONORING WWII NAVAJO CODE TALKERS $40 MILLION SHY OF OPENING
The mechanic association started pressuring the Chrysler Museum for the sculpture's return as far back as 1999 and stepped up its efforts a few years ago, when it brought in a researcher to establish ownership and hired a lawyer.
But the dispute was not resolved until Aug. 9, when the Chrysler's trustees agreed to return the statue.
"It feels great to get the piece back because we really felt that there wasn't any question that it was our statue," said Peter Lemonias, the treasurer and past president of the mechanic association, who chaired the panel that worked on getting it back. "We were perplexed as anyone as to how it got away."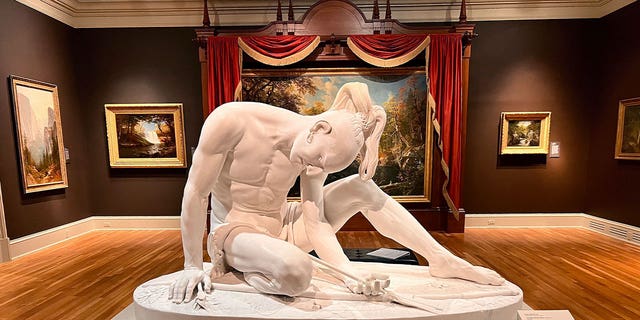 The statue "Wounded Indian," sculpted in 1850 by Peter Stephenson, is displayed in a gallery at the Chrysler Museum of Art in Norfolk, Virginia. (Stewart Gamage/Cultural Heritage Partners, PLLC via AP)
It is headed back to Boston at a time when 19th-century art depicting Native Americans is under increased scrutiny. Like its inspiration, "Wounded Indian" depicts a vanquished foe considered primitive by the artist's cultural standards.
The statue dates to the end of the Removal Era, when Native tribes were being pushed west to make way for white settlers. Art of the era reflects nostalgia and myth about growth that came at the expense of suffering by Indigenous people.
"When you look at the representations of American Indians in American art, they are often depicted in terms of tragedy, in this classical sense of overwhelming and undeterrable forces resulting in these tragic consequences, like it's destiny," said David Penney, an associate director of the Smithsonian Institution's National Museum of the American Indian.
Lemonias thinks "Wounded Indian" is respectful.
"This is a solemn moment, maybe his dying breath, and I feel Stephenson was viewing the scene with a lot of empathy," he said.
FIRST-EVER GORGOSAURUS SKELETON SELLS AT AUCTION FOR $6.1M TO UNKNOWN BUYER — SCIENTISTS FRUSTRATED
So what changed in the dispute over the statue? Greg Werkheiser, a founding partner at Cultural Heritage Partners, pointed to three things: the factual record of the statue's provenance; public pressure on the Chrysler Museum spurred by an article in The Washington Post that detailed the dispute; and an FBI investigation into the sculpture's ownership.
The dispute was resolved without litigation.
The Chrysler Museum got the piece from a now-deceased collector named James Ricau, who had a reputation in the art world for not being able to document how he obtained some of his objects, Werkheiser said.
Ricau said he had bought the statue from a reputable Boston art gallery in 1967, but that gallery said it had no record of the transaction, he said.
The Chrysler Museum said in a statement that it "acquired the piece in good faith in the 1980s," but that "it was in the best interests of all parties to end the dispute."
"The Chrysler is pleased with the amicable resolution, and we wish the best for the MCMA," Chrysler Museum Director Erik H. Neil said in a statement.
CLICK HERE TO GET THE FOX NEWS APP
"The impending return of this exquisite statue to Boston is a triumph not only for MCMA, but also for all Bay Staters and Americans who appreciate that this outstanding work of art was created in Boston, by a then-Bostonian, given to a Boston civic organization, for a Boston-area audience," the mechanic association said in a statement.
Revere, the silversmith more famous for alerting colonists to the impending arrival of a British column before the battles of Lexington and Concord in April 1775, was a founder and first president of the Massachusetts Charitable Mechanic Association, established in 1795 to promote the mechanical arts and trades.
Today, based in suburban Quincy, it provides charitable support to organizations that teach or employ troubled and disabled youths. Paul Revere III is on its board and serves as general counsel.
The statue should be shipped back to Boston by early September, said Lemonias, and the next task will be finding a museum willing to house it and display it publicly.
It should be displayed and interpreted only with more historical context, Penney said.
"I think it would be helpful if we looked at this statue in a more critical way," he said.