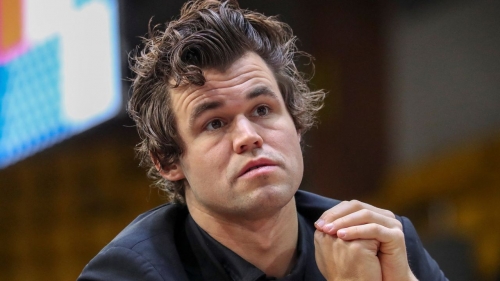 Magnus Carlsen — seen during the World Rapid and Blitz Championships 2022 in Almaty, Kazakhstan — will not be defending his world championship.
Pavel Mikheyev/Reuters

CNN
—
For 137 years, being crowned world champion has long been the pinnacle of chess.
However, this year's World Chess Championship is somewhat different following reigning champion and five-time winner Magnus Carlsen's withdrawal and, therefore, abdication of his crown.
Garry Kasparov, who held the world title for 15 years, has gone as far as to call this year's tournament a "kind of amputated event" because of Carlsen's absence.
Why isn't Carlsen competing?

Carlsen is one of the greatest players to ever grace the sport.
At just 32 years of age, the Norwegian grandmaster has been crowned world champion five times, achieved the highest ELO rating of all time and is second in the amount of time spent ranked first in the world – only Kasparov has been at the top for longer.
And despite appearing to be at the peak of his powers, Carlsen announced last year that he would not be defending his title against world No. 2 Ian Nepomniachtchi.
"I feel I don't have a lot to gain, I don't particularly like [the championship matches], and although I'm sure a match would be interesting for historical reasons and all of that, I don't have any inclination to play and I will simply not play the match," he said on his sponsor's podcast in July 2022.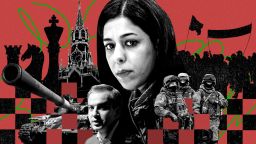 Photo-Illustration:CNN/Getty Images
Iranian chess referee fears ostracism over her activism as she challenges Russian chief of game's governing body
In 2021, Carlsen had said that he would relinquish his world title unless his challenger represented "the next generation" and went on to cite 19-year-old Alireza Firouzja, the Iranian-French grandmaster, as an example.
However, Nepomniachtchi's victory at the 2022 Candidates Tournament – the traditional qualifier to decide who will face the reigning world champion – led to Carlsen's announcement.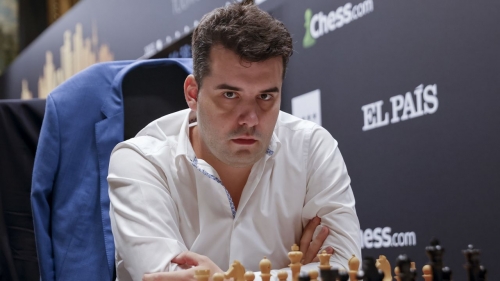 Nepomniachtchi sits before a game against Richard Rapport in round 12 of the Candidates Tournament on July 3, 2022.
Miguel Pereira/Getty Images
American great Bobby Fischer was the last grandmaster to give up his world title in 1975.
The shocking announcement led to Kasparov's comments about a final without Carlsen.
"I can hardly call it a World Championship match," Kasparov said in an interview with the Saint Louis Chess Club last month.
"For me, the World Championship match should include the strongest player on the planet, and this match doesn't.
"I'm not here to comment on Magnus' decision, but it's kind of an amputated event. I have my own history with FIDE, so that's why I'm not going to change my view about the FIDE Championship. It's a pity Magnus is not there and, naturally, the match between Nepo and Ding is a great show anyway, but it's not a World Championship match."
Who will be contesting the final?

In Carlsen's absence, Nepomniachtchi will face world No. 3 Ding Liren, the highest-rated Chinese player in history, to be crowned world champion.
Ding's second-place finish at the Candidates Tournament qualified him for the championship as a runner-up. It came thanks to a dramatic last-round win against American grandmaster Hikaru Nakamura.
The clash between Russia's Nepomniachtchi and Ding will see a first-time champion anointed, with Ding a debutant and Nepomniachtchi losing to Carlsen in 2021 in his only appearance.
Nepomniachtchi is known for being a creative player and qualified for the event with a record-breaking 9.5/14 score at the Candidates Tournament.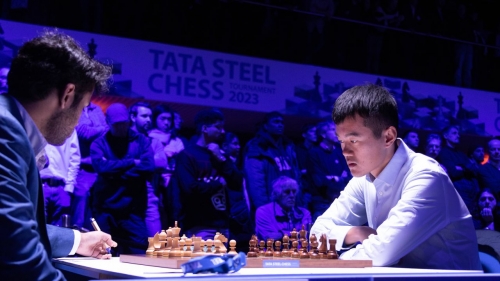 Ding (right) competes against Arjun Erigaisi during the fifth round of the Tata Steel Chess Tournament 2023.
Chine Nouvelle/SIPA/Shutterstock
Ding is known for being more methodical, solid and precise. Shortly after Carlsen's announcement and his qualification for the World Chess Championship, Ding said it was the beginning of a "new era."
"There are a lot of feelings around my mind right now that I have to deal with," Ding told Chess.com. "But I am very excited about playing a world championship match to fight for the crown next year.
"I knew [Carlsen] had doubts, but I expected him to play. But I understand it also. Being world champion means a lot of responsibilities; there are a lot of things to handle."
When and where?

The World Chess Championship, the first of which was held in 1886, will take place over best-of-14 classic games.
According to Chess.com, the time control is 120 minutes for the first 40 moves, followed by 60 minutes for the next move, and then 15 more minutes for the rest of the game. Starting on move 61, there is a 30-second increment per move.
The first player to score 7.5 points becomes the world champion. In the case of a tie, the two players will play rapid and, if necessary, blitz games.
It will begin on April 9 in Astana, Kazakhstan, and could go on until April 30.
The championship will be broadcast live on Chess.com.