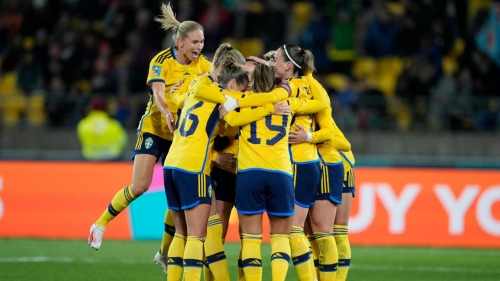 Sweden's players celebrate after scoring against Italy.
John Cowpland/AP

CNN
—
With some Women's World Cup groups balanced on a knife edge, working out which team needs to get what result to still qualify can be a tricky process.
CNN Sport takes a look at each group and breaks down the teams that are already through to the round of 16, those that are out and the results the remaining teams need to qualify.
Group A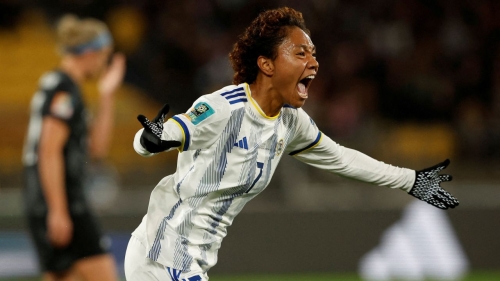 Philippines' Sarina Bolden celebrates after scoring the winning goal over New Zealand.
Amanda Perobelli/Reuters
Co-host New Zealand picked up an unwanted record by becoming the first host nation knocked out at the Women's World Cup group stages, after its 0-0 draw against Switzerland in its final group game.
With Norway thrashing the Philippines 6-0 in the other Group A game, the Football Ferns needed to beat its Swiss opponents to secure a place in the last 16 but was unable to find a breakthrough.
The results on Sunday mean Switzerland go through as the group winners, with Norway progressing as the runner-up ahead of New Zealand on goal difference.
Group B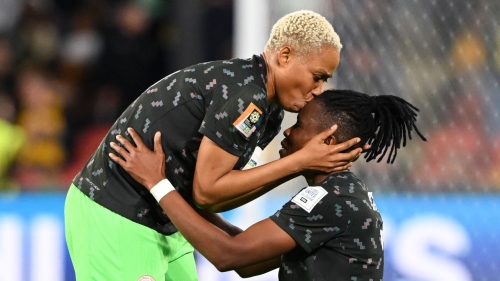 Nigeria earned a famous 3-2 win over co-host Australia.
Bradley Kanaris/Getty Images
Australia avoided the same fate as its co-host New Zealand by securing top spot in Group B with an emphatic 4-0 win over Olympic champion Canada.
Nigeria also secured a place in the last 16 with a goalless draw against the Republic of Ireland, edging Canada by a single point.
The Republic of Ireland was already eliminated.
Group C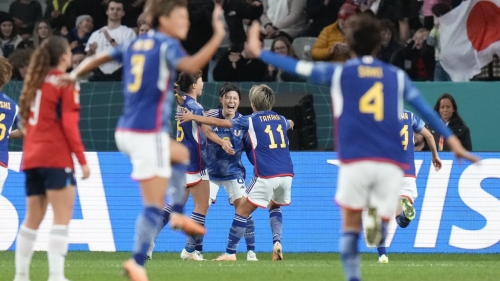 Japan topped Group C thanks to a stunning win over Spain.
Alessandra Tarantino/AP
Japan and Spain were already through to the last 16 after winning their opening two matches. However, Japan's 4-0 win over Spain ensures the Asian side tops the group.
Costa Rica and Zambia were both already eliminated before they faced each other in the final group game.
Group D

China vs. England, Haiti vs. Denmark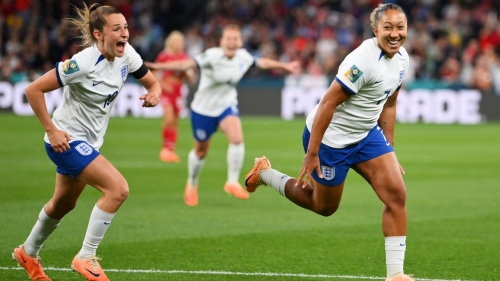 Lauren James scored the winner for England over Denmark.
Justin Setterfield/Getty Images
England needs just a point against China to finish top of Group D.
Denmark, level on points with China but ahead on head-to-head after beating the Chinese, just needs to better China's result to qualify.
If China and Denmark win or England and Haiti win, three teams will be level on points. Qualification would be decided by goal difference, then goals scored, then head-to-head.
Group E

The USWNT reached the round of 16 but only qualified from Group E in second place after a goalless draw against Portugal, which came a post width away from eliminating the US and progressing.
The Netherlands qualified top of the group after beating already-eliminated Vietnam 7-0 in its final group match.
Group F

Jamaica vs. Brazil, Panama vs. France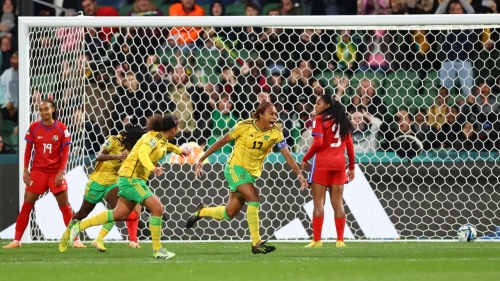 Jamaica earned the country's first ever Women's World Cup win with a 1-0 victory over Panama.
Luisa Gonzalez/Reuters
France will qualify for the last 16 with a win or a draw against Panama and victory will guarantee top spot as long as it matches or betters Jamaica's result.
Jamaica will qualify if it can cause a huge upset and win or draw against Brazil.
Brazil needs a win to guarantee a place in the last 16, but will also qualify in the unlikely event of a Brazil draw and Panama beat France.
Group G

Argentina vs. Sweden, South Africa vs. Italy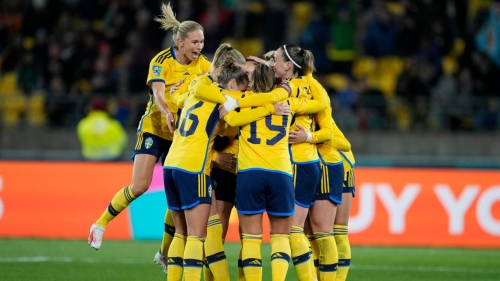 Sweden qualified with an impressive 5-0 win over Italy.
John Cowpland/AP
Sweden is already through to the last 16 and only needs a draw against Argentina to guarantee top spot.
Italy will qualify if it beats South Africa or if it draws and Argentina draws or loses against Sweden.
Argentina and South Africa both need to win to stand any chance of reaching the knockout stages.
If they both win, three teams will be on four points and it will again come down to goal difference, then goals scored, then head-to-head.
Group H

South Korea vs. Germany, Morocco vs. Colombia
Colombia's Manuela Vanegas celebrates scoring her team's second goal against Germany to give the South American side a shock victory.
Franck Fife/AFP/Getty Images
Colombia is on the brink of a spot in the knockout stages thanks to the surprise victory over Germany in its second group game. a draw against Morocco in its final group game will see it top Group H.
A draw or better against Morocco in its final game would secure top spot in the group for Colombia. The second qualification place looks set to go down to the wire with both Germany and Morocco level on three points.
Germany may need to beat South Korea in its final group game to guarantee a place in the last 16.