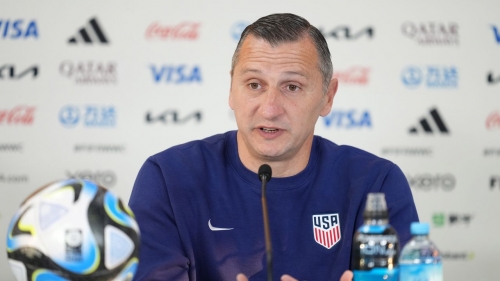 Vlatko Andonovski has defended his team from criticism.
Robin Alam/USSF/Getty Images

CNN
—
US coach Vlatko Andonovski defended his team from criticism ahead of the last-16 Women's World Cup knockout clash against Sweden, telling reporters on Saturday that he didn't think "it's the right time" to question their mindset.
"For someone again to question the standards, the mentality, the mindset of this team after everything that they do, first, I don't think it's the right time for that and, second, I don't think it's the right thing as well," he said before Sunday's crunch match in Melbourne, Australia.
"They keep raising the standards from day-to-day and in terms of the competition and what everything is happening, I mean we want to blow every team out five goals, who doesn't want to do that, right? But those results are gone. I mean they're not going to happen."
Former players and pundits have criticized the US following its underwhelming performances so far in this year's Women's World Cup. A defeat to Portugal, which would have resulted in a calamitous exit in the group stage, was avoided only when a late Portuguese attempt on goal ricocheted off the post in a match that ended in a draw, securing the defending champion's progress to the knockout stages.
"We accept the fact that we could have been out if the ball hit the crossbar, hit the post on the other side too, right?" Andnovski added ahead of Sunday's decisive match.
"The fact that we're in, OK, we were lucky at the moment and we're moving on. So, now we do everything possible so that same situation doesn't happen."
He continued: "We're preparing ourselves as best as we can to provide success and meet the expectations for everyone. But first and foremost, we want to make sure that we meet our own expectations."
'Pressure is privilege'

The US vs. Sweden is a familiar match-up fraught with years of rivalry – the two teams have played each other six times at previous World Cups, although Sunday's match will be their first knockout stage clash.
It has proven to be a difficult fixture for the US in recent years. Sweden defeated the US 3-0 in the last meeting between the two sides, in the group stages of the Tokyo Olympics in July 2021, while a friendly three months earlier ended in a 1-1 draw.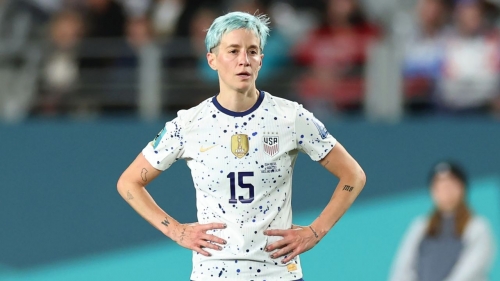 The US has won just once so far this tournament, against Vietnam.
Buda Mendes/Getty Images
"I've said it a lot to the team and to the press: pressure is a privilege," the US captain Lindsey Horan told FIFA on Saturday. "The expectations that we have, the standards that we hold, the mentality of this team … it's a privilege to be on this team. You don't get that anywhere else.
"This national team has held the standard for so long and it's up to us to keep it going. And as games get harder, teams get better, we have to raise that standard."
In recent World Cup meetings, the US has fared better, preventing Sweden from registering a goal in their last two matches and winning four of the six matches.
Sweden was the last team to inflict a World Cup defeat inside regulation time on the USA back in 2011, when Alyssa Thompson, the youngest member of the 2023 World Cup squad, was only six years old.
"Every single game that we have with them, it's a physical battle, so I think that's the one thing that we can expect," Horan told FIFA.
"They score similar goals to us, with set plays and crosses in the box. They have the aerial presence, but they have been able to break down teams as well on their transition. So I think for us, it's focusing on what we can do, but eliminating any of our mistakes that can lead to them gaining success."
The US will have to face Sweden without its livewire midfielder Rose Lavelle after she accumulated two yellow cards in two matches.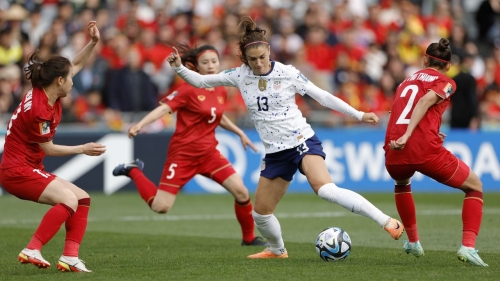 Alex Morgan plays the ball against Vietnam.
Carmen Mandato/USSF/Getty Images
"It hasn't been the tournament that I would have hoped," US striker Alex Morgan told reporters on Saturday. "At the same time, having this incredible opportunity in front of us in the round of 16, facing Sweden, a team we know extremely well, I think that there's no question we're highly motivated to play in this game."
Years of dominance still stretch behind the US, even as it has faltered in this tournament, with the allure of a third successive world title, historic three-peat – never achieved before at a men's or women's World Cup – still shining, albeit dimly, ahead of the decisive knockout stages.