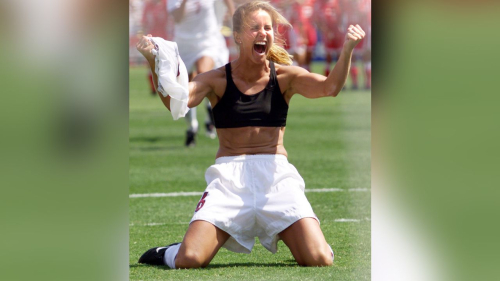 Brandi Chastain's celebration has become one of the most iconic images in sport. Hector Mata/AFP/Getty Images CNN —
As Brandi Chastain took the dreaded walk to the penalty spot, the weight of America was resting firmly on the left back's shoulders.
The US Women's National Team (USWNT) was on the cusp of winning its second Women's World Cup – this time in front of a sell-out home crowd. More than 90,000 fans packed themselves into the Rose Bowl under the sweltering Pasadena sun to witness the final between the US and China.
Yet as the fullback approached the biggest kick of her career, juxtaposing the frantic fans, Chastain was a vision of calm.
The American star caught the ball thrown in her direction, placed it on the spot and walked back to the edge of the penalty area. After clearing the hair from her eyes and taking a deep breath, Chastain jogged up and smashed a left-footed strike past China goalkeeper Gao Hong.
The calm before the storm didn't last long and Chastain erupted in celebration, ripping off her US jersey before falling to her knees in celebration.
Unbeknownst to Chastain, she had created one of the most iconic moments in women's sport and Hector Mata, a photographer working for an agency in Los Angeles, was on hand to capture it.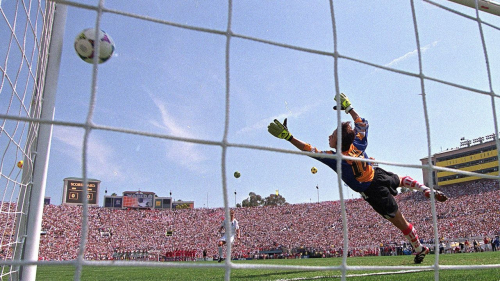 Chastain smacked a left-footed penalty past China goalkeeper Gao Hong. Mark J. Terrill/AP
Creating a legacy
"The first thing I have to say in regard to that image is that it is not technically perfect," Mata admits to CNN Sport.
"Everything that I saw from Brandi Chastain was through the net. If you analyze it with a technical eye, it is wrong because the net, even though blurred, is still there. So technically speaking, it was not perfect."
While to a trained eye the photo may have its flaws, the legacy of the moment captured by Mata and other photographers has survived the test of time.
A photo by Sports Illustrated photographer Robert Beck adorned the cover of the world famous magazine and, along with Mata's picture, these images have long lived on in the women's soccer zeitgeist.
The 1999 Women's World Cup was a turning point for the women's game, particularly in the US, and pictures of Chastain's celebrations are synonymous with the surge of success for soccer in the States.
The '99 World Cup averaged a staggering attendance of 37,319 per game across its 32 matches, a record average for a tournament to this day. The final of the tournament also still holds the record for the biggest attendance for a Women's World Cup game.
Chastain's penalty kick topped off the spectacle and provided the next generation of soccer players in America with a moment of inspiration.
"[The 1999 tournament] is why I'm here, it's why I'm in the US and playing for the US," 2015 Women's World Cup winner Sydney Leroux said according to FIFA. "After seeing that as a nine-year-old, I knew what I wanted to do and who I wanted to play for."
"They're players I looked up to and had posters of them on my wall and autographs. I watched them play in the '99 World Cup, I watched them all growing up," US legend Carli Lloyd previously told CNN Sport. "They paved the way. They carved out this path for us."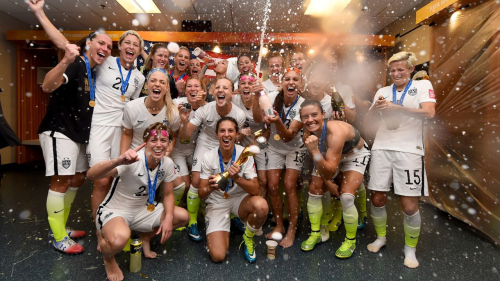 Members of the USWNT's victorious 2015 roster spoke of the legacy left on them by the 99ers. Lars Baron/FIFA/Getty Images
Mata is fascinated by this legacy and struggles to comprehend the reception moments like these receive.
"I cannot even grasp the importance of the energy that is thrown to one single piece of action, and particularly one single player performing that action, especially when it's delivered at that level," Mata says of Chastain's winning strike.
"It just escapes my understanding the amount of energy that has been channeled to a specific aspect and channeled to a specific player that is playing. It must be extraordinary."
The importance of this one kick cannot be understated and both Mata and Chastain agree on its significance.
"Opportunity abounded after that in this 'anything was possible' kind of mentality," Chastain said of the World Cup, per FIFA. "1999 was such a huge springboard for what's happening in this country, it makes me feel really proud."
"It's going to have a bigger impact than people ever realize, and it will have a far-reaching impact not only in the United States but also in other countries," said then US President Bill Clinton after joining up with the World Cup winners post-match.
Twenty-four years later, it is safe to say that Clinton's assessment of the 99ers' achievement was accurate.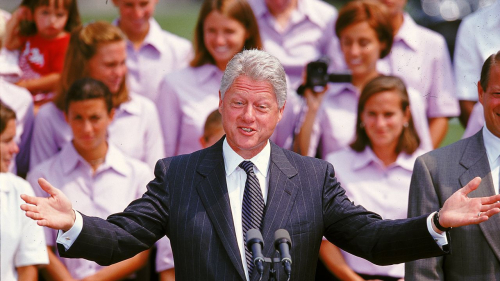 Then President Bill Clinton congratulates the US squad at the White House after winning the 1999 FIFA Women's World Cup. Vincent Laforet/Getty Images
Chastain's celebration
"For me, the most important aspect of sports is the human aspect," Mata explains. "The training pays off, the years of sacrifice pays off. So that human aspect, that joy, that emotion is also part of it."
Sports photography was never at the forefront of Mata's portfolio – the photographer was specializing in street photography, political events or catastrophes. This background meant that Mata was always fascinated by capturing the emotion of sporting events, more so than the action itself.
When Chastain scored the winning penalty, the emotion and feeling were plain to see, pouring out of the newly-crowned American hero.
"I noticed that Brandi Chastain was staying in the penalty area, kneeling down," Mata describes. "She didn't run to the side, she didn't run towards her teammates. She was just kneeling down in the penalty area, almost in the same position where she kicked the ball."
Mata was expecting the winning penalty kick to be followed by the goalscorer sprinting around in celebration but, in this unique situation, this wasn't the case.
Chastain stayed in the box celebrating as her teammates flooded toward her. Mata was positioned behind the net and, after instinctively switching to his long lens camera, he was able to capture the moment.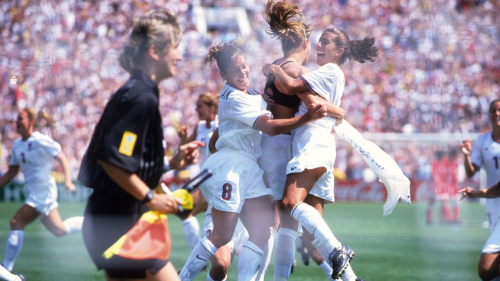 Chastain's penalty marked a turning point for women's soccer in the US. Robert Beck/Sports Illustrated/Getty Images
Teamwork makes the dream work
Humbly, both Mata and Chastain maintain that their outcomes were only reached because of a united effort.
After the World Cup final win, per FIFA, Chastain said: "We had worked so hard, and our team was really good at just believing that we would win and we could do everything necessary to win."
Mata reiterated this idea of 'we,' touching on the importance of teamwork to capture the moment.
"When you cover events like these, they are super well-organized, and everything is in place.
"There is a strategy where you place photographers here and there, and you have editors, and you have runners and you have experts in different areas, working all in coordination," Mata outlines.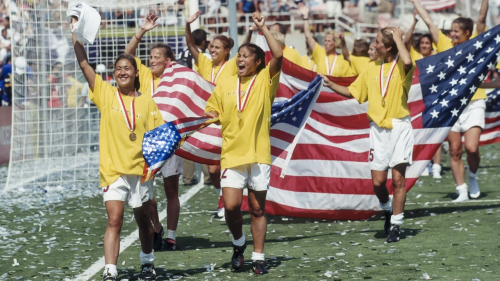 Members of the US National Team celebrate winning the 1999 FIFA Women's World Cup. David Madison/Getty Images
Mata has also assigned great memories to the photograph, highlighting the impact just one picture can have. He now has a production company and focuses on his first love, filmmaking, but his memories of this indelible moment remain vivid.
"That image also reflects a very beautiful moment in my life too. So, it's related to that, it is related to a great moment. I was in a good place in my personal life. It summons all these things. The happiness, the winning aspect of it, the celebratory aspect of life, the emotion of it."
Chastain may have inadvertently summed up Mata's work best. Speaking on her decisive penalty, Chastain said: "To be given the opportunity to make the last kick to win a World Cup is an unspeakable emotion."
They say a picture paints 1,000 words so perhaps unspeakable emotions are all that are needed.