close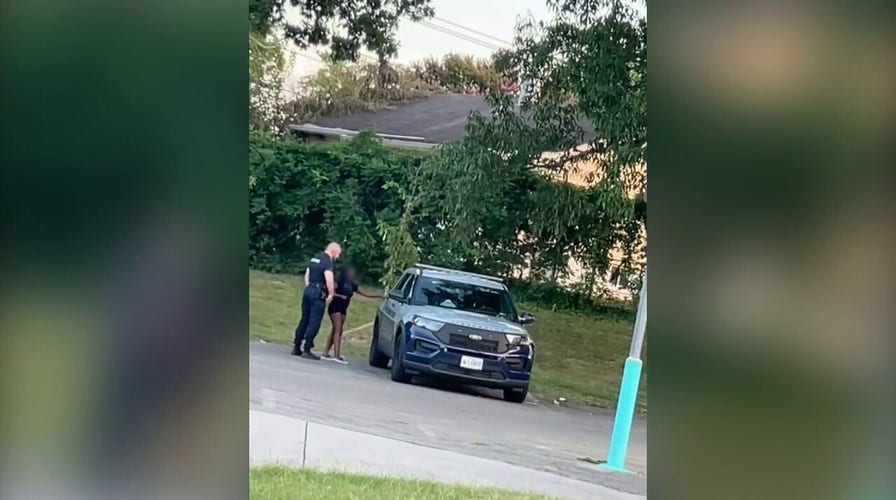 Video
Maryland cop suspended after viral video appears to show him kissing woman, heading into back of patrol car
A police officer in Prince George's County, Maryland, was suspended over a viral video that appears to show him kissing a woman before the pair go in the back of a patrol car. Credit: @traploss_/tiktok
The woman seen kissing a uniformed Maryland police officer in a video that has gone viral spoke out to defend her years-long relationship with the cop.
"That's the main story — that this isn't a little thing," Maryland mom and Army veteran Virginia Pinto told the New York Post. "Of course, since he's a police officer, it looks bad. But I just want people to understand that this was not a one-night stand." She said the two had been dating for about the last two years.
Prince George's County police officer Francesco Marlett and Pinto went viral earlier this week in a video that shows the uniformed officer kissing the woman and putting his arm around her waist before the pair head into the back of a marked police vehicle.
The individual who recorded the viral video, only identified as Nelson O, said the scene unfolded at about 7 p.m. on Sunday at the Carson Park in the town of Oxon Hill, the Baltimore Banner reported. He told the outlet he had been at the park with his child and other family members to play soccer when he noticed the officer walking around, allegedly looking "suspicious."
COP'S STEAMY SQUAD CAR SESSION WITH WOMAN IN SKIMPY OUTFIT CAUGHT ON VIDEO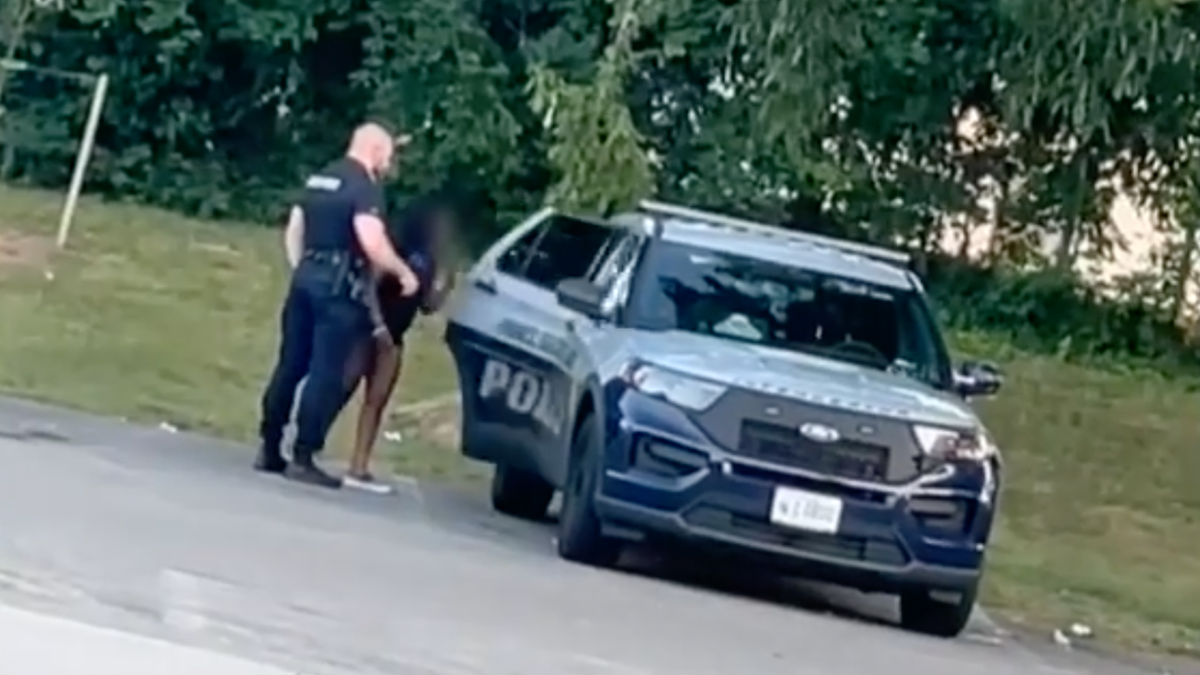 A Prince George's County police officer was suspended following a viral video allegedly showing him kissing a woman outside a patrol car.  (Fox News Digital )
TENNESSEE SEX-ROMP COP SCANDAL: POLICE CHIEF FIRED AFTER CITY DISCOVERS HE KNEW OF ESCAPADES AMONG OFFICERS
The couple reportedly remained in the back of the police vehicle for about 40 minutes before leaving in separate vehicles.
"It was concerning, because there's kids around," Nelson O told the outlet. "It just seemed off, because this is the person that you're supposed to call for suspicious activity, doing the suspicious activity, you know."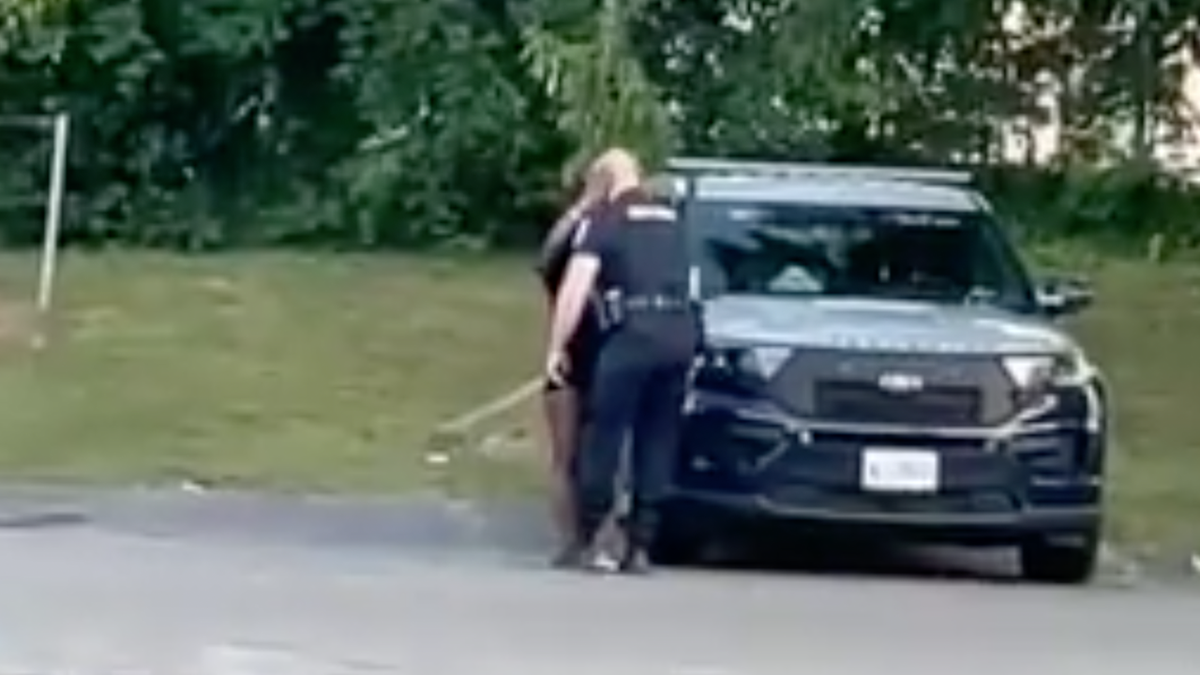 A Prince George's County police officer seen kissing a woman next to a patrol vehicle.  (Fox News Digital )
Pinto asked why there was so much excitement over the footage, while arguing that the drama will soon end.
"What's so exciting? He's a cop. I'm a civilian. We got caught. It sucks, but this will pass," she said.
"I'm living my life. I have children. I'm sure, as you guys know, I have a 15-year-old autistic boy. His father was Caucasian. I guess I have a thing for Caucasians," she added.
OHIO OFFICER FIRED OVER K9 ATTACK ON SURRENDERING SUSPECT
A woman identifying as the cop's wife, Paula Marlett, first named Pinto in a Facebook post on Wednesday recapping the "embarrassing and painful" matter, while telling Pinto to "rot in hell b—-."
"Yes this is a very tough time for me and my kids. As embarrassing and painful as this is please check in on us. We need the support the love and most of all the respect from the community and our families. Yes I know what's been going on. No, I am not updating anyone on this situation after today," the woman posted on Facebook.
Paula Marlett went on to say that her husband had been cheating on her "for years."
"I Love you all. Except for you Virginia you can rot in hell b—-," she ended the post.
Paula Marlett claimed to the New York Post that Pinto is "easy" and was "used" by her husband for sex.
"Seems like Virginia has a mouthful to give about me when her husband left her dirty a– bc she can't stop cheating and inserting herself into other ppls business," she told the Post in written comment.
TEXAS COP PREVIOUSLY FIRED FOR GIVING 'FECES SANDWICH' TO HOMELESS MAN HAS BEEN FIRED AGAIN
"My husband used her for sex bc she was easy … He gave her broken promises so she would give him p—y. She's easy. I never put our marriage out there bc like all marriages we hit a rough patch. We get through everything at the end of the day [sic]."
The Prince George's County Police Department posted on its Facebook account Tuesday that higher-ups were aware of the video featuring Marlett circulating on social media, before providing an update that the officer was suspended.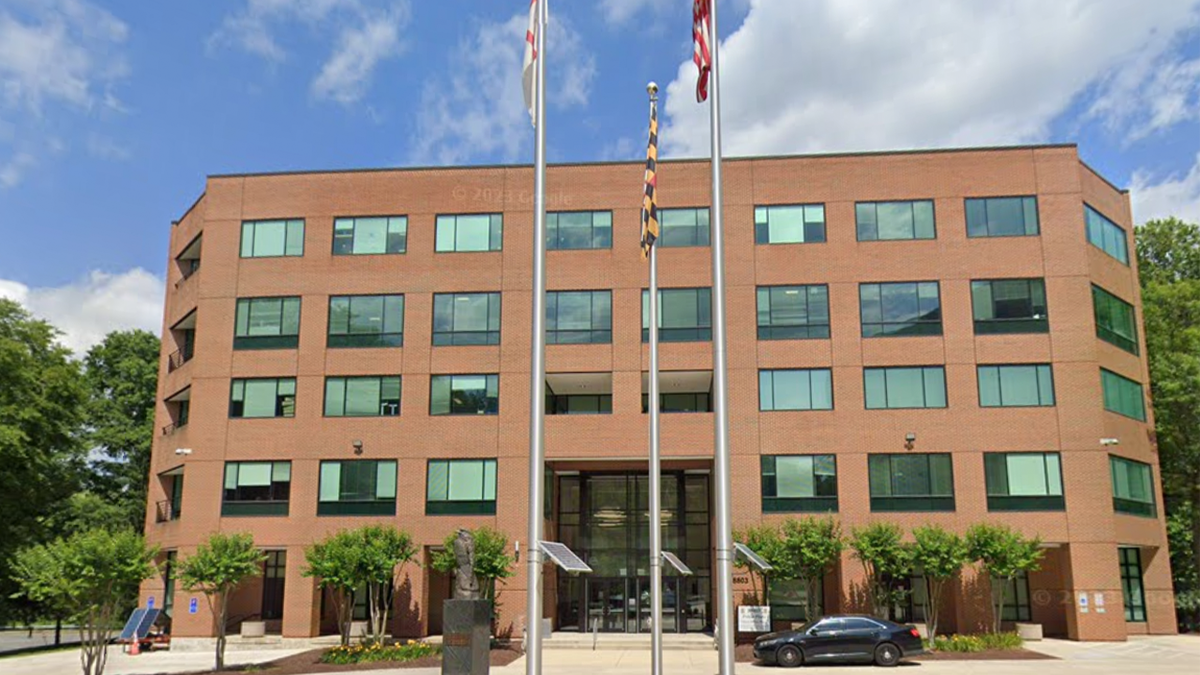 Prince George's County Police Headquarters in Maryland.  (Google Maps )
On Wednesday, the police department said an investigation was in full swing, with the department's Internal Affairs Division attempting to interview all parties involved.
COPS GONE WILD? SERIES OF SEX ROMP CLAIMS DOGS LAW ENFORCEMENT AS 'DEFUND' MOVEMENT MAY ADD FUEL TO FIRE
"I know the officer's actions seen on these videos have sparked a range of emotions in the community and put a negative spotlight on this agency and the many hard-working women and men who wear our uniform. I expect every officer to conduct themselves in a way that will not dishonor this agency or this county. I assure the residents of Prince George's County I take this matter extremely seriously," said Chief Malik Aziz in the department's press release.
Once the Internal Affairs Division wraps up, an administrative charging committee will recommend to the chief whether Marlett should face disciplinary action, according to the press release.
CLICK HERE TO GET THE FOX NEWS APP
"In my head, I've done nothing wrong. I'm going to continue living my life, doing what I'm doing. In my heart, in his heart, I know that I've done nothing. He knows. Paula knows. I've done nothing wrong. God is my higher power," Pinto added in comment to the New York Post.