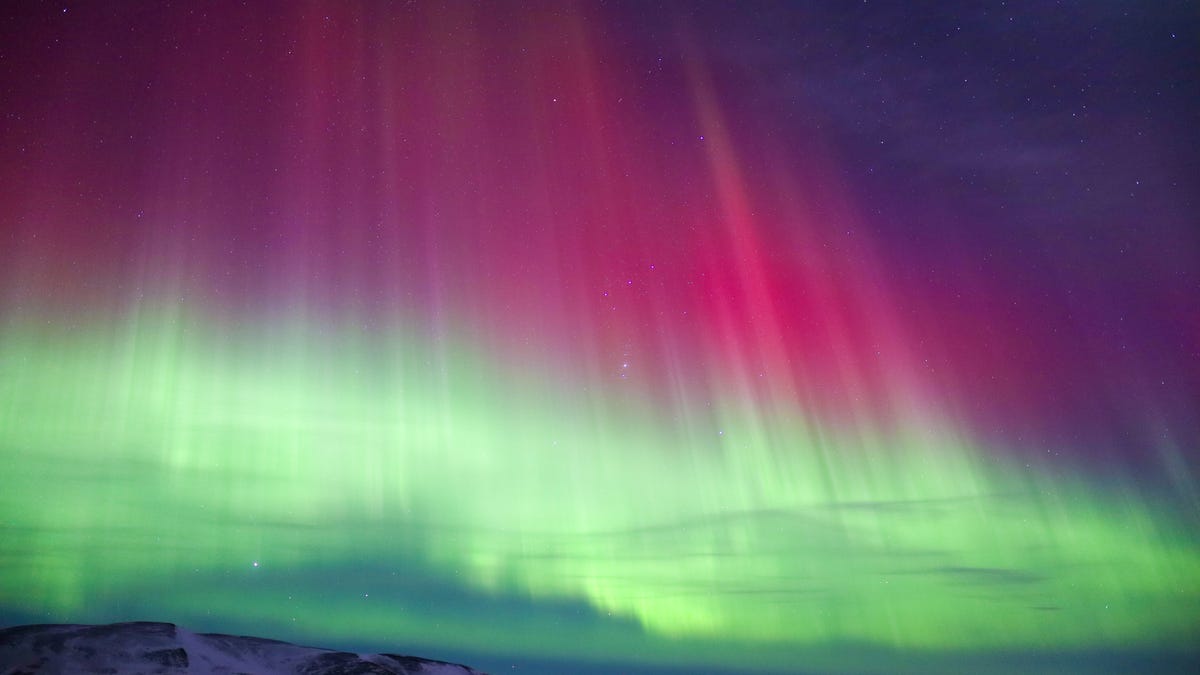 Aurora borealis as seen from Iceland on Feb. 27, captured by photographer Peter Forister.
SpaceWeatherGallery.com/Peter Forister
Monday night might go down as one of the most photographed evenings from midair. A strong geomagnetic storm in progress triggered an intense show of the bright and colorful aurora borealis that appeared especially brilliant when viewed midflight from the stratosphere. 
To ensure everyone aboard an Easyjet flight from Iceland to Manchester, England, had a glimpse of those dancing northern lights, the pilot took a slight detour, flying the plane in a 360-degree loop.
An @easyJet flight just made a 360 turn over the North Sea. The Northern Lights are very strong tonight as well, so the reason was probably to allow passengers on both sides of the aircraft to see the fantastic #AuroraBorealis
https://t.co/IVJ81cqRKM pic.twitter.com/5cY8Hr2tPZ

— Flightradar24 (@flightradar24) February 27, 2023
A number of passengers posted the stunning results to social media. 
Amazing flight home last night with @easyJet EZY1806 @easyJet_press from Reykjavik to @manairport @manairportPRESS Northern Lights spectacular and a full 360 circle round from the pilots to show everyone onboard Thank You!@BBCNWT @itvnews @BBCScotlandNews pic.twitter.com/UZ6TYezrV2

— Sarah Hitchen (@sarahhitchen2) February 28, 2023
Big thanks to the @easyJet pilot of EZY1806 from Reykjavik to Manchester who did a 360 fly by mid flight to make sure all passengers could see the incredible Northern Lights 🤩 pic.twitter.com/A4CHi9Hqgo

— Adam Groves (@APTGroves) February 27, 2023
Passenger Adam Groves, in particular, was delighted with the maneuver. 
"An amazing way to top off a special trip where I proposed to my fiancé," he wrote on Twitter. 
EasyJet didn't immediately respond to a request for confirmation and comment, but the air carrier did retweet Groves' photos.
Pilots of other flights reportedly performed similar turns to give everyone a view of the charged plasma from the sun colliding with Earth's magnetic field.
A massive thank you to the pilot & crew on @easyJet flight EZY6942 going from Iceland to Edinburgh this evening.👏🏻👏🏻

A spectacular aurora took off & we were all treated to a full 360° turn to get a view of it – not your average flight & a fabulously kind act of service! 🌌 pic.twitter.com/X0kIsq5k4Y

— Clodagh Cremen (@Clodagh_C) February 26, 2023
Shout out to the Edinburgh crew of @easyJet, after leaving Reykjavic last night the pilot radioed ATC to get clearance to do a loop back to allow all passengers the opportunity to see The Northern Lights… pic.twitter.com/vw8ijMBjbt

— Sheeni (@sheenib) February 20, 2023
Other flight passengers in the region also caught the lights in full effect.
Easyjet out the window tonight coming back to London from Glasgow pic.twitter.com/DFlLy5zWWA

— Richard K 🏴󠁧󠁢󠁥󠁮󠁧󠁿 (@soberich) February 27, 2023
Thanks to @easyJet full crew for dipping the lights and allowing us to fully enjoy this beautiful sight from KER-LGW pic.twitter.com/5ROG6KT4uX

— Michelle Coyle (@michellehump3s) February 27, 2023
A NASA astronaut on Tuesday also shared an "absolutely unreal" view of the show from the International Space Station.
The auroral display is the result of Earth-directed coronal mass ejections from the sun over the weekend. The vivid exhibition was one of the best yet of the current solar cycle, which is building toward a peak in intensity some time in the middle of the decade. This means that more opportunities surely await to see the high-flying lights, especially at higher latitudes.