close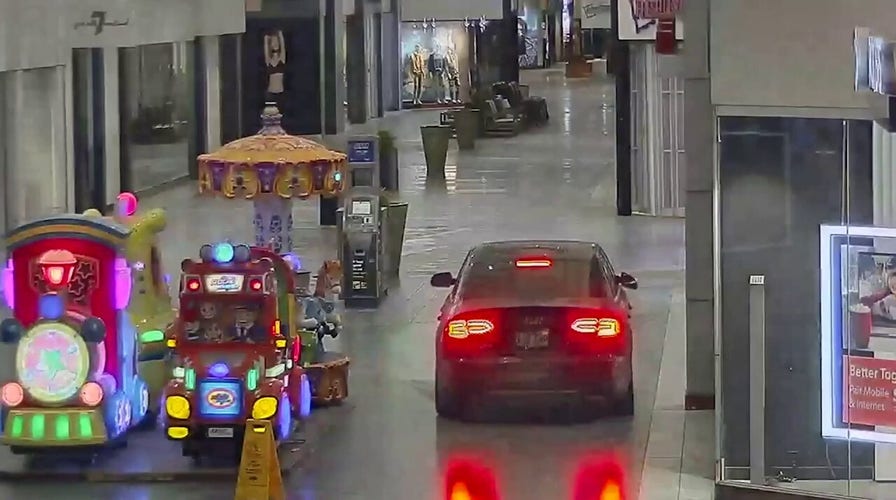 Video
Car drives through Canada mall during electronics store heist
Police in Ontario, Canada are searching for suspects seen on video driving into the Vaughan Mills mall near Toronto. (Credit: York Regional Police/LOCAL NEWS X/TMX)
Police in Ontario, Canada, have released a video showing a car racing through the interior of a mall in the search for two suspects accused of stealing items from an electronics store.
The incident happened around 1:10 a.m. Wednesday at the Vaughan Mills shopping mall in Vaughan, outside Toronto.
"The vehicle was then driven through the mall and into an electronics store where the suspects stole a quantity of items. The vehicle drove out of the mall through a second entrance," York Regional Police said in a statement. "Fortunately, no one was injured."
Video shows a black Audi sedan speeding through the mall's parking lot before crashing through a set of glass doors at one of the building's entrances.
CANADIAN WOMAN WHO CRASHED CAR INTO HOME AFTER MARILYN MANSON CONCERT SUES VENUE FOR SERVING HER ALCOHOL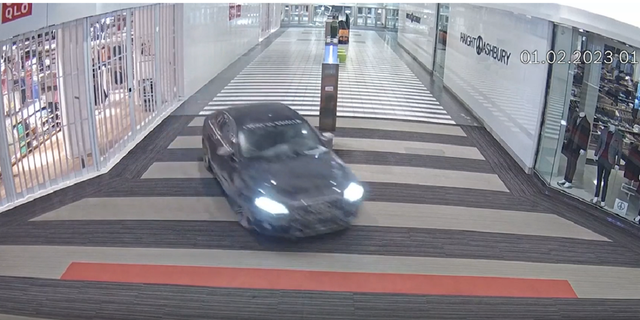 A 2011 black Audi is seen racing through the inside of the Vaughan Mills mall in Ontario, Canada, on Feb. 1, 2023.
(York Regional Police/LOCAL NEWS X/TMX)
Surveillance cameras from inside the mall then showed the car driving through its interior, past locked-up storefronts, kiosks and vending machines.
Five minutes later, cameras captured the car wrecking another entrance of the mall by driving through the glass doors.
CALIFORNIA DOORDASH DRIVER STOPS SUSPECT FROM STEALING HER CAR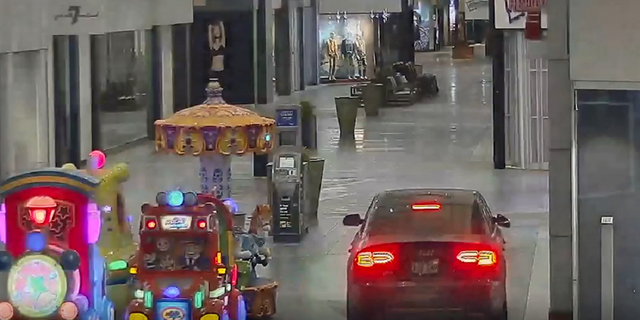 Police believe there were two suspects inside the car, who stole items from an electronics store inside the mall in Vaughan, Ontario, which is just outside of Toronto.
(York Regional Police/LOCAL NEWS X/TMX)
York Police said the vehicle – which had the Quebec license plate X10 SNP — later was recovered and that it is believed that two suspects were involved.
"Investigators are appealing for witnesses to come forward who may have been in the area at the time of the incident and have not yet spoken to police," it added.
Taylor-Anna Kobinger, a resident of Laval, Quebec, about 350 miles away, told the CP24 news channel that her car was the one seen in the video.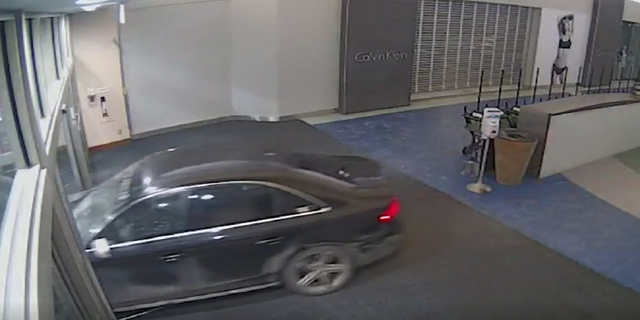 The car eventually escaped the Vaughan Mills mall in Ontario by driving through another set of glass doors.
(York Regional Police/LOCAL NEWS X/TMX)
CLICK HERE TO GET THE FOX NEWS APP
The station reports that Kobinger listed the vehicle for sale on Facebook Marketplace in January in hopes of raising money for a down payment on a house.
But when a man responded to the listing and took it for a test drive with her, he started "driving very dangerously" and ultimately stole the vehicle when she got out of the car to change places, Kobinger told CP24.
Greg Norman is a reporter at Fox News Digital.