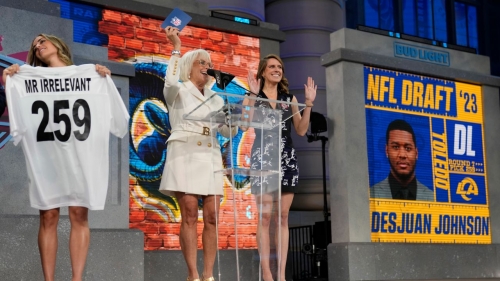 Melanie Fitch announces Desjuan Johnson as the final pick of the draft.
Jeff Roberson/AP

CNN
—
"Mr. Irrelevant" – the playful name given to the final player selected each year in the NFL Draft – suddenly became relevant last year when San Francisco 49ers quarterback Brock Purdy went 5-0 in the regular season and led his team to the NFC Championship game.
So there was extra attention around this year's "Mr Irrelevant" – Desjuan Johnson, a defensive lineman out of the University of Toledo drafted by the Los Angeles Rams as the 259th and final pick.
"Just be getting picked, final pick, first pick, middle pick, everything [is] unique," Johnson said, according to ESPN. "I'm very blessed. I was blessed that God picked [me] and I'm blessed that I can continue to play the game that I love and I'm going to give it my all up there on the field and at practice."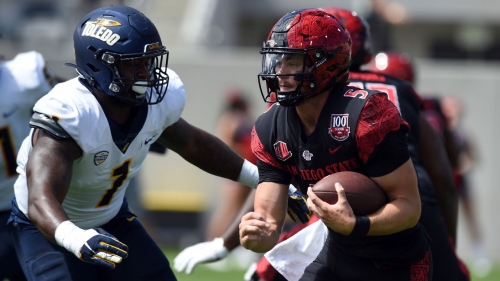 Desjuan Johnson is a defensive linesman.
Chris Williams/Icon Sportswire/AP
There is an extra poignant dimension for Johnson too as he paid tribute to his father, Dion, who died in 2004, according to his university.
"My dad was on my mind today," said Johnson, who was just four years old when his father died, according to his university website. "I feel like my dad is watching over me. He knows what's best for me. I'm just going to work hard and let the rest be in God's hands."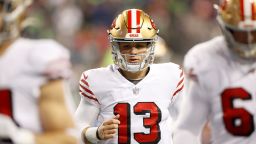 SEATTLE, WASHINGTON – DECEMBER 15: Brock Purdy #13 of the San Francisco 49ers heads to the locker room for halftime against the Seattle Seahawks at Lumen Field on December 15, 2022 in Seattle, Washington. (Photo by Steph Chambers/Getty Images)
Steph Chambers/Getty Images
Brock Purdy: Bringing 'respect' to the 'Mr. Irrelevant' title
While playing for the Rockets, the 23-year-old racked up 65 total tackles, 16.5 tackles for loss, 5.5 sacks, and one interception in 14 games last season. He was also a three-time All-MAC player.
At the Rams, Johnson will play with defensive tackle Aaron Donald, who he cites as one of his favorite players and says he watched clips of to try "to learn the things he (does) and move like him," according to ESPN.
"Just to learn from him, from watching film and now get to sit next to him and just take notes, I'm going to just be like a newborn," he said. "I feel like I'm going to be like a newborn, trying to take as much in [and trying] to learn under him."