White House press secretary Karine Jean-Pierre appeared annoyed with a reporter who compared the government's hurricane response to President Biden's heavily criticized response to the deadly wildfire in Maui.
During Wednesday's press conference, Fox News White House Correspondent Peter Doocy noted the Biden administration's preparations for Hurricane Idalia were "robust" whereas the president's initial response to Maui was to tell a reporter he had "no comment" on the then-rising death toll while on vacation in Delaware.
"Did you guys realize that the initial Hawaii wildfire response was not that good?" Doocy asked. "Or is it just easier for people to get help from the White House when the president is not on vacation?"
Jean-Pierre said she disagreed with Doocy's premise.
HURRICANE IDALIA MAKES LANDFALL OVER FLORIDA'S BIG BEND AS A CATEGORY 3, HUNDREDS OF THOUSANDS WIHTOUT POWER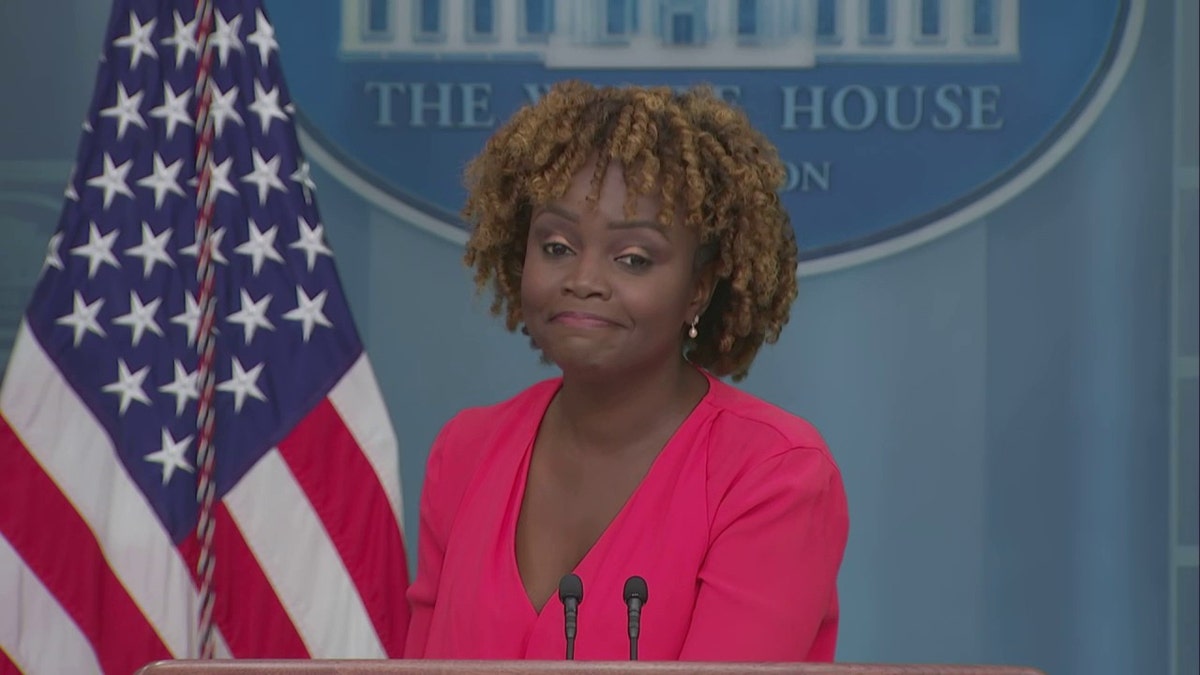 White House press secretary Karine Jean-Pierre speaks from the podium during a press briefing on Aug. 30, 2023.  (Fox News )
"So the premise of your question in the way you pose your question, I disagree, just for the record," she replied from the podium.
"If you talk to, if you were to do your reporting and speak to the governor of Hawaii, the senators of Hawaii, the folks on the ground, they would say that the president reacted in record time when it came to dealing with the wildfires, when it came to dealing and making sure that they got everything that they need on the federal level to deal with what was going on on the ground," she said, adding there were more than 600 federal employees on the ground to assist as wildfires raged in Maui.
"So your question is, is wrong, is flawed in many, many ways," she said. "And I would advise you to go speak to the governor and the local and state officials in Hawaii."
Biden has faced heavy criticism for his slow response to the wildfire, and many Maui residents have said the federal government did little to support them after the blaze. More than 110 people died in the tragedy, and search efforts are still ongoing.
HURRICANE IDALIA MAKES HISTORIC LANDFALL IN FLORIDA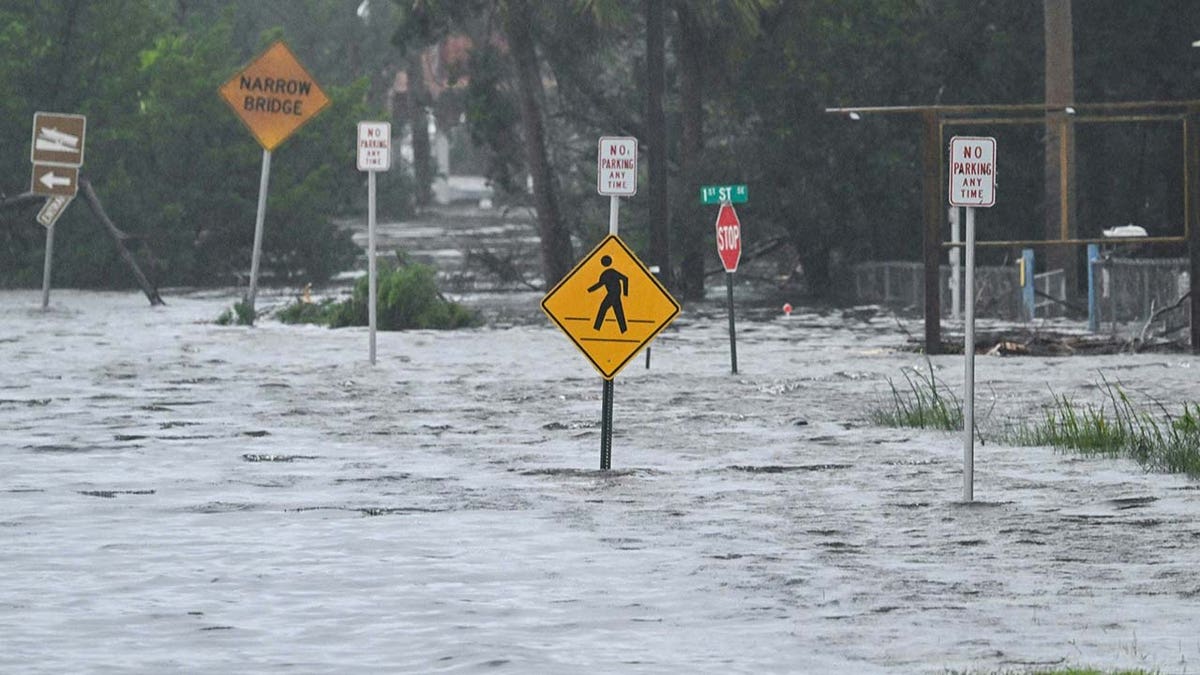 A flooded street is seen near the Steinhatchee marina, Florida on August 30, 2023, after Hurricane Idalia made landfall. Idalia barreled into the northwest Florida coast as a powerful Category 3 hurricane on Wednesday morning, the US National Hurricane Center said. (Chandan Khanna/AFP via Getty Images)
The president and first lady Jill Biden did not visit the island until more than a week later on Aug. 21. There, he made another misstep by comparing the deadly wildfire to a kitchen fire in his home.
"I don't want to compare difficulties, but we have a little sense, Jill and I, of what it was like to lose a home," Biden said during his visit. "Years ago, now 15 years, I was in Washington doing 'Meet the Press.' … Lightning struck at home on a little lake outside the home. Not a lake, a big pond. It hit the wire and came up underneath our home, into the … air condition ducts.
"To make a long story short, I almost lost my wife, my '67 Corvette and my cat," he said.
Residents also complained of a lagging response by FEMA, though the White House says it was working with Hawaii Gov. Josh Green throughout the crisis to provided anything needed.
FLORIDA HURRICANE IDALIA TRACKER: LIVE FUTURE PATH, WATCHES, WARNINGS, SPAGHETTI MODELS AND MORE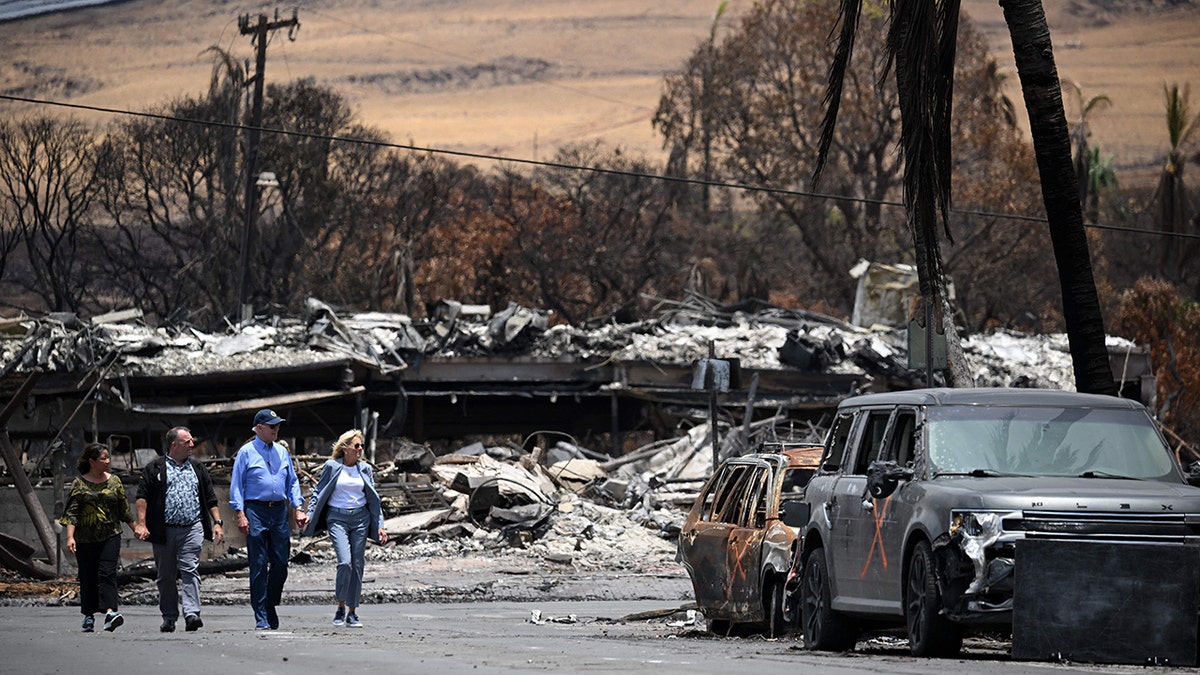 US President Joe Biden (2nd R), US First Lady Jill Biden (R), Hawaii Governor Josh Green (2nd L) and Jaime Green, First Lady of Hawaii, visit an area devastated by wildfires in Lahaina, Hawaii on August 21, 2023. (MANDEL NGAN/AFP via Getty Images)
House Republicans on the Oversight Committee said they plan to investigate the administration's response.
Hurricane Idalia made landfall over Florida's Gulf Coast as a "catastrophic" Category 3 storm Wednesday at 7:45 a.m., leaving hundreds of thousands of residents without power, officials said. It has since been downgraded to a Category 1 storm.
Idalia produced storm surges that reached several feet in some areas and brought damaging winds that howled up to 130 miles per hour at one point, according to the National Hurricane Center. It also caused flooding that has completely encompassed Floridian roadways when it passed the Apalachee Bay and made landfall over Florida's Big Bend region, where the peninsula merges into the Panhandle.
At least two people have died in vehicle accidents since the storm made landfall, according to the Florida Highway Patrol.
CLICK HERE TO GET THE FOX NEWS APP
FEMA Administrator Deanne Criswell spoke at Wednesday's press conference and gave an update on the federal hurricane response.
Criswell said there are more than 1,000 FEMA personnel deployed in Florida and other states in the hurricane's path. She has been communicating with Gov. Ron DeSantis and will travel to Florida Wednesday afternoon to directly report to the president from the scene of ongoing recovery and response efforts.
Fox News' Anders Hagstrom and Lawrence Richard contributed to this report.