The White House has responded after both Democrats and Republicans criticized President Biden, who said he had "no comment" on the rising death toll from the destructive Hawaiian wildfires during his weekend beach getaway in Delaware.
One Hawaii Democrat called the president's response "shocking" and out of character. While a congressional Republican accused Biden of "actively ignoring what is happening in Hawaii and really helping Hawaii."
A White House spokesperson pushed back on the criticism and told Fox News Digital that the Biden administration was using the "whole-of-government" to respond to the deadly fires, which included Biden mobilizing federal assistance from various departments and agencies.
"The Biden-Harris Administration has mobilized a robust whole-of-government response effort to support immediate and long-term rescue and recovery efforts in Maui, Hawaii," the White House spokesperson said.
REP LUNA SHREDS BIDEN'S 'NO COMMENT' ON DEADLY HAWAII FIRES AFTER HE SHELLED OUT ANOTHER $200M TO UKRAINE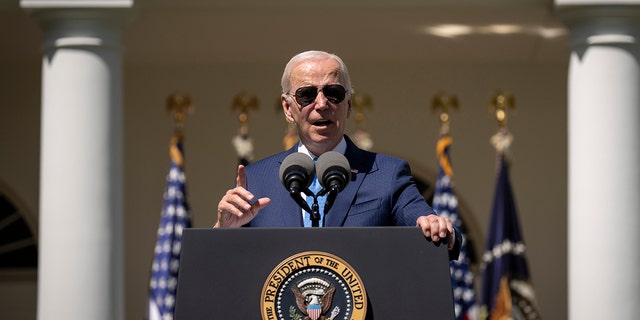 President Joe Biden responded to the Hawaiian wildfires "within hours," according to the White House. (Drew Angerer/Getty Images)
The statement continued: "Since the onset of the horrific fires in Maui, dozens of Federal departments and agencies, including the Department of Homeland Security through FEMA and the Coast Guard, the Department of Defense through the Navy and Army, the Department of Health and Human Services, the U.S. Forest Service, and the Small Business Administration (SBA) have been working with state and local partners on the ground to assess ongoing needs and providing resources and personnel to support response efforts."
On Sunday, Bloomberg White House correspondent Justin Sink first reported that Biden had nothing to say in response to a question about the death toll.
"After a couple hours on the Rehoboth beach, @potus was asked about the rising death toll in Hawaii 'No comment,' he said before heading home," Sink reported on X.
WHITE HOUSE RESPONSE TO WILDFIRES GETS WORSE AS KARINE JEAN-PIERRE BUMBLES KEY DETAILS: 'SHE HAS NO IDEA'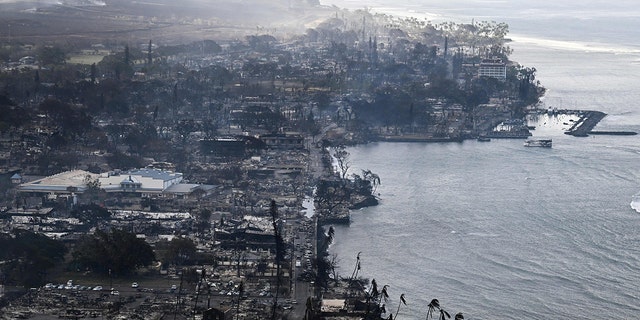 An aerial view shows destroyed homes and buildings that burned to the ground around the harbor and Front Street in the historic Lahaina Town in the aftermath of wildfires in western Maui in Lahaina, Hawaii, on August 10, 2023.  (PATRICK T. FALLON/AFP via Getty Images)
Video footage of the exchange released later appeared to corroborate Sink's account.
Despite the apparent halfhearted remark, President Biden responded "within hours" of Hawaii officials reporting the fire, according to a White House fact sheet.
"Last Thursday, within hours of the devastating fires, President Biden signed a Major Disaster Declaration for Hawaii, and as President Biden told [Hawaii] Governor Josh Green, the Federal Government stands ready to provide additional assistance to ensure the state recovers. This weekend, FEMA Administrator Deanne Criswell, U.S. Fire Administrator Dr. Lori Moore-Merrell and U.S. Small Business Administration Administrator Isabella Casillas Guzman surveyed catastrophic damage on the island and hosted a local press conference to reiterate the Administration's commitment to supporting impacted communities, however long it may take."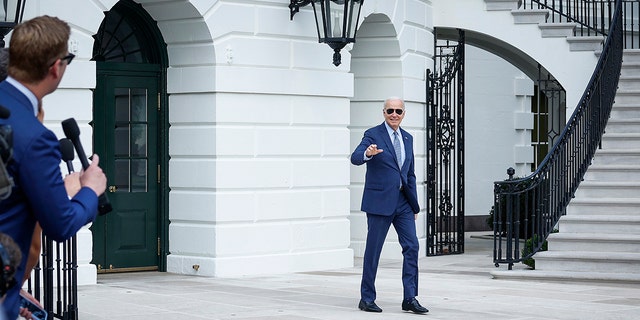 President Biden said he had "no comment" on the Hawaiian death toll as it neared 100 — which it has since crossed — while spending the weekend in Rehoboth, Delaware.  (Anna Moneymaker/Getty Images)
There are also nearly 500 federal personnel deployed to Maui as well as the U.S. Coast Guard and U.S. Navy, who are supporting maritime search and rescue operations, and U.S. Army helicopters, who are supporting fire suppression efforts on the Big Island, the White House said.
TRUMP BLASTS BIDEN'S 'NO COMMENT' RESPONSE TO HAWAII WILDFIRES: 'ABSOLUTELY HORRIBLE AND UNACCEPTABLE'
During a speech in Wisconsin, President Biden said Tuesday he and first lady Jill Biden would visit Hawaii to see the damage and visit with local officials.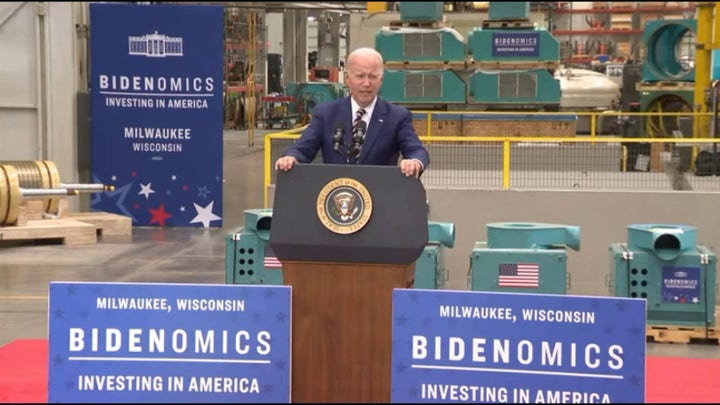 Video
The spokesperson also defended the Biden administration's decision to send additional aid to Ukraine, which continues to have bipartisan support in Congress — amid the destruction to Hawaii.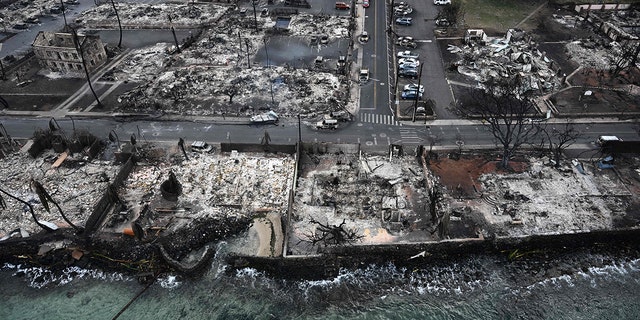 An aerial image taken on August 10, 2023 shows destroyed homes and buildings burned to the ground in Lahaina along the Pacific Ocean in the aftermath of wildfires in western Maui, Hawaii. A terrifying wildfire that left a historic Hawaiian town in charred ruins has killed at least 55 people, authorities said on August 10, making it one of the deadliest disasters in the US state's history.  (PATRICK T. FALLON/AFP via Getty Images)
CLICK HERE TO GET THE FOX NEWS APP
"The recent supplemental package reflects urgent needs through the end of the year both with respect to national security and critical domestic areas like disaster relief. We're grateful for the strong bipartisan support for Ukraine since Russia's unprovoked, full-scale invasion, and we are confident that support will continue as we work together to support the Ukrainian people as they bravely stand up to Russia's brutal war of aggression and defend their country," their statement said.
As of Wednesday morning, the death toll from the devastating Maui fire reached 106.