The White House said Friday that "violence is unacceptable" as protests are expected across the country after the release of body camera video relating to the Memphis police traffic stop involving Tyre Nichols.
White House Press Secretary Karine Jean-Pierre urged protesters to remain peaceful after Memphis officials are expected to release body camera video relating to the Nichols traffic stop.
"[President Biden] called for a peaceful protest," Jean-Pierre said on Friday. "But we're going to continue to say…but violence is unacceptable."
"His administration has been very much in touch with local and state officials to do everything that we can to prevent that. But again, the president has always been very clear when it comes to violence not being the answer and making sure that when people protest, it's peaceful," she added.
BIDEN SAYS TYRE NICHOLS DEATH A 'PAINFUL REMINDER' OF 'DISPARATELY IMPACTED' MINORITIES IN JUSTICE SYSTEM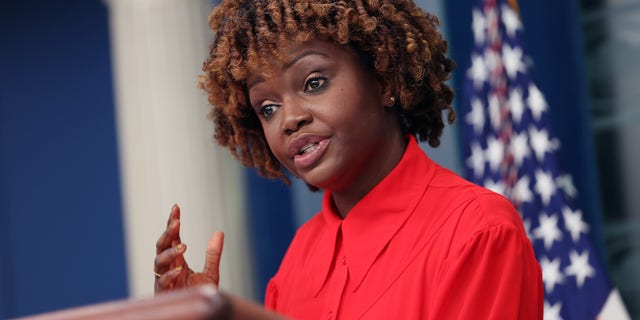 WASHINGTON, DC – JANUARY 12: White House Press Secretary Karine Jean-Pierre speaks during a press briefing at the White House on January 12, 2023 in Washington, DC. Jean-Pierre spoke on the classified documents found at President Biden's home in Wilmington, Delaware. 
(Kevin Dietsch/Getty Images)
Nichols was pulled over by Memphis police officers on Jan. 7 at around 8:30 p.m. for "reckless driving" and a "confrontation occurred" while the stop was taking place, officials said.
After police officers eventually caught up with Nichols, officials said that another confrontation occurred.
"While attempting to take the suspect into custody, another confrontation occurred; however, the suspect was ultimately apprehended," MPD said. "Afterward the suspect complained of having shortness of breath, at which point an ambulance was called to the scene."
After the incident, Nichols was taken to St. Francis Hospital where he was described in critical condition and later died on Jan. 10, the Tennessee Bureau of Investigation said.
TYRE NICHOLS CASE: 5 FORMER MEMPHIS POLICE OFFICERS CHARGED WITH SECOND-DEGREE MURDER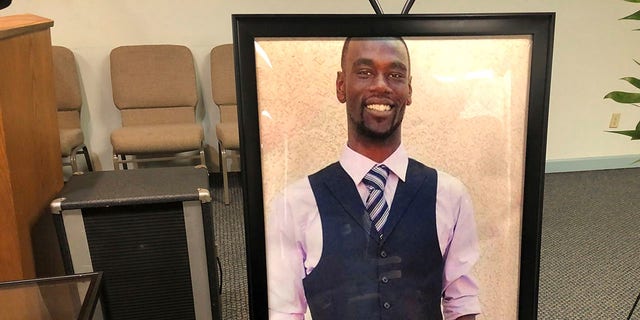 A portrait of Tyre Nichols is displayed at a memorial service for him on Tuesday, Jan. 17, 2023 in Memphis, Tenn. Nichols was killed during a traffic stop with Memphis Police on Jan. 7.  (AP Photo/Adrian Sainz)
(AP Photo/Adrian Sainz)
Five former Memphis police officers have been fired and are being charged with second-degree murder, aggravated assault as well as other charges.
In a statement released on Thursday evening, Biden said that more work "must" be done within the criminal justice system.
"Public trust is the foundation of public safety and there are still too many places in America today where the bonds of trust are frayed or broken. Tyre's death is a painful reminder that we must do more to ensure that our criminal justice system lives up to the promise of fair and impartial justice, equal treatment, and dignity for all," Biden said in the statement.
CLICK HERE TO GET THE FOX NEWS APP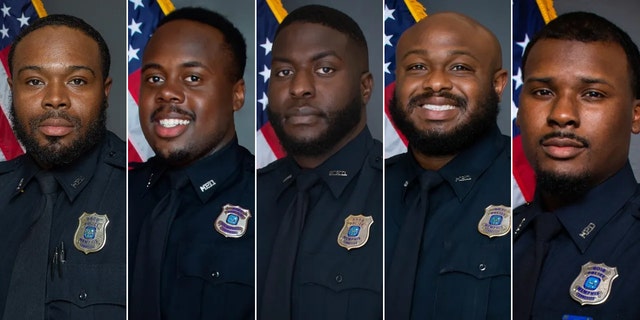 Memphis Police Department Officers Demetrius Haley, Tadarrius Bean, Emmitt Martin III, Desmond Mills and Justin Smith were terminated on Jan. 18 for their role in the arrest of deceased Tyre Nichols.
(Memphis Police Department)
"To deliver real change, we must have accountability when law enforcement officers violate their oaths, and we need to build lasting trust between law enforcement, the vast majority of whom wear the badge honorably, and the communities they are sworn to serve and protect," Biden added. "As Americans grieve, the Department of Justice conducts its investigation, and state authorities continue their work, I join Tyre's family in calling for peaceful protest. Outrage is understandable, but violence is never acceptable. Violence is destructive and against the law. It has no place in peaceful protests seeking justice."