On the two-year anniversary of President Biden's inauguration, the White House is touting the president's accomplishments and previewing what Biden's re-election message will look like, should he decide to run.
Job growth, cooling inflation, and hundreds of billions of dollars spent to boost manufacturing are the major accomplishments of Biden's first two years in office, as told by the White House in a "cheat sheet" sent to Democratic lawmakers and other Biden allies, Politico's Playbook newsletter reported Friday morning.
The memo highlight's Biden's successes, which include rallying foreign partners to support Ukraine against Russia's invasion, ushering a bipartisan gun safety law through Congress, confirming Justice Ketanji Brown Jackson to the U.S. Supreme Court, and advancing "the most significant legislative record since the Johnson administration."
On the economy, the White House points out that gas prices are down more than $1.60 compared to last year and inflation is at its lowest level since 2021. Biden signed a law that caps insulin prices at $35 per month for seniors. And nearly 11 million jobs have been created in 2021 and 2022, with 750,000 jobs created in the manufacturing sector.
BIDEN WON'T MAKE 2024 ANNOUNCEMENT UNTIL AFTER STATE OF THE UNION ADDRESS: SOURCES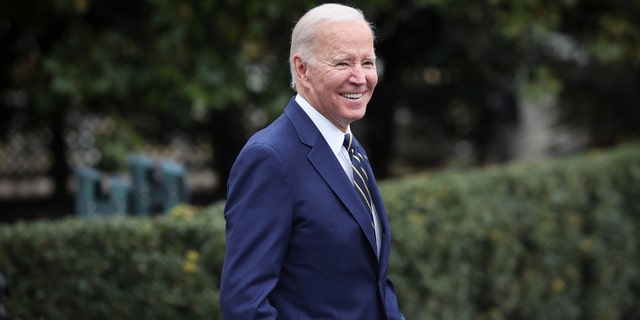 President Biden departs the White House on Jan. 19, 2023.
(Win McNamee/Getty Images)
The Bipartisan Infrastructure Law Biden signed has funded 6,900 specific projects across the nation, according to the White House. And, the memo notes, nearly 10.5 million Americans applied to start a business since Biden took office, making 2021 and 2022 the two best years for small business applications on record.
"Due to the overwhelming popularity of the President's economic agenda, the President had the best first midterm election results of any Democratic President in 60 years," White House communications director Kate Bedingfield wrote.
2024 SHOWDOWNS: BIDEN TOPS TRUMP BUT TRAILS DESANTIS IN NATIONAL POLL'S POTENTIAL MATCH UPS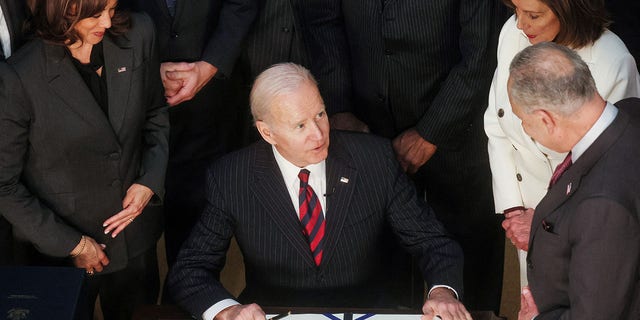 President Biden is flanked by Vice President Kamala Harris, House Speaker Nancy Pelosi and Senate Majority Leader Chuck Schumer as he signs the Consolidated Appropriations Act at the White House, March 15, 2022.
( Reuters/Leah Millis)
This record stands "in contrast to MAGA Republicans in Congress who are creating chaos and proposing an extreme and divisive agenda," the White House says.
Democrats are accusing the new Republican House majority of advancing an agenda for the "super-wealthy." The Biden White House is attacking Republicans on four points: efforts to restrict abortion; a GOP plan to abolish the IRS and replace the federal income tax with a national sales tax; Republican-backed legislation that would restrict Biden's authority to tap into the Strategic Petroleum Reserve, which the Biden administration says would raise gas prices; and putting Social Security and Medicare "on the chopping block" by demanding spending cuts.
DEMOCRATIC KINGMAKER CLYBURN 'ALL-IN' FOR BIDEN 2024, ISSUES WARNING AGAINST PRIMARY CHALLENGERS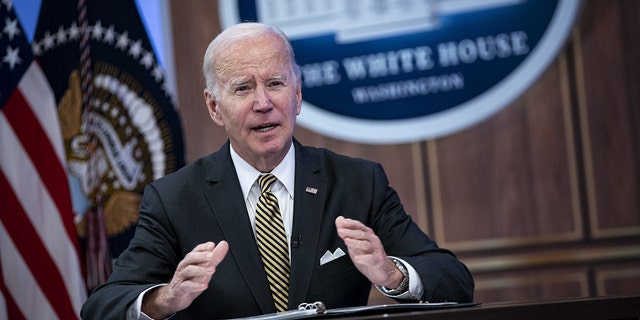 President Joe Biden speaks in the Eisenhower Executive Office Building in Washington on Oct. 19, 2022.
(Al Drago/Bloomberg via Getty Images)
Sources have told Fox News Digital that Biden will not make an announcement about the 2024 presidential race until after he delivers the State of the Union address next month. Even so, the messaging from the White House offers a glimpse into what will be themes of Biden's address and talking points on the campaign trail.
Of course, this memo is meant to portray Biden's record in the best light possible. Annual inflation remains at 6.5%, though down from a 40-year high of 9.1% in June. The federal debt has ballooned to $31.38 trillion from $27.6 trillion when Biden assumed office. And the president has an immigration crisis to contend with, a special counsel probe into his handling of classified documents, and a newly-empowered Republican House preparing to investigate his son Hunter Biden's foreign business dealings.
Meanwhile, former President Donald Trump has already launched his comeback campaign for the White House and is scheduled to hold the campaign's first public event in Columbia, South Carolina, next week. When the 2024 campaign begins in earnest, Republicans will strike back with their own attacks on Biden's record.
READ THE WHITE HOUSE MEMO. APP USERS: CLICK HERE
Fox News' Jacqui Heinrich and Adam Sabes contributed to this report.