FIRST ON FOX: The White House says it will work cooperatively and in "good faith" with the House Judiciary Committee under Chairman Jim Jordan's leadership as the panel investigates the Biden administration's "misuse of federal criminal and counterterrorism resources" to "target" parents at school board meetings.
However, in a letter to Jordan, counsel to the president Stuart Delery reiterated President Biden's commitment to ensuring teachers can do their jobs "free from violence, threats, and intimidation."
Delery's letter is a response to Jordan's letter to White House chief of staff Ron Klain last week. In that letter, Jordan said the White House has been stonewalling committee Republicans' requests for information about the Justice Department's monitoring of parents at school board meetings.
CONGRESS TO RETURN TO DC WITH RENEWED FOCUS ON BIDEN ADMIN INVESTIGATIONS
Delery's letter began by congratulating Jordan on his new role as chairman of the House Judiciary Committee and stressing that the Biden administration "seeks to work cooperatively with Congress."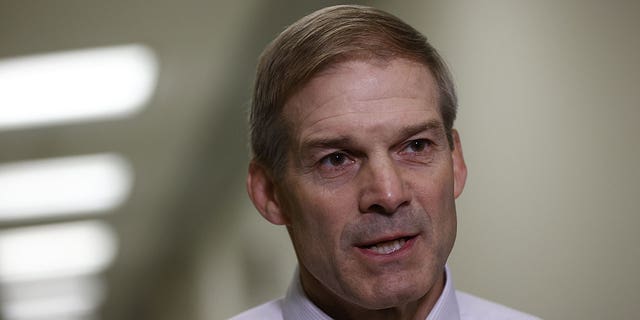 Rep. Jim Jordan, R-Ohio, is seeking more information about DOJ's effort to target parents at school board meetings.
(Ting Shen/Bloomberg via Getty Images)
"To that end, we are reviewing your recent letter and enclosures with the goal of seeking to accommodate legitimate oversight interests within the Committee's jurisdiction while also respecting the separation of powers and the constitutional and statutory obligations of the Executive Branch generally and the White House in particular," he wrote.
"We look forward to engaging with you and your staff in good faith in the constitutionally mandated accommodation process," Delery wrote, adding that the White House has been "preparing to respond" to Jordan's requests. "White House staff will reach out to Committee staff to arrange a time to discuss this matter."
"President Biden is committed to ensuring that teachers and other public servants can do their jobs free from violence, threats, and intimidation, while also vigorously protecting the First Amendment rights of all Americans," Delery wrote. "We look forward to working with your Committee and others in Congress in service of these critical goals."
JORDAN SEEKS TESTIMONY FROM GARLAND, WRAY, OTHERS IN HOUSE JUDICIARY PROBES OF DOJ, FBI
Jordan's initial letter said the White House has "not complied" with long-outstanding requests for information and documents concerning "the misuse of federal criminal and counterterrorism resources to target concerned parents at school board meetings."
"The administration's stonewalling must stop," Jordan wrote, reiterating his outstanding requests for testimony from employees within the Executive Office of the President.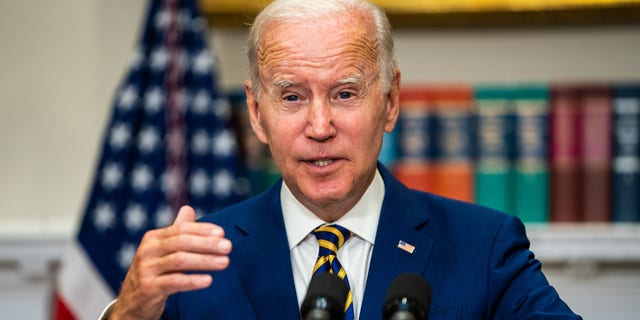 President Biden delivers remarks regarding student loan debt forgiveness in the Roosevelt Room of the White House on Wednesday Aug. 24, 2022.
(Demetrius Freeman/The Washington Post via Getty Images)
Jordan and committee Republicans have been reviewing whistleblower information that the White House "colluded with the National School Boards Association to manufacture a pretext for the use of federal law enforcement authorities against parents" since 2021, and plan to continue to investigate with GOP subpoena power in the 118th Congress.
In 2021, Attorney General Merrick Garland sent a memo to the FBI, office for U.S. attorneys, and the DOJ's Criminal Division to notify officials that the agency would "use its authority and resources" to identify threats at school board meetings against faculty and "prosecute them when appropriate."
Garland's memo said the FBI would partner with local law enforcement and each U.S. attorney to convene meetings with federal, state, local, tribal and territorial leaders in each federal district. Garland said the meetings would "facilitate the discussion of strategies for addressing threats against school administrators, board members, teachers and staff, and will open dedicated lines of communication for threat reporting, assessment and response."
HOUSE REPUBLICANS DEMAND FBI DISCLOSE HOW IT IS COMPLYING WITH DOJ SCHOOL BOARD MEMO
The memo also announced that the FBI's involvement would help to "determine how federal enforcement can be used to prosecute these crimes."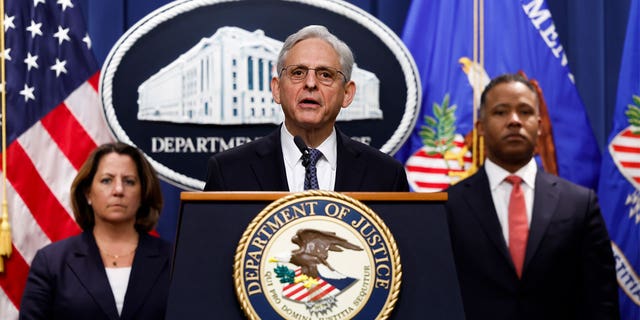 U.S. Attorney General Merrick Garland delivers explored ways to protect teachers and school administrators from angry parents in 2021.
(Anna Moneymaker/Getty Images)
The memo was sent after the National School Boards Association (NSBA) sent a letter to Garland citing instances, including nonviolent behavior that did not include threats, but that was deemed disruptive. The NSBA had called for the use of measures, including the Patriot Act, which is typically used to address terrorism.
Their second letter said they "regret and apologize for the letter," stating that "there was no justification for some of the language" they had used.
Jordan also launched his first formal investigation into the president's "mishandling" of classified records and the Justice Department's investigation into the matter last week.
After a second stash of classified documents was found inside the garage of Biden's Wilmington, Delaware, home, Garland escalated the Justice Department's ongoing review to a formal special counsel probe, and chose former U.S. Attorney Robert Hur to lead the investigation.
The first documents were found inside the Washington D.C., offices of the Penn Biden Center think tank on Nov. 2, 2022. Additional classified documents were found at Biden's Delaware home as recently as over the weekend, the White House counsel's office said.
JIM JORDAN SEEKS SUBPOENAS IN DOJ MEMO BASED ON LETTER COMPARING PARENTS TO DOMESTIC TERRORISTS
The FBI conducted a 12-hour search of Biden's Delaware home Friday, seizing "six items" containing documents with classification markings, Biden's personal attorney Bob Bauer said. Bauer did not disclose the exact number of classified documents found during the search.
Jordan is questioning not only Biden's "mishandling" and "unauthorized possession" of classified documents, but also the "circumstances" of the appointment of Hur as special counsel.
CLICK HERE TO GET THE FOX NEWS APP
Jordan is also questioning the alleged concealment of the information by the DOJ, especially as the White House has admitted that the first batch of classified records were found at the Penn Biden Center in November 2022 – before the midterm elections – and not publicly disclosed until January.
Jordan successfully established a new Judiciary subcommittee for the new Congress– the Select Subcommittee on the Weaponization of the Federal Government – which he will chair.