White House Press Secretary Karine Jean-Pierre said that she's not going to discuss hypotheticals when asked if President Biden will be interviewed by federal investigators over his handling of classified documents.
Jean-Pierre made the comments on Thursday afternoon during a press briefing after the White House revealed that more classified documents were found in a garage at one of Biden's homes in Delaware.
"First off, is the president going to be interviewed by federal investigators about his handling of classified documents?," a reporter asked.
"So first, let me just say, I'm just not going to get into hypotheticals," Jean-Pierre said.
MORE CLASSIFIED DOCUMENTS FOUND IN BIDEN'S DELAWARE GARAGE, WHITE HOUSE REVEALS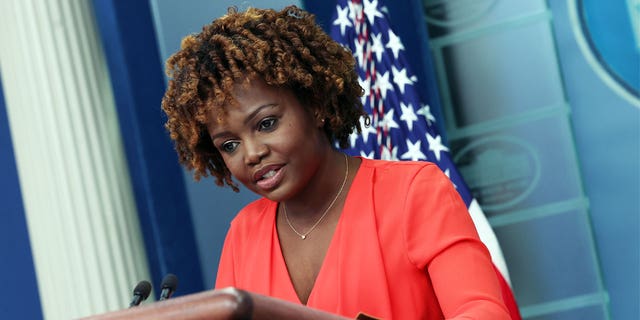 White House Press Secretary Karine Jean-Pierre faced tough questions about President Biden's mishandling of classified documents at the press briefing on Jan. 11, 2023.
(Kevin Dietsch/Getty Images)
White House special counsel Richard Sauber said Thursday that some additional Obama-Biden administration records were found to have classified markings.
"Lawyers discovered among personal and political papers a small number of additional Obama-Biden administration records with classified markings. All but one of these documents were found in storage space in the President's Wilmington residence garage," Sauber wrote. "One document consisting of one page was discovered among stored materials in an adjacent room."
He added that no documents were found in Biden's Wilmington, Delaware, residence.
The first batch of Obama-era classified documents was found in November at the Penn Biden Center in Washington, D.C.
On Thursday afternoon, Sauber said in an additional statement that the documents were "misplaced."
"As the President said, he takes classified information and materials seriously, and as we have said, we have cooperated from the moment we informed the Archives that a small number of documents were found, and we will continue to cooperate. We have cooperated closely with the Justice Department throughout its review, and we will continue that cooperation with the Special Counsel. We are confident that a thorough review will show that these documents were inadvertently misplaced, and the President and his lawyers acted promptly upon discovery of this mistake," Sauber said.
BIDEN SPARS OVER CLASSIFIED DOCUMENTS IN GARAGE WITH FOX NEWS' PETER DOOCY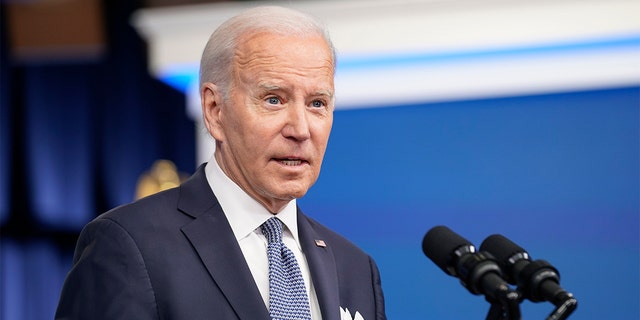 President Biden responds to reporters questions after speaking about the economy in the South Court Auditorium in the Eisenhower Executive Office Building on the White House Campus, Thursday, Jan. 12, 2023, in Washington.
(AP Photo/Andrew Harnik)
Sauber said in a Monday statement regarding the documents found at the Penn Biden Center that Biden's personal attorneys are cooperating with the Department of Justice.
"The documents were not the subject of any previous request or inquiry by the Archives," Sauber said. "Since that discovery, the President's personal attorneys have cooperated with the Archives and the Department of Justice in the process to ensure that any Obama-Biden Administration records are appropriately in the possession of the Archives."
When asked by a reporter on Thursday about the "national security concerns" of having the classified documents in the think tank and Delaware garage, National Security Council Coordinator for Strategic Communications John Kirby said that Biden takes the issue seriously.
"The president has spoken to how seriously he takes the handling of classified documents and he, as somebody who's aware of the process myself, do exactly the right thing, which is to have them immediately turned over," Kirby said.
Attorney General Merrick Garland appointed a special council on Thursday to investigate Biden's handling of Obama-era classified documents.
When asked about the second batch of classified documents found in Biden's Rehoboth Beach garage, Biden told Fox News' Peter Doocy that they were locked.
"Classified documents next to your Corvette? What were you thinking?" Doocy asked Biden.
CLICK HERE TO GET THE FOX NEWS APP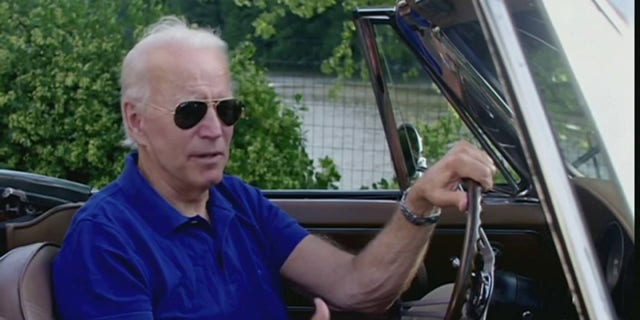 Joe Biden sits in his Corvette in a campaign video released Aug. 5, 2020.
(Joe Biden for President)
"I'm going to get the chance to speak on all of this, God willing it'll be soon, but I said earlier this week — and by the way my Corvette is in a locked garage. It's not like it's sitting out in the street," Biden responded.
"So the documents were in a locked garage," Doocy asked.
"Yes, as well as my Corvette. But as I said earlier this week, people know I take classified documents and classified material seriously," Biden said. "I also said we're cooperating fully and completely with the Justice Department's review."
Fox News' Anders Hagstrom contributed to this report.