close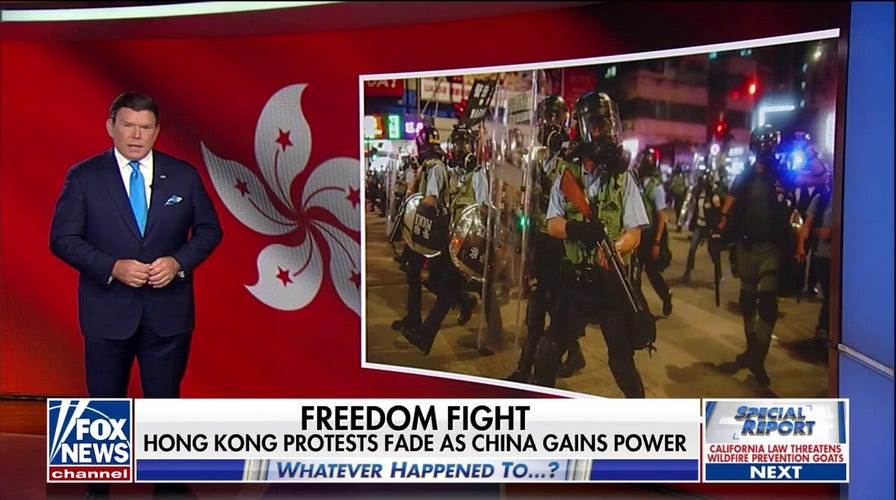 Video
What happened to Hong Kong pro-democracy protests?
Fox News' Bret Baier has the latest on the pro-democracy movement in Hong Kong on "Special Report."
The protests that began nearly four years ago in Hong Kong have all but died out. China, however, has gained power and influence in the region with its National Security Law and aggression toward Taiwan.
"Throughout this century, Beijing has tried to impose stiffer and stiffer controls over Hong Kong. And throughout this century, the people of Hong Kong have resisted," China expert Gordon Chang said.
Demonstrations began in 2019 to protest legislation that would allow criminal suspects to be sent to mainland China for trial. The Fugitives Offenders Ordinance Bill would have allowed people, including foreigners, to have their cases heard in courts controlled by the Communist Party.
"The protests that followed the extradition bill in 2019 were a watershed," Chang said.
UYGHUR STUDENT DID NOT GO MISSING IN HONG KONG AFTER BEING INTERROGATED AT AIRPORT, RIGHTS GROUP SAYS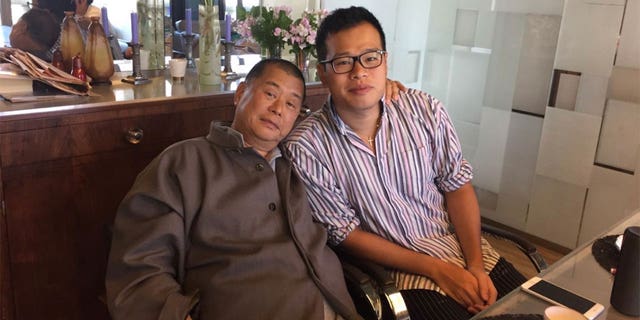 Jimmy and Sebastien Lai have been victims of the Chinese National Security Law, which is used to jail people who participate in pro-democracy protests. (Fox News)
By summer of 2019, the unrest made headlines around the world. Millions took to the streets to protests China's actions. Former Hong Kong Chief Executive Carrie Lam eventually suspended the extradition bill. Protests continued calling for her to step down as Beijing pushed ahead with a new idea to quell the protesters in the name of national security.
"China's national security law, which was imposed on Hong Kong in the middle of 2020, has rightly been called the end of law," Chang said. "That legislation is so vague, it gives Beijing the power to do whatever it wants, and Beijing has fully implemented that law in ways that have ended freedom in Hong Kong."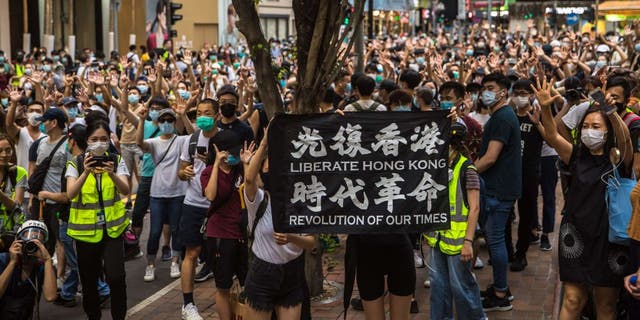 Protesters chant slogans during a rally against a new national security law in Hong Kong on July 1, 2020, on the 23rd anniversary of the city's handover from Britain to China. (Dale de la Rey/AFP via Getty Images)
The National Security Law took effect just before midnight on the eve of the anniversary of its handover from British to Chinese rule. Chinese leaders said it was necessary for controlling the growing protests.
"I think there were around 2 million people at one point, which is … incredible," Sebastien Lai said. "They essentially used the National Security Law combined with the very harsh COVID restrictions that they put in place in Hong Kong to crack down … on the protests."
CANADA'S TOP SPY AGENCY WARNS HONG KONG-BORN LAWMAKER SHE IS ON CHINA'S 'EVERGREEN' TARGET LIST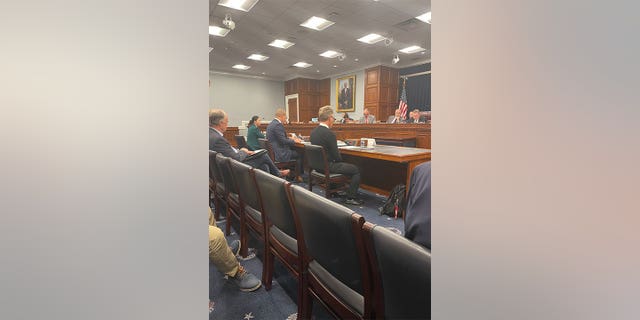 Lai gives testimony about his time in China. (Fox News)
Sebastien's father is one victim of the new law. Jimmy Lai has been in prison since December 2020 over his role in the pro-democracy movement.
"The last time I saw my dad was at the end of 2020," Sebastien said. "So, I haven't been back to Hong Kong ever since, unfortunately."
Hundreds were arrested under the National Security Law, including Jimmy Lai. He faces charges for participating in protests. Others stem from his tabloid, Apple Daily, which was often critical of China. His business was eventually raided and shut down.
"I think many people were surprised by how fast everything happened. Once the National Security Law was put in place at the end of 2020, they started mass crackdowns, arresting many people," Sebastien said. "At that time, we had around 900 people working [at] Apple Daily. During the first crackdown, 200 policemen ran into the office building, took people's laptops, hard drives and stopped people from essentially touching their phone."
HONG KONG NEWSPAPER WILL STOP PUBLISHING WORK BY POLITICAL CARTOONIST AFTER ANTI-GOVERNMENT DRAWINGS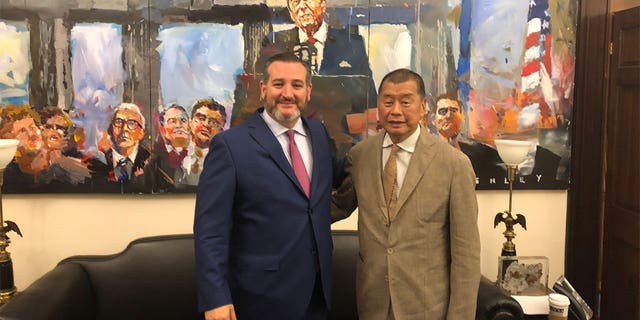 Jimmy Lai, right, stands with Sen. Ted Cruz, R-Texas. (Fox News)
Sebastien said police returned for a second time and even more officers raided the tabloid offices.
"Because the brave reporters kept publishing, they sent 500 people. And that was the end of it. They had already arrested my father at that point and many of his colleagues. You hear these sad stories that obviously would never have happened in Hong Kong before," Sebastien said. "The reporters would stay up until 6 in the morning because that's when the police knocks on your door and tells you that you're a person of interest."
Jimmy Lai's National Security Trial is scheduled for December. His lawyers recently tried to terminate the trial, arguing it was being heard by three judges approved by Hong Kong's leader rather than a jury. China had initially promised Hong Kong trials by jury when it rejoined China, but the National Security Law now allows for no-jury trials.
"At the moment, Hong Kong's telling the world that they want to go back to a being a financial center and that they stand [for] the rule of law and freedom of speech. Actions speak louder than words, and the actions are saying that that is not the case," Sebastien said. "While those people are in jail and while those people are being treated unfairly by the legal system, there is no way that Hong Kong can say that it is still a financial center."
CHINESE 'DEBT-TRAP' CRIPPLING POOR ECONOMIES, ENDANGERING US NATIONAL SECURITY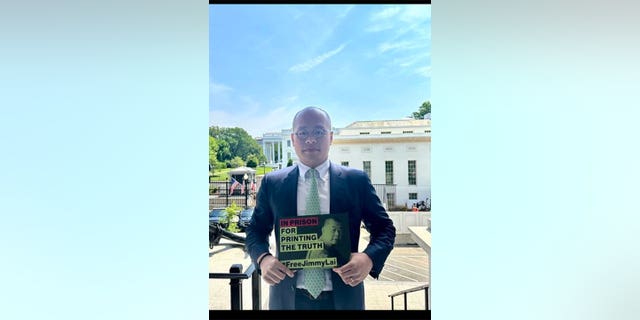 Lai is shown at the White House with a poster of his father who is jailed in China. (Fox News)
Jimmy Lai faces life in prison. He is among nearly 1,500 other known political prisoners detained in Hong Kong.
"We have seen a number of arrests in Hong Kong increase from the 2019 protests, but certainly with the imposition of the national security law in the following year, there have been increasing numbers of arrests," Chang said. "We're not sure that we know the full numbers about that because there are reports of people being secretly detained."
U.S. lawmakers have called Hong Kong Taiwan's wake-up call. House Speaker Kevin McCarthy, R-Calif., was among a group of House members who recently met with Taiwanese President Tsai Ing-wen in California.
"I remember the promises made that China did to Hong Kong that they could keep their own version of democracy," McCarthy said. "They reneged on that. We watched them shut down newspapers and freedom of press that have been there for decades."
SON OF CHINESE COMMUNIST PARTY CRITIC JIMMY LAI BLASTS TIKTOK: 'REALLY TRYING TO SILENCE MY FATHER'S STORY'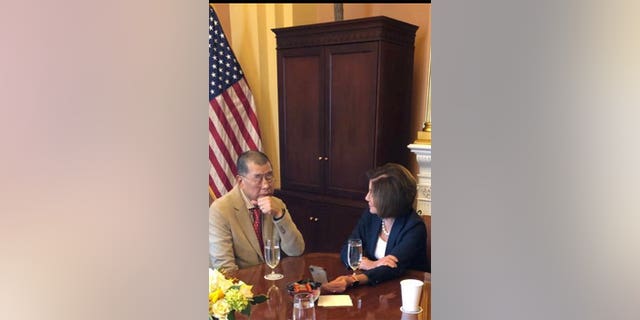 Jimmy Lai talks with Rep. Nancy Pelosi, D-Calif. (Fox News)
Others have compared the actions to Russian President Vladimir Putin's invasion of Ukraine.
"After Hong Kong fell and then Ukraine got invaded by Putin and Russia, Taiwan is very nervous, and they should be." Rep. Michael McCaul, R-Texas, said on "Special Report."
Sebastien Lai now lives in Taiwan and says those on the island share concern for China's growing influence in the region.
"Originally the one country-two system was Hong Kong, but it was also something that they tried to sell to Taiwan," Sebastien said. "I think once they cracked down on Hong Kong, everybody in Taiwan could very quickly realize that was no longer going to be a valid choice."
CHINESE FIGHTER JET CAUGHT ON VIDEO INTERCEPTING US AIRCRAFT OVER SOUTH CHINA SEA: 'UNNECESSARILY AGGRESSIVE'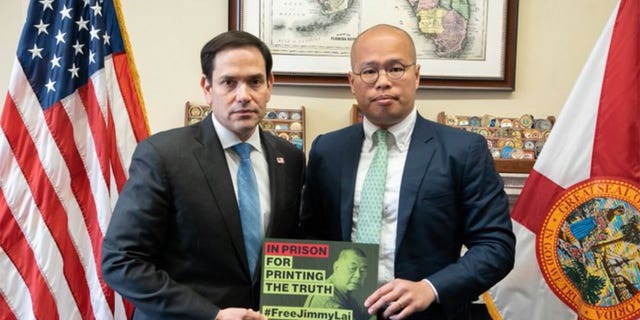 Sebastien Lai, right, and Sen. Marco Rubio (Fox News)
China has less influence in Taiwan than it does in Hong Kong. The U.S. positions on the regions also differ. According to the Center for Strategic and International Studies, the One China Policy only acknowledges Beijing's position that Taiwan is part of China. The U.S. does not agree with Beijing's claim to sovereignty over Taipei. It also assesses that the island is not an independent, sovereign state.
"Although the United States doesn't recognize Taiwan, nonetheless, a number of countries do," Chang said. "It is a vibrant democracy. And it is, of course, in the interests of the United States to protect all democracies, especially one as important as Taiwan."
The U.S. does view Hong Kong as part of China but with some conditions. According to the State Department, U.S. policy holds that Hong Kong is an independent customs and economic territory.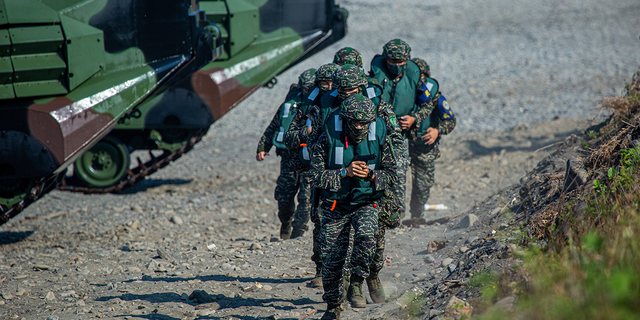 Soldiers disembark from amphibious assault vehicles during the Han Kuang military exercise, which simulates China's People's Liberation Army invading the island, on July 28, 2022, in Pingtung, Taiwan. (Annabelle Chih/Getty Images)
"China is attacking not only our democracy but democracies in general. So, we need to defend this principle of self-governance, whether in Hong Kong, Taiwan or the United States," Chang said. "As long as [Chinese President] Xi Jinping rules China, Hong Kong is lost. But the people in Hong Kong have shown that they are resisting. They have a separate identity from China. And one day, and that day probably won't be soon, but one day Hong Kong, I believe, will govern itself."
CLICK HERE TO GET THE FOX NEWS APP
The U.S. and allies are helping hold China accountable for its actions toward Hong Kong and Taiwan. Jimmy Lai met with lawmakers during his trip to the U.S. in 2019. He called for support against China's aggression. His son, Sebastien, met with those same lawmakers recently to continue the fight for democracy in Hong Kong and freedom for his father.
"International pressure is showing and shining a light on these cases, on my father, and the story of Hong Kong is paramount," Sebastien said. "We've really seen Hong Kong react very strongly once we talk about … this lie that they're telling the world."
Bret Baier is the Chief Political Anchor of Fox News Channel, and the Anchor and Executive Editor of "Special Report with Bret Baier." He is the author of four presidential biographies, which tackle the critical issues of our times. His fifth biography, To Rescue the Constitution:George Washington and the Convention that Saved the American Experiment, will be published in 2023.