Des Moines, Iowa – A porkchop hitting the grill, bales of hay lining the stage in front of the Soapbox, and visits to the butter cow appear to be all the visuals a presidential candidate needs to win in Iowa. But according to Republican Iowa House Speaker Patrick Grassley, Iowans are looking for more than a good photo-op.
"We let everyone have a voice. You can come to Iowa, have a chance, but you have to be able to do it and deliver that message not only where you disagree, but what you see as the future for this country" he said.
All but two candidates vying for nomination from both parties attended the famed Iowa State Fair that has boasted well over 1 million in total attendance over the course of 10 days. For some candidates it's just another stop on the relenting grind for running for the highest office in the land. But notable contenders, including Gov. Ron Desantis and Sen. Tim Scott, have made it a focal point of their campaign strategy.
Bob Vander Plaats, a longtime Republican political strategist based in Iowa and CEO of the social conservative organization The Family Group, says showing up now is half the battle to fighting for the top spot in January.
DESANTIS CAMPAIGN BOASTS ENDORSEMENTS, LATEST POLL NUMBERS AS SIGNS OF MOMENTUM IN IOWA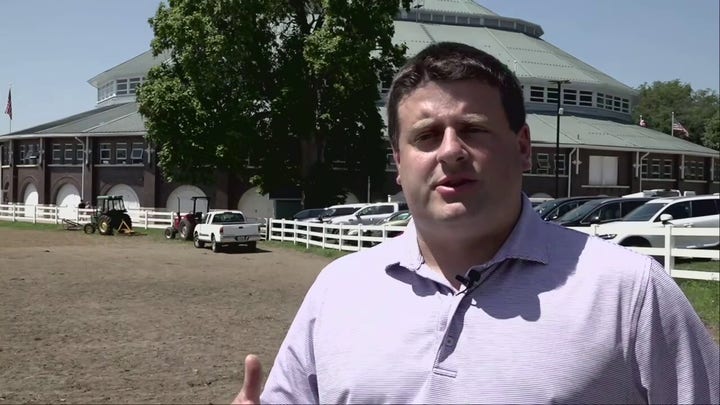 Video
"I don't think a lot of people are going to leave the state fair this week and go, 'This is what I'm voting for.' But they have a chance to make a really good impression on those voters."
While Iowa has historically been the first in the nation to vote for the presidential candidate, it has not had a good track record of picking eventual winners. The last three winners of a competitive GOP primary caucus, Mike Huckabee (2008), Rick Santorum (2012) and Ted Cruz (2016), did not come away with the nomination.
THE 2024 ELECTION IS 'WAY OPEN' DESPITE TRUMP'S LEAD IN IOWA: MARC THIESSEN
"I think that's one of the beautiful things about our state is it doesn't necessarily always pick the winner," Speaker Grassley said. "We have a good track record of supporting the high-level candidates that do well moving forward. But I think it starts to thin the crowd in the field."
One of those candidates who has surged into the top of the crowd is businessman and entrepreneur Vivek Ramaswamy. A Fox News Poll released on Wednesday showed him cracking double-digit support in a national poll, doubling his performance. Twenty-two percent have him as their second option, up from zero in March.
Grassley is not surprised.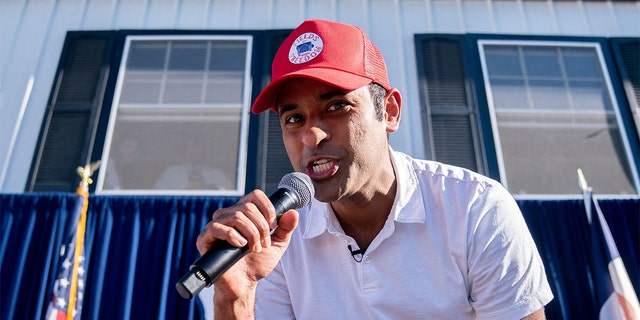 Vivek Ramaswamy raps after his Fair Side Chat with Gov. Kim Reynolds, at the Iowa State Fair in Des Moines on Aug. 12, 2023. (Stefani Reynolds)
"I think you're seeing Vivek putting a ton of time in the state. He's connecting with voters. If you've seen some of his interactions, whether it's at the state fair or whether it's some of the Iowa Republican functions that are taking place, he's putting in the work. And quite frankly, I think he's touching on those issues that I touched on earlier, the economy. He's touching on issues like national security and what the future of this country really looks like."
But despite the effort and the work that is going in, no candidate has yet been able to find a significant foothold against former President Donald Trump, who, according to the same national poll, has a 30% lead over second-ranked DeSantis. But Vander Plaats, who has seen enough primaries, isn't convinced and that it will take as far as Thanksgiving to find a clear and undisputed favorite. But for the man who successfully backed the last three GOP primary winners, Trumps's surge out of the gate won't see him at the top of the podium come Jan. 14.
CLICK HERE TO GET THE FOX NEWS APP
"The Iowa caucuses is an organizational exercise, and there's candidates here building that organization. I think a lot of Iowans are looking for an alternative. They respect President Trump for what he did, all the accomplishments that he had. But they believe it's time to turn the page to the next generation of visionary leader," he said.