Voters in Ohio will decide on Tuesday whether to alter a century-old method of amending their constitution, raising the minimum voter threshold to 60% from a bare majority.
The amendment – called Issue 1 – may sound tedious, but the rare August election has major implications for a later vote, scheduled in November: whether to establish a state-wide right to abortion.
If Issue 1 is passed, the abortion-rights amendment will likely be blocked, with support falling below the newly raised threshold.
So is Issue 1 about protecting the constitution, as its supporters claim, or is it really about abortion?
What is Issue 1?
Issue 1 is the only question on the ballot in Ohio's 8 August special election.
Before key abortion vote, Republicans try to change the rules
If passed, it will change the threshold for approving amendments from 50% to 60%. And Issue 1 will also make it harder to put amendments before voters in the first place, asking petitioners to gather signatures from 5% of eligible voters in each of Ohio's 88 counties, instead of the current 44.
In the 111 years since Ohio first granted voters the power to introduce citizen-led amendments, just 19 of 71 proposed measures have passed the 50% benchmark.
Why is it controversial?
Issue 1 has been championed by Ohio's Republican led-legislature and the state's chief election official, Republican secretary of state Frank LaRose.
Mr LaRose and his allies have said Issue 1 is about protecting the Ohio constitution from outside moneyed interests.
"Constitutions are for fundamental rights, widely held beliefs," he told the BBC. "Not just a controversial issue that may have 51% support."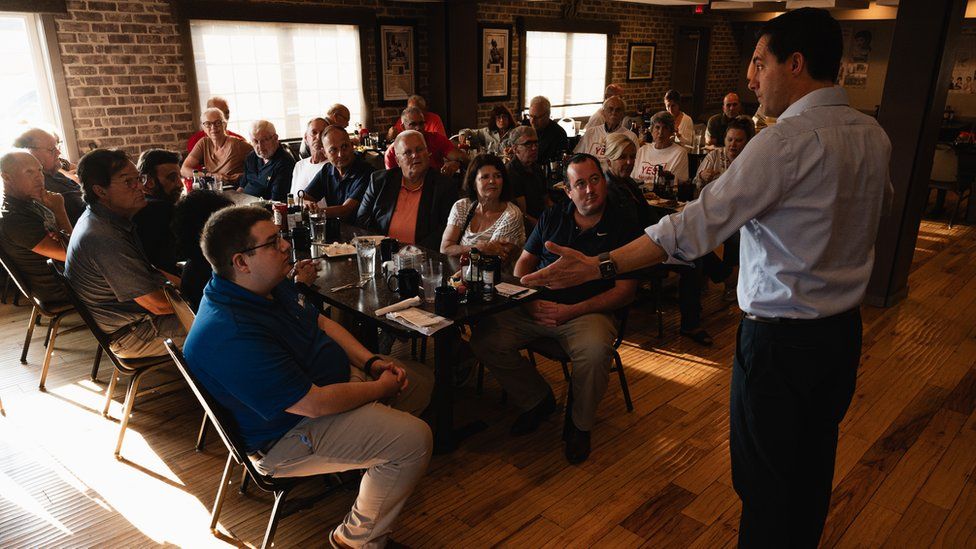 Image source, Jake Olson/BBCImage caption, Mr LaRose speaks to Republican voters ahead of the Issue 1 electon
But opponents of Issue 1 – a diverse and bipartisan coalition – insist it is actually an effort to block the abortion amendment.
"They've seen polls in Ohio that show 58, 59% of Ohioans support this amendment,"said Kellie Copeland, executive director of Pro-Choice Ohio. "And so they were looking to put it just out of reach."
And at a private event in May, Mr LaRose seemed to confirm these widely-held suspicions.
"I'm pro-life. I think many of you are as well," Mr LaRose said, in a video recorded by Scanner Media. "This is 100% about keeping a radical pro-abortion amendment out of our constitution."
What are the likely consequences?
Polls show that the abortion-rights amendment – which protects abortion access up until foetal viability (around 24 weeks of pregnancy) – would be likely to win a majority. But meeting the 60% threshold would be a long-shot.
Without constitutional protection, the Republican-led statehouse will likely move forward with more anti-abortion legislation. Currently, a six-week ban is on hold while a legal challenge proceeds.
If abortion becomes illegal in Ohio, the consequences will be felt by millions in neighbouring states, including Indiana, Kentucky and West Virginia, where abortion access has already been cut off.
And beyond abortion, observers say the implications of Ohio's August election may spill over into the state's election for US Senator next year, in which Mr LaRose may be a candidate.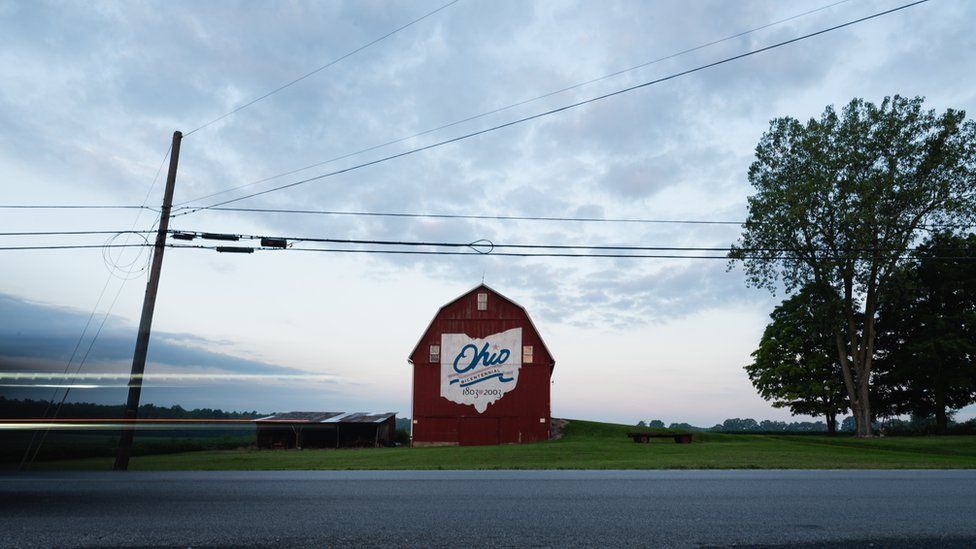 Image source, Jake Olson/BBC