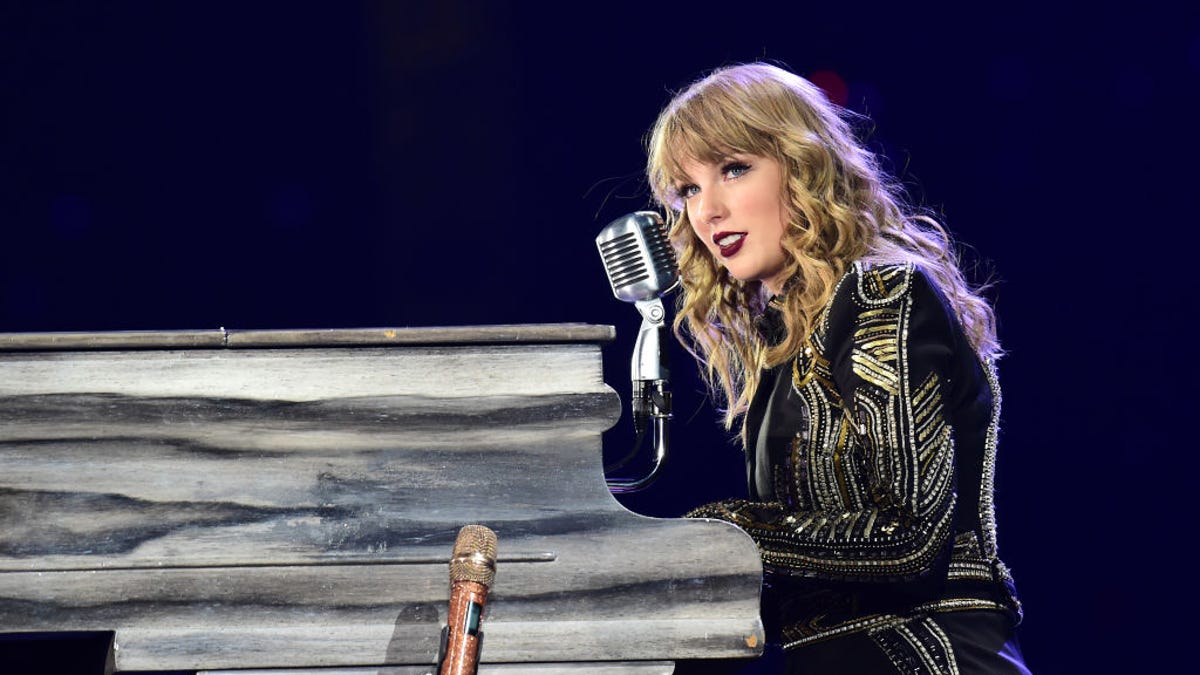 The last time Taylor Swift toured was in 2018.
Jun Sato/TAS18/Getty Images
The US Senate Judiciary Committee held a three-hour antitrust hearing Tuesday to investigate whether Ticketmaster and parent company Live Nation hold a monopoly in the ticketing industry. The hearing represented a moment of reckoning for the company. Music fans' long-held frustrations with the ticketing giant peaked in November when fans failed to secure tickets for Taylor Swift's upcoming Eras tour during the presale, causing Ticketmaster to cancel the general sale.
Democrats and Republicans appeared united during the hearing over the idea that US consumers were suffering as a result of Ticketmaster's stranglehold over the live entertainment industry. Their concern is that Ticketmaster is so big, artists and venues have no choice but to use its technology, giving it no incentive to keep prices affordable and ensure it's providing fans with a decent experience. 
Together they questioned Ticketmaster President Joe Berchtold, alongside several other industry players, asking him to justify his company's failure to meet fan demand during the tour and combat its bot problem despite its industry dominance.
Here's what happened during the hearing. 
Ticketmaster president apologizes to Taylor Swift fans
Berchtold told the committee that a bot attack was responsible for the Ticketmaster meltdown during the Eras tour verified fan presale.
Ahead of the presale, codes were sent to people who identified as loyal Swift fans to allow them access to the presale. On the day the tickets went on sale, Berchtold said that around three times the number of bots Ticketmaster usually sees attempted to access the site, slowing everything down and resulting in many fans being unable to complete their ticket purchases.
The verified fan system worked, insofar as none of the bots was able to buy tickets, he added, but their coordinated attack ruined the experience for everyone.
In a statement at the time, Swift described the experience of watching many of her fans trying and failing to get tickets as "excruciating." Ticketmaster had assured her it would be able to cope with the demand, she said.
Ticketmaster apologized to her and her fans — an apology that Berchtold reiterated during Tuesday's hearing.
"We need to do better and we will," he said.
Swift songs quoted 5 times
Despite the hearing focusing very little on Swift's specific case, and instead taking a much broader view of Ticketmaster, the singer's influence could be felt throughout. On five occasions, witnesses and senators quoted her lyrics as they attempted to hammer home their points.
Sen. Amy Klobuchar, a Democrat from Minnesota, kicked things off. "To have a strong capitalist system, you have to have competition, you can't have too much consolidation — something that unfortunately for this country, as an ode to Taylor Swift, I will say we know 'all too well.'"
Referencing Swift's recent single Anti-Hero, Sen. Richard Blumenthal, a Democrat from Connecticut, said, "May I suggest respectfully that Ticketmaster ought to look in the mirror and say, 'I'm the problem, it's me.'" 
Meanwhile Sal Nuzzo, a witness who provided testimony on behalf of think tank The James Madison Institute, said that for Swift fans, the entire situation had them saying, "this is why we can't have nice things."
But the winner of the lyrics competition was Sen. Mike Lee, a Republican from Utah, who squeezed in two references to Swift. First, he described Sen. John Kennedy's suggestion of making tickets non-transferable as "a nightmare dressed like a daydream." He then closed with words from Swift's most recent album, Midnights. "Karma's a relaxing thought — aren't you envious that for you it's not?" he said to Ticketmaster.
Is Ticketmaster a monopoly? 4 witnesses say yes
The first half of the hearing focused on whether Ticketmaster can be considered a monopoly due its dominance in the field. Four of the witnesses — Nuzzo, SeatGeek CEO Jack Groetzinger, Jam Productions CEO Jerry Mickelson, and Kathleen Bradish, vice president for legal advocacy at the American Antitrust Institute — all said yes.
Groetzinger and Mickelson, who is a promoter, outlined ways in which Ticketmaster and Live Nation having control over ticketing, venues and promotion shut competitors out of the industry. Groetzinger said that many venues had been impressed with SeatGeek's technology, but ultimately shut down negotiations over fear of reprisals if they didn't continue to partner with Ticketmaster.
"Their biggest fear is that if they leave Ticketmaster, they won't get the content," said Mickelson, meaning artists and shows.
Berchtold responded by saying it's Ticketmaster's policy not to pressure or threaten venues into working with them. He also denied that his company held a monopoly in ticketing, saying the industry had "never been more competitive."
"I am not against big, per se, I am against dumb" Sen. John Kennedy, a Republican from Louisiana, told Berchtold. "The way your company handled the ticket sales for Ms. Swift was a debacle. Whoever was in charge of that ought to be fired."
Potential solutions discussed
The second half of the hearing saw senators and witnesses touching on potential solutions, including placing price caps on tickets and cracking down on speculative ticket sales by working more closely with the FTC.
Kennedy caused a stir by suggesting making all tickets non-transferable to stop bots from buying them up. Several witnesses and senators seemed supportive of this idea, but others, including Sen. Josh Hawley, a Republican from Missouri, said he'd be worried about the impact on consumers. Bradish also didn't agree with it as a solution, saying it wouldn't get to the root of the problem — that of Ticketmaster's dominance.
Mickelson suggested government intervention to break up the live events industry in the same way it was used to break up the old Hollywood movie studios. He also advocated for no exclusive contracts between venues and ticketing agents, following the same model currently used in Europe.
Several of the senators were frustrated at Berchtold for not using existing US legislation to provide consumers with more protection. "If you are concerned about artists, consumers, venues," said Blumenthal, "you would take action under current law."
Swift fans protest outside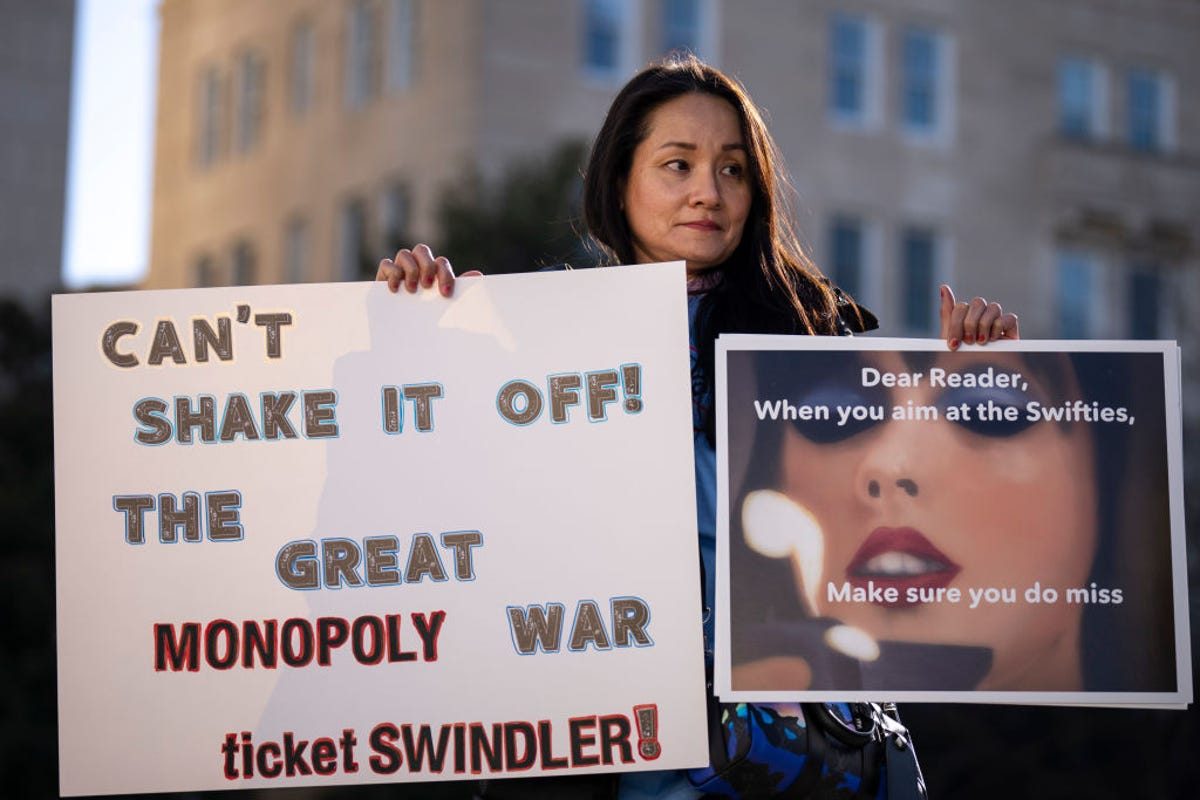 Fans gathered outside the Senate on Tuesday.

Drew Angerer/Getty Images

For Taylor Swift fans, this hearing was personal. Many of those designated as verified fans in the Eras tour presale failed to secure tickets. For those who weren't verified, the subsequent cancellation of further ticket sales meant they were denied any opportunity to buy tickets at all.
Several fans gathered outside the Senate on Tuesday, holding signs that showed their frustration with Ticketmaster. Meanwhile, other fans watched online. 
Many were amused to see Sen. Marsha Blackburn, a Republican from Tennessee who Swift has actively campaigned against in the past due to their opposing stances on LGBTQ+ issues, take Berchtold to task. Blackburn scolded the Ticketmaster president over his inability to effectively fight back against bots and the "brazen" scalpers selling tickets on the secondary market before they'd even gone on sale.
"We thank the fans," said Klobuchar, adding that they'd kept debate around this issue alive. She said that she hoped those who had been outside earlier had stuck around. 
Ensuring that fans are able to buy tickets for shows they want to attend at fair prices seemed to be at the top of everyone's agenda throughout the hearing, proving to be an issue that united senators from across the political spectrum.
The fight is far from over
As she wrapped up Tuesday's hearing, Klobuchar warned that this was just the first step when it came to improving ticketing across the industry. 
The record will now remain open for another week for Ticketmaster and others to follow up on questions they couldn't provide immediate answers to during the session.
"We are interested in doing something here, not just throwing popcorn," said Klobuchar. "The solutions are there for the taking." Some things can change immediately, others will take awhile, she added, but change is coming.