The U.S. Military Academy in West Point, New York, plans to continue to impose restrictions on travel for those cadets who are not vaccinated, despite measures taken at the Pentagon to remove COVID-19 vaccine mandates, according to reports.
Online news organization Just The News reported that military attorney R. Davis Younts said West Point was reimposing a travel ban on unvaccinated cadets, even though the U.S. military's COVID-19 vaccine mandate was lifted.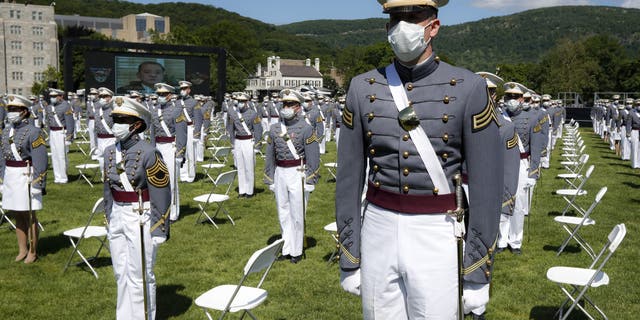 United States Military Academy graduating cadets wear face masks as they stand next to their socially-distanced seats during commencement ceremonies, Saturday, June 13, 2020, in West Point, N.Y. President Donald Trump's commencement speech to the 1,100 graduating cadets during a global pandemic comes as arguments rage over his threat to use American troops on U.S. soil to quell protests stemming from the killing of George Floyd by a Minneapolis police officer.
(AP Photo/John Minchillo, Pool)
At the same time, Congress is looking to make things right with military personnel who were unable to move up in rank or travel because they were unvaccinated.
SERVICE MEMBERS TERMINATED OVER UNVAXXED STATUS COULD BE REINSTATED IN MILITARY WITH GOP-LED BILLS
Younts told Just The News that at the height of the pandemic, West Point had a policy in place that prohibited cadets from traveling for sports or other events. As soon as the vaccine was available to cadets, those who were vaccinated were able to travel, while those who were not vaccinated could not.
Last semester, though, West Point reportedly dropped the policy and allowed unvaccinated cadets to go to sporting and other types of events.
FILE – DeMarcus Hicks, a recent graduate of nursing school who is working as a contractor with the Federal Emergency Management Agency, gives a person a Pfizer COVID-19 vaccine booster shot, Dec. 20, 2021, in Federal Way, Wash. A federal appeals court in New Orleans on Monday, Oct. 3, 2022, became the latest to hear arguments on whether President Joe Biden overstepped his authority with an order that federal contractors require that their employees be vaccinated against COVID-19. 
((AP Photo/Ted S. Warren, File))
When reached on Monday for verification, U.S. Military Academy Office of Public Affairs and Communications would not verify that to be the case.
PENTAGON DITCHES COVID VACCINE MANDATE FOR TROOPS
"The U.S. Military Academy at West Point continues to follow Department of Defense's guidance regarding unvaccinated service members," the public affairs office said in an email. "U.S. Army policy states unvaccinated service members are not eligible for official travel without prior approval from the Under Secretary of the Army. Until the policy is rescinded, West Point will continue to follow it."
Department personnel explained over the phone that it would be difficult to reimpose a policy that was never lifted.
The Pentagon formally dropped a controversial COVID-19 vaccine mandate for troops under the National Defense Authorization Act. What the Act did not do, though, was reinstate military personnel who were discharged or had their benefits just for refusing the vaccine.
CLICK HERE TO GET THE FOX NEWS APP
Reinstatement has become a priority for some Republicans who said the strict mandate is among the reasons why military recruitment is at an all-time low.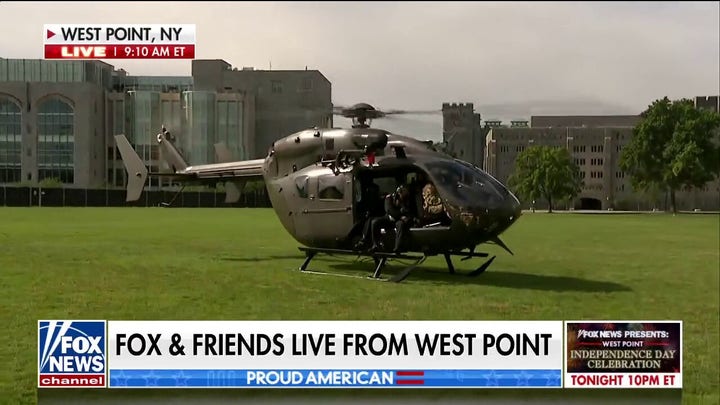 Video