Astronomers have found what appear to be massive galaxies dating back to within 600 million years of the Big Bang.
Researchers reported the findings on Wednesday in the journal Nature, highlighting the size and maturity of the apparent mega-galaxies.
While each of them seem to weigh billions of times more than our sun, they are believed to be extremely compact.
"While most galaxies in this era are still small and only gradually growing larger over time," lead researcher Ivo Labbe of Australia's Swinburne University of Technology said in an email to The Associated Press, "there are a few monsters that fast-track to maturity. Why this is the case or how this would work is unknown."
HUBBLE TELESCOPE SPOTS PAIR OF GALAXIES NEAR BIG DIPPER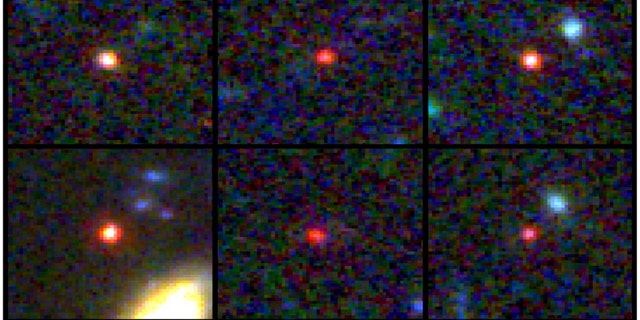 This image provided by NASA and the European Space Agency shows images of six candidate massive galaxies, seen 500-800 million years after the Big Bang. One of the sources (bottom left) could contain as many stars as our present-day Milky Way, but is 30 times more compact. (NASA via AP)
Labbe and his team had expected to find baby galaxies this close to the dawn of the universe and initially thought their results couldn't be real – and they still need to be confirmed.
"We were mind-blown, kind of incredulous," he told the news agency.
NEIL DEGRASSE TYSON SAYS JAMES WEBB SPACE TELESCOPE IS WINDOW TO UNIVERSE 'NEVER BEFORE ACHIEVED'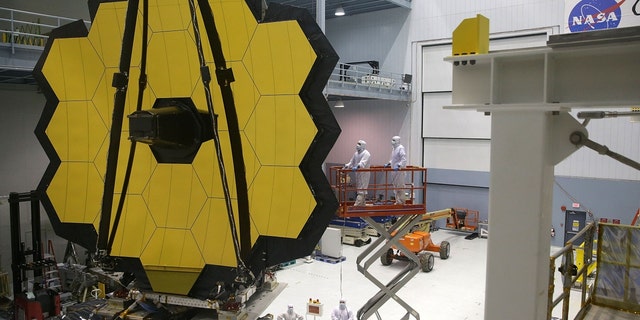 Engineers and technicians assemble the James Webb Space Telescope Nov. 2, 2016, at NASA's Goddard Space Flight Center in Greenbelt, Maryland. (Alex Wong/Getty Images)
The observations were among the first data set from the James Webb Space Telescope. The $10 billion observatory has the ability to peer through clouds of gas and dust using infrared imaging.
CLICK HERE TO GET THE FOX NEWS APP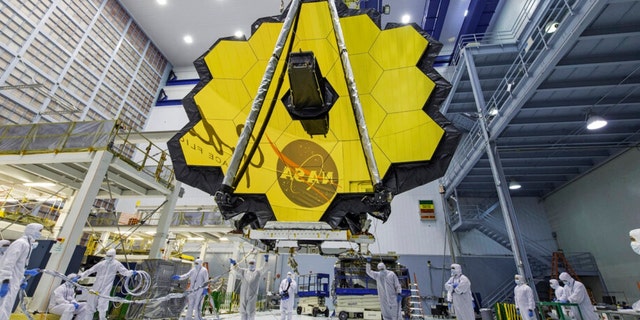 Technicians use a crane to lift the mirror of the James Webb Space Telescope at the Goddard Space Flight Center in Greenbelt, Maryland, on April 13, 2017. (Laura Betz/NASA via AP, File)
The team is still awaiting official confirmation through sensitive spectroscopy, and is careful to call these candidate massive galaxies for now.
The Associated Press contributed to this report.