NASA's James Webb Space Telescope has captured the rare phase of a star nearing death.
An image of the super bright, massive Wolf-Rayet star, known as WR 124, was captured in June of last year – one of the first observations made by the $10 billion-dollar observatory using its infrared instruments.
The Wolf-Rayet phase is a fleeting stage that only some stars go through, soon before they explode. The stars in that phase are in the process of casting off their outer later, resulting in halos of gas and dust.
The star is located 15,000 light-years away in the constellation Sagittarius.
NASA WANTS 'SPACE TUG' TO BRING INTERNATIONAL SPACE STATION SAFELY DOWN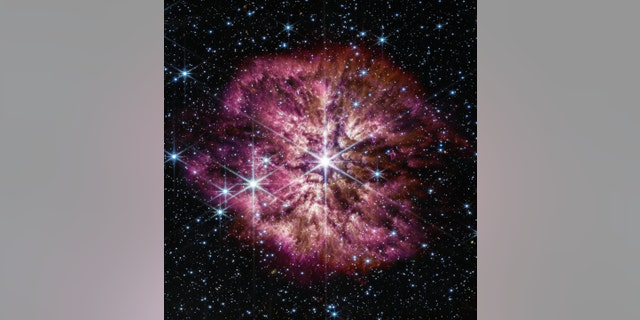 The luminous, hot star Wolf-Rayet 124 is prominent at the center of the James Webb Space Telescope's composite image combining near-infrared and mid-infrared wavelengths of light from Webb's Near-Infrared Camera and Mid-Infrared Instrument. (Credits: NASA, ESA, CSA, STScI, Webb ERO Production Team)
It is 30 times the mass of the sun and has shed 10 suns' worth of material thus far.
Dust is particularly interesting to astronomers because it shelters forming stars, forms planets and serves as a platform for molecules to form and clump together. Notably, the universe is operating with a dust budget surplus.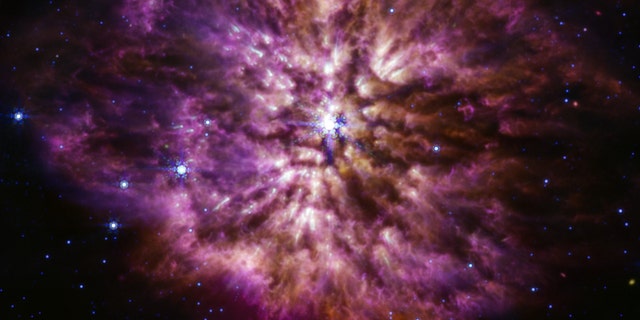 Wolf-Rayet stars are known to be efficient dust producers, and the Mid-Infrared Instrument on NASA's James Webb Space Telescope shows this to great effect. Cooler cosmic dust glows at the longer mid-infrared wavelengths, displaying the structure of WR 124's nebula. (Credits: NASA, ESA, CSA, STScI, Webb ERO Production Team.)
NEIL DEGRASSE TYSON SAYS JAMES WEBB SPACE TELESCOPE IS WINDOW TO UNIVERSE 'NEVER BEFORE ACHIEVED'
Cosmic dust is best observed in infrared wavelengths of light and Webb's Near-Infrared Camera, or NIRCam, balances the brightness of WR 124's stellar core and the knotty details in the fainter surrounding gas. The telescope's Mid-Infrared Instrument (MIRI) reveals the structure of the gas and dust nebula of the ejected material now surrounding the star.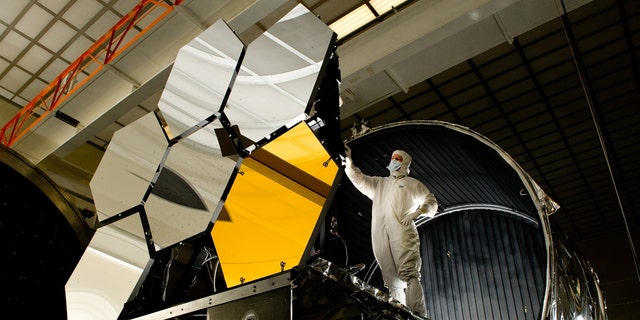 Ball Aerospace lead optical test engineer Dave Chaney inspects six primary mirror segments, critical elements of NASA's James Webb Space Telescope, prior to cryogenic testing in the X-ray & Cryogenic Facility at NASA's Marshall Space Flight Center in Huntsville, Alabama. (Credit: NASA/MSFC/David Higginbotham)
CLICK TO GET THE FOX NEWS APP
Furthermore, stars like WR 124 help scientists understand a crucial period in the early history of the universe when similarly dying stars first seeded the young universe with heavy elements forged in their cores.