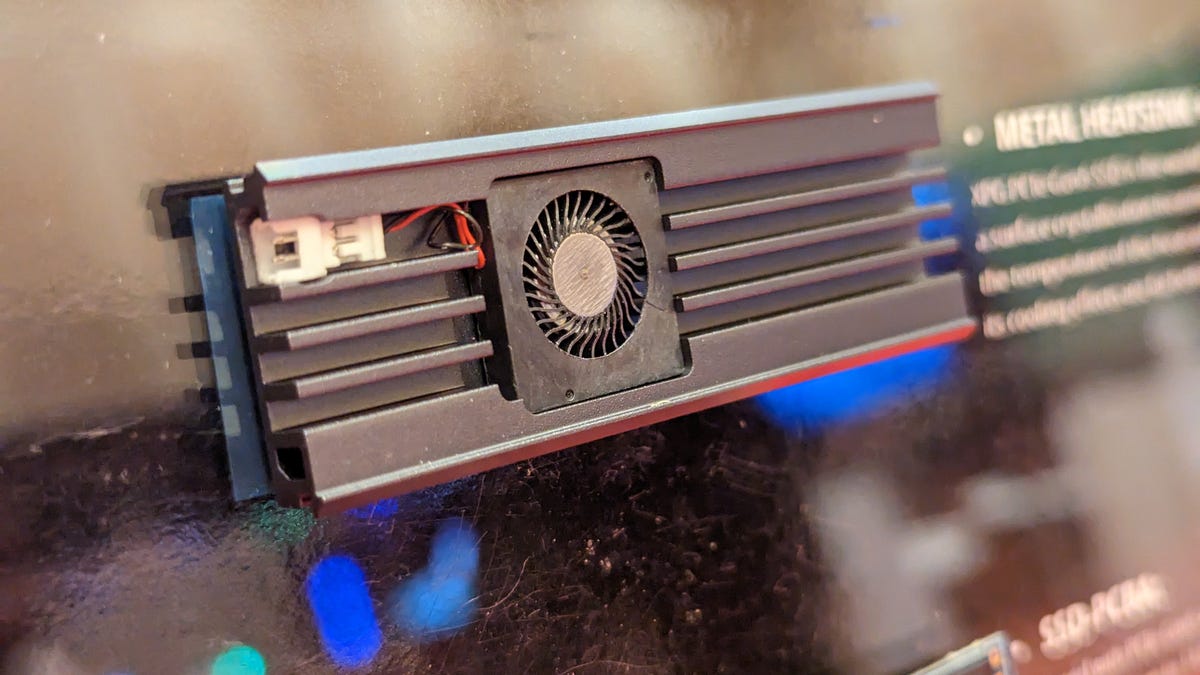 Adata shows an XGP-branded PCIe Gen 5 SSD with a built-in fan.
CNET
There have been plenty of iterative upgrades at CES 2023, from super slim laptops to big, bright-screen TVs and other whizzbang products, but for me, this ridiculous SSD makes the show worth attending.
Adata, a Taiwanese computer memory, hardware and accessories company, showed off a PCIe Gen 5 SSD with a tiny fan built into the heatsink. Because Gen 5 SSDs are two times faster than the previous generation, pushing read and write speeds of 14,000 and 12,000 MB/s, it can get so hot that performance throttles. 
Read more: CES gadget debuts that will be the talk of the year
Adata's solution for an overheating SSD is to attach a small fan to the unit. When speaking to Adata marketing specialist Thomas Lombardi, he said the fan is small and spins fast, meaning there's no discernable fan noise. He said the case and other fans inside a PC should drown out whatever minimal sound the SSD fan might make. To Lombardi's knowledge, no other company has created a PCIe SSD with a built-in fan.
Fast memory remains critical to computing and gaming as tasks grow in size and get more complex. The PlayStation 5 launched with an incredibly fast SSD, allowing transfers of 5 GB/s. This meant games and game worlds could load near instantaneously, allowing designers more freedom and fewer limits due to drive speed. 
It's taken time for the consumer PC industry to catch up, but now people can buy drives that match PS5 performance. Faster solid-state media means people can load things like large video files and games in seconds rather than minutes. 
There isn't a set release date or price for Adata's Gen 5 PCIe SSD. But Lombardi did say that it would likely launch in July around Computex, a tech convention in Taipei, Taiwan.